Timur Makhmutov, Managing Director, Hays Romania: Values and attitude should be the most critical assets we're looking for in the candidates
---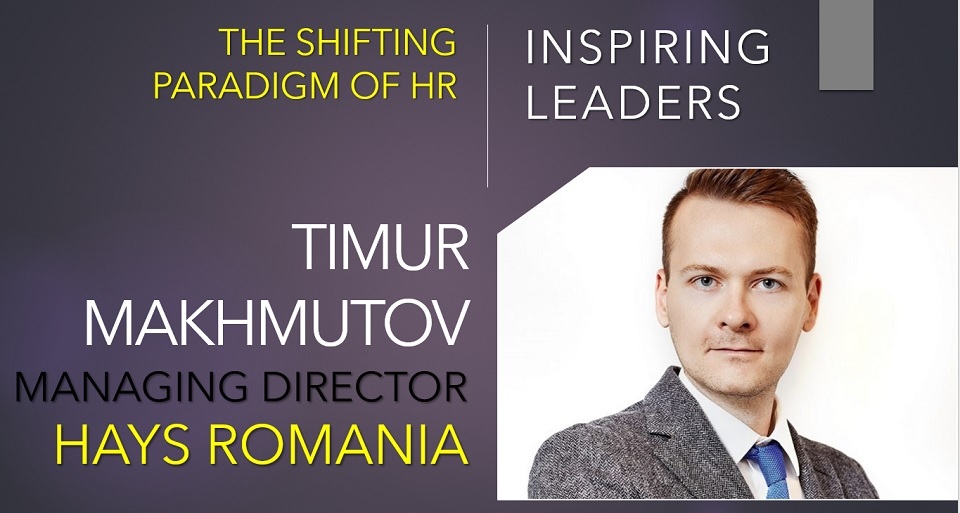 Onboarding and getting the spirit back
In our recruitment business, being naturally very human-to-human both inside and outside the organization, it's been a tough period not having the ability to interact face-to-face without setting up a video call or writing in a chat. Thankfully, the situation now allows us to return to the office in a flexible manner, enjoying both perks of face-to-face interaction – as well as advantages of working from home. This will enhance new employees' experiences in terms of onboarding and "getting the spirit back" for those who have been with us longer.
I can surely speak from my personal experience as my first 2.5 months of my work with Hays Romania have been in fully remote mode due to immigration formalities – and finally getting to know people in person was great for building relations and a real business booster. After all, is it merely about an energy kick you get from a coffee drink – or you are as well looking for experience of warmth from the mug and sensation of the taste? Same is applicable for me to our human relations at workplaces.
Our focus will remain on maintaining strong internal DNA
Hays in Romania as an employer never stopped hiring for front-office roles, even in 2020, as we never doubted our mid-long term possibilities to grow here. During the last period, we started internship programs for graduates/undergraduates on top of hiring consultants with experience in recruiting. As our focus will remain on maintaining strong internal DNA, we will continue to invest more and more into "planting seeds" in terms of hiring talented young people and putting them through intensive training and on-the-desk learning with experienced colleagues.
However, we'll also keep on carefully handpicking those with relevant recruitment experience while similarly putting a lot of emphasis on cultural fit. Either way, I'm a strong believer that values and attitude should be the most critical assets we're looking for in the candidates – if you get it right, you will get a bonded synergetic team that operates like a healthy organism and has antibodies to fight unpredictable things that seem to be in abundance in our world these days.
The appetite for hiring has picked up strongly since the start of 2021
The recruitment industry is dependent on the overall economic climate, and during 2020 recruitment companies in Romania were experiencing difficulty during the turbulences. However, in Romania we noticed the appetite for hiring (be it new positions or replacement due to naturally increased attrition after a "sticky" 2020) has picked up strongly since the start of 2021 with IT, Life Sciences, B2B Sales/Marketing as well as Engineering, Accountancy and Finance niches enjoying most improvement.
In these areas, the trend for a "candidates' market" continues. Employers are facing strong competition for relevant professionals which is even more acute with candidates still considering stability as a critical factor during their job search. This leads us to an understanding that Hays' approach as being a continuously consultative partner to businesses and candidates is the one that fits today's agenda where a transactional way of recruiting by merely sending CV's to appropriate clients and job descriptions to candidates does not work well today.
Empowering the employees' voice
During the last period, Hays recently completed another round of Your Voice – our global employee engagement survey designed to encourage honest feedback from employees in a confidential manner. Your Voice forms the basis of action plans to help make Hays an even better place to work with a positive culture.
From now on, these surveys will be done bi-annually to ensure we keep our fingers firmly on the pulse in a fast-changing environment. For instance, after reviewing the previous survey, we put more effort into training for Central Services (Finance, Marketing, Admin), as employees' feedback was based around designing flexible return to the office, etc. Even though there always will be areas where a solution cannot be put forward, I believe that being transparent and honest on those is even more important in such cases.
Hays in Romania will continue a hybrid model of delivering training for front-office (consultants), benefitting from EMEA-wide programs designated for all grades as well as some key training delivered by local trainers.
One of the key features of local training is that they are delivered by acting experienced consultants and team leaders. From my own experience, it offers many positive effects for both the trainer (better visibility, public speaking skills and becoming more expert in the topic of training) and attendees (practical skills training that takes into account the specificities of the local market, etc.).
---
Trending Now
You may also like