Hays Romania: Flexibility and the hybrid work model are non-negotiable
---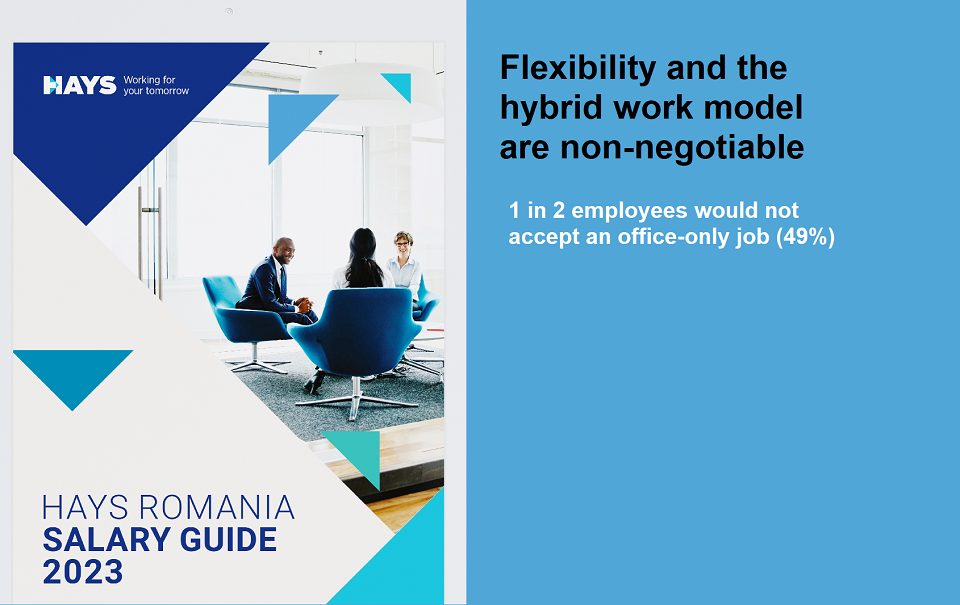 1 in 2 employees would not accept an office-only job (49%)
The year 2022 outlined the preferences of employees regarding the optimal working model, with most preferring flexibility – a balanced balance between time spent in the office and time spent working from home, from their own comfort. Returning to the classic 8 hours/day office work model is not on the list of employee preferences, 49% of interviewed candidates/employees said they would not accept a job offer in an organization that requires them to work only from the office, no work from home.
The results can be found in the Salary Guide 2023, launched by Hays Romania – specialized recruitment agency that analyzes every year the market situation in specific industries, recruitment trends, salary levels, benefit packages and many other aspects. The salary guide combines the perspective of Hays experts with the results of surveys dedicated to professionals and employers.
It is certain that flexibility has gained multiple meanings in recent years. In the new era of work, employees want employers to be flexible in terms of both the location of the activity and the working hours. 33% of employees said they would look for a new job in an organization that practices a hybrid work model if their current organization reverted to a standard office-only schedule, and 24% would only accept if schedule/schedule would be flexible.
Ioana Barcan, Marketing Manager Hays Romania mentions: "We observe this trend in most professionals, but flexible practices are a "must" in areas such as IT, Marketing and Business Services. Experts in these fields rarely accept a fixed work schedule and carrying out work predominantly from the office. Attracting potential candidates is even more difficult for organizations that have decided to move away from the hybrid work model. Flexible practices, trust in employees and strengthening their relationships with direct managers, are elements that should not be missing from any employee retention strategy."
How would you feel if your organization reverted to the classic office-only model of work?
I would look for work elsewhere 33%
I would like the working hours to be flexible 24%
Doesn't have a major impact – doesn't change my plans 15%
Does not apply to my situation 9%
I would like a more comprehensive benefits package 8%
I would consider if my salary increased by 8%
I'd be happier – I miss the office 3%
Would you accept a job if it was exclusively from the office?
No 49%
Depends on offer 29%
yes 15%
Not sure 7%
What benefits do you appreciate the most? Select the 3 most important.
Flexible working model 1
Additional vacation days 2
Health insurance or private medical coverage 3
WILL ORGANIZATIONS KEEP THE HYBRID WORK MODEL INTO 2023?
The debate about how much flexibility and where the limits should be set seems to have faded in 2022. Employee preferences align with the plans of many organizations, which based on past experiences and results believe that the hybrid model is successful and have no plan to change it this year (79%), primarily due to increased employee satisfaction.
Do you expect your organization's working model to change in 2023?
No – we anticipate it will remain the same 79%
Yes – we anticipate that employees will be in greater demand at work 18%
Yes – we anticipate that employees will be required less at work 3%
The third edition of the Hays Romania Salary Guide is based on the perspective of over 400 employees and employers who participated in the survey in the last quarter of 2022, data obtained as a result of the recruitment processes carried out by Hays Romania in 2022 and the opinions of industry experts .
The report is bilingual and can be downloaded HERE.
---
Trending Now
You may also like