Mihaela Maranca, Country Manager, Randstad Romania: Human capital tools increased the value that people bring to their roles by freeing them from repetitive, low-value tasks
---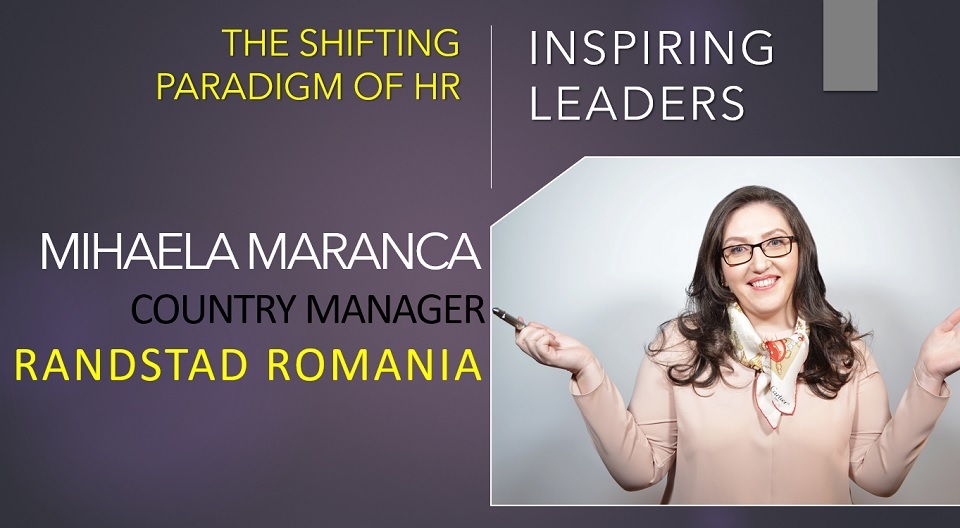 During the unprecedented difficult 2020 year and continuing in 2021, the HR and everything related to employees and employer branding have been of utmost importance for the companies' overall business development strategy. We talked to Mihaela Maranca, Country Manager, Randstad Romania to find more on the company's insights on HR and L&D programs and strategies, workplace culture and business-wise expectations this year.
Insights provided by: Mihaela Maranca, Country Manager, Randstad Romania
Our Randstad Romania HR Trends 2021 report shows that 84% of companies expect to continue to support the remote-flexible work culture in 2021. Most of them consider that the work from home is a viable post-pandemic solution and 71% intend to implement hybrid models of both remote and at office work.
This year brought a significant increase of our team, in the sense that we have doubled it, from 52 employees to over 100.
We have made an important step towards the development of Randstad Romania business, by adding a new position to our management team, Business Manager, dedicated to projects that involve blue collar employees, based on Randstad Global concepts.
We have succeeded to find the perfect match for this role, Stefan Monea, which has the rare combination of HR market experience in sales, business development and big projects coordination.
Marketwise, our Randstad Romania HR Trends 2021 study shows that, compared to 2019, employers are more optimistic about their ability to attract talents. More than a third scores 8 out of 10 this capacity and even 5% rates it at 10, the maximum score. The three main key elements for attracting top talent remain the same as in 2019, with an interesting dynamic.
The competitive salary and benefits package remain a decisive factor, with a slight decrease from 77% to 67% in employees' preferences.
Digitalization, tech tools and AI applications in the HR operations
The 2021 Randstad Sourceright Talent Trends survey, which gauges the opinion of more than 800 human capital and executive leaders around the world, found that nearly half are investing in recruitment marketing platforms. They include capabilities that maintain the employer brand, foster candidate relationships, and enhance communication efforts.
Human capital tools have exponentially increased the value that people bring to their roles by freeing them from repetitive, low-value tasks. Our research shows that 73% of human capital leaders say HR technology is helping their talent teams better focus on business-critical activities. The rise of AI and automation to enable humans means many tasks that were done manually are now executed instantaneously, thanks to algorithms. Technology has reduced complex chores into perhaps a few keystrokes or swipes, accelerated the delivery of outcomes and enabled better business intelligence through analytics. According to our 2021 Talent Trends research, 70% say AI will open up new opportunities for organizations like theirs.


Talent leaders recognize the tremendous value technology provides when it comes to redefining work and enhancing outcomes, especially for talent acquisition. Over 70% say AI and robotics will make the recruitment process more efficient, and the same number believe they will be able to source, attract and engage more of the right talent. Nearly as many (70%) say AI will enable humans to be more efficient, work more safely and be more productive.
They also expect that AI technology will both create jobs and displace workers; some workers will likely be made redundant while others will see reskilling opportunities. While 72% of talent leaders in our Talent Trends survey believe that AI will open up new opportunities for talent, 52% believe jobs will be lost from broad adoption.
As companies redefine work, they must consider the value people can add to a role, versus machine or AI. For instance, can retailers add more self-serving kiosks in their stores without turning away customers accustomed to personalized services? Will buyers prefer the efficiency of an e-clerk over a human one?
Similarly, will job candidates prefer a friendly recruiter voice to help them prepare for an interview, or does the convenience of a digital recruiter accessible 24/7 offer greater value?
Although most companies cannot talk about economic growth in the near future, about half of them will start to rehire in the next six months, and about a third intend to maintain the number of employees at the level until the economy and business grow.
13% will apply measures to reduce losses, while maintaining the number of employees, and only 4% of the number of employees that responded to our Randstad Romania HR Trends 2021 study intend to make staff reductions.
Just over 5% are considering outsourcing/subcontracting solutions in 2021. The reason they will hire this year are the migration rate of the staff (55%) and the expansion of the company (44%). IT/technology, sales and production are the top three departments where hirings will be made in 2021. As far as challenges are concerned, an increasing number of companies find it more difficult than in the past to see performance and productivity increase and to create a flexible working environment. Keeping the best performers, attracting talent for the next stage of growth and developing leaders are challenges for a greater proportion of respondents than in 2019.
On the one side, there are intern programs that companies develop in order to keep their employees motivated and proud of the place they work in, from volunteering, to wellbeing projects. On the other side, there are the channels where companies communicate with potential candidates.
This year's edition of our Randstad Romania Employer Brand shows that job portals are the main point of meeting between organizations and interested workforce, as they are the main place where people look for a job.
---
Trending Now
You may also like