Portland Trust introduces advanced technical specifications in J8 Office Park project to increase security in COVID-19 context
Posted On September 30, 2020
---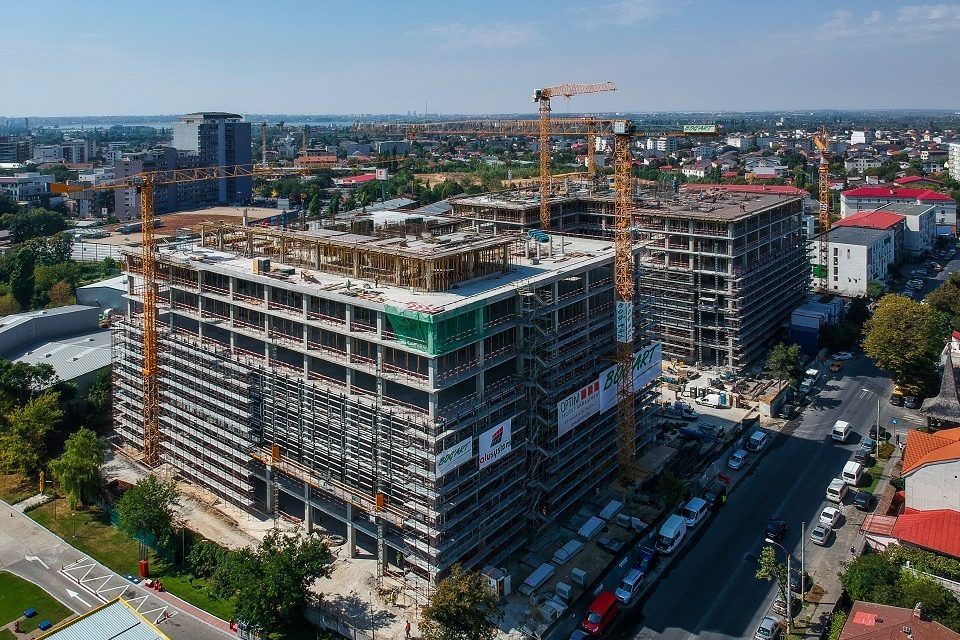 Portland Trust announces the integration of new technical specifications in the J8 Office Park project, which it is developing in the Jiu area, in Bucharest. J8 is a new office park of the highest quality, Portland Trust brand, with a total area of ​​46,000 sqm for rent, whose main tenant is the company Ubisoft, which will occupy 28,000 sqm. The general contractor is Bog'art, one of the largest construction companies on the local market, which recently completed the project structure and started work on the facade of the two-building complex.
The innovative safety and health features, integrated by Portland Trust into the J8 Office Park project, include: 100% fresh air intake, an advanced filtration system and UV-C ultraviolet disinfection of fresh air, which together ensure a working environment really safe and hygienic. UV-C ultraviolet light, introduced into the ventilation system and elevators, sterilizes the air and surfaces and provides high protection against viruses such as SARS-CoV-2, as well as other pathogens. In addition, a touch-free access system has been introduced that includes the recognition of vehicle license plates, automatic access doors and lift entrances, without the need to press any buttons.
Iain Seller, Portland Trust's Head of construction department, said: "The health and comfort of our tenants is of paramount importance to us, which is why we are continually investing in improving the design and specifications of this project. We use anti-bacterial materials and air ventilation systems to medical standards, to ensure that all employees of companies that will work in J8 buildings will have full confidence in the environment in which they operate"
The J8 Office Park project is scheduled to be completed in the summer of 2021 and will be the first in a new generation of office buildings that offer a higher level of hygiene and safety than ever before, protecting employees from transmitted viruses and bacteria. by air. The Portland Trust also focuses on tenant comfort, so in addition to technical innovations, the J8 will also include a fitness room, a grocery store, two medical centers, and a restaurant and cafe. There will also be charging stations for electric vehicles and a secure storage area for 200 bicycles, equipped with locker rooms and showers.
Portland Trust is a leading real estate developer and investor, active in Central and Southeast Europe for over 20 years. J8 Office Park is developed in partnership with ARES Management Corporation, a global investment and alternative asset manager authorized by the U.S. Securities and Exchange Commission. (SEC – Security and Exchange Commission), which manages approximately $ 145 billion in assets and has more than 900 employees. Portland Trust and ARES Management Corporation have jointly developed over 800,000 sqm, which includes 7 office buildings and industrial parks in Bucharest, and have won numerous design and sustainability awards.
---
Trending Now
You may also like