FLORIN FURDUI, Portland Trust@Reorganizing the Work conference: Companies have a huge responsibility to help people regain their trust
---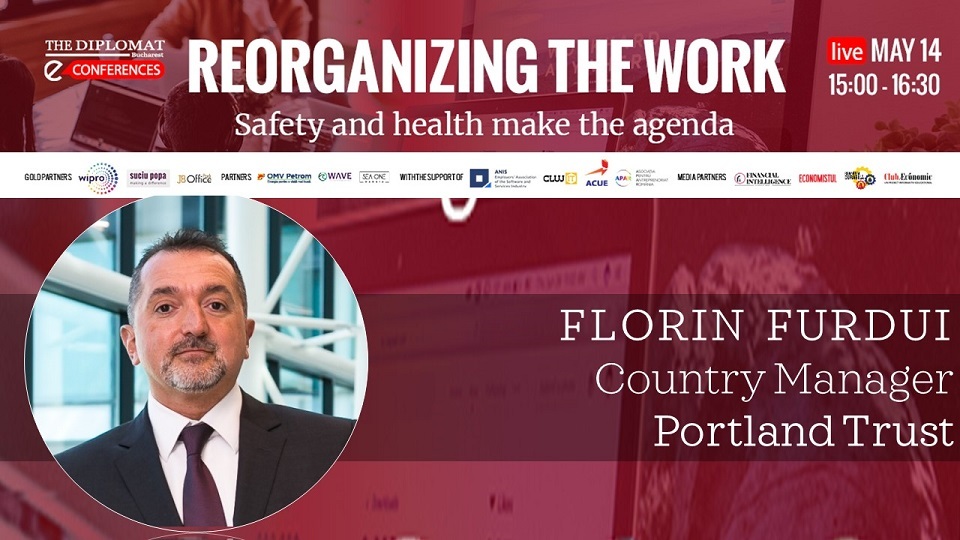 Companies have a huge responsibility to help people regain their trust and make them feel safe when they get back to work, said Florin Furdui, Country Manager, Portland Trust during the online conference  REORGANIZING THE WORK – SAFETY&HEALTH MAKE THE AGENDA, organized by The Diplomat-Bucharest on May 14 and dedicated to the current health & safety aspects defining the workplace right now.
"Remote working has been part of the office industry for many years and is becoming a good alternative for more and more companies. Even if work from home is a good to have, people still need to have the community. The fine line between work life and personal life is difficult to draw."
The event benefits from the support of Gold Partners Wipro, Suciu Popa Attorneys, J8 Office Park, Partners OMV Petrom, Wave and Sea One, with the support of ANIS (the Employers' Association of the Software and Services in Romania), Cluj IT, ACUE (Federation of Associations of Energy Utility Companies), APAR (Association for Entrepreneurship in Romania), Media Partners: Financial Intelligence, Economistul, Romania Durabila, Club Economic and Outsourcing Today.
 The need to reinvent (again) the workplace and the employees' safety is the number 1 topic right now in the agenda of any responsible company.
The past months gave us major lessons in addressing the real priorities in terms of workplace and employees, as well as the individuals' personal lives and space. Every public discussion since the year started turned into a human-oriented topic in real terms or just for campaigning. In the meantime, with so many industries highly affected, the general economy hurts and companies must think of continuity and business growth.
---
Trending Now
You may also like