---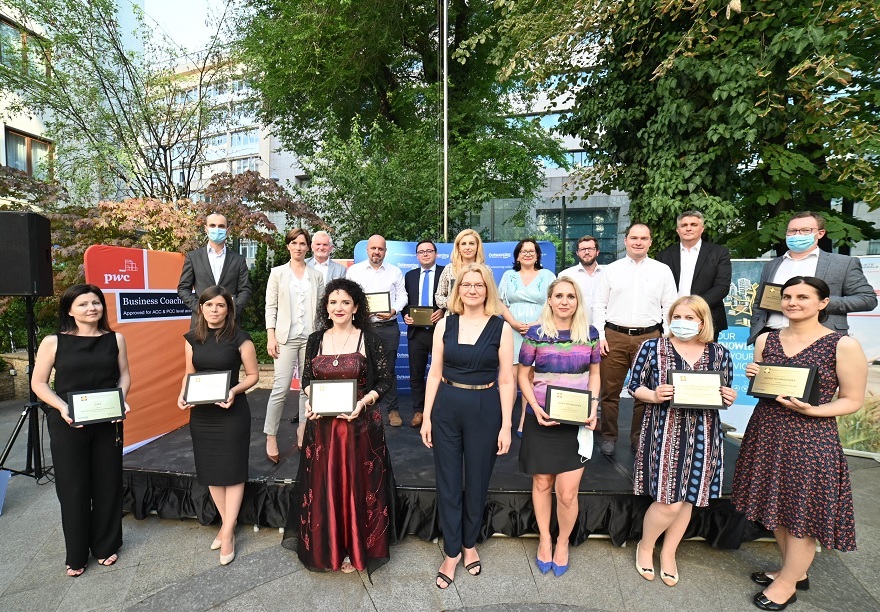 Yesterday, THE DIPLOMAT BUCHAREST & OUTSOURCING TODAY organized the sixth edition of the ROMANIAN BUSINESS SERVICES FORUM & AWARDS 2020 with CEO Leaders Debate and Gala Ceremony at Athenee Palace Hilton Bucharest.
The event benefited from the support of DIAMOND PARTNER Wipro, GOLD PARTNERS PwC, ADP, Colliers International, Societe Generale European Business Services, PARTNERS SCC, Endava, Sea One, Wave, Accace, Valoris, Majorel, with the support of ANIS, ClujIT, BRCC and MEDIA PARTNERS Financial Intelligence, Economistul,  Romania Durabila, Club Economic, Fab Lab Iasi, Pin Magazine.
It is the high time for business shared services in Romania to go beyond the paradigm of doing business as usual. 2020 forced all business sectors as well as outsourcing and business shared services to develop into new areas, rethink the daily operations and create a new future for the entire industry. This future is about keeping the core activities and operations but also evolve into more specific areas such as: strategy, differentiation, health&safety and more complex and profound aspects of businesses.
THE CEO LEADER DEBATE  brought together the most prominent companies acting in the Business Shared Services– BPO, ITO, SSC and connected services and tech solutions providers' industry in Romania in a half-day event with engaging keynote sessions sustained by C-level industry leaders within an interactive session  and multiple and engaging networking opportunities. The event aims at becoming an arena where key players in the field can discuss the current challenges and opportunities that the business services providers deal with.
PANELISTS
VIVEK BAKSHI, General Manager, WIPRO Technologies
DENISA PANAITE CASU, PwC's Academy Leader
MATTHIEU PASQUIER, CEO, Societe Generale European Business Services
GEORGE DIDOIU, Director Tenant Services |, Office agency, Colliers International Romania
COLIN C. LOVERING, Vice-President, BRCC, PANEL Moderator
THE AWARDS GALA continues to recognize, reward and celebrate the success of the most prominent companies acting in the Outsourcing – BPO, ITO and SSC industry in Romania.
_____________________________________________________
JURY BOARD
FRANCESCA POSTOLACHE, Partner at PwC Romania
ANDRADA ILIESCU, Advisory Director at KPMG
GABRIELA MECHEA, Executive Director ANIS Romania
ANDREI ROMANESCU, Managing Director at Veeam Software
ANDREI CRACIUN, head of Digital Transformation & Data Analysis, West University of Timisoara
ALEXANDRU TULAI, Vicepresident, Cluj IT Cluster
DAN ZAHARIA, Senior Leasing Consultant, EXTIND Management
CARMEN ADAMESCU, Partner, EY Romania
MIHAELA ROSU, Director, Deloitte Audit
MIHAELA ROBU, Business Development Manager at ACCA South – Eastern Europe
Congratulations to all Finalists and Winners!
CATEGORY: BEST WORKPLACE      
FINALISTS:
DEUTSCHE TELEKOM SERVICES EUROPE ROMANIA
SCC SERVICES ROMANIA
ZITEC
LINNIFY
COLT TECHNOLOGY SERVICES
WINNER: SCC SERVICES ROMANIA
CATEGORY: BUSINESS SERVICES COMPANY OF THE YEAR  (less than 800 employees)
FINALISTS:
SOFTECH
DEUTSCHE TELEKOM SERVICES EUROPE ROMANIA
GOODYEAR DUNLOP TIRES OPERATIONS ROMANIA
TREMEND SOFTWARE CONSULTING
ZITEC
SOFTELLIGENCE
LINNIFY
WINNER: DEUTSCHE TELEKOM SERVICES EUROPE ROMANIA
CATEGORY: BUSINESS SERVICES COMPANY OF THE YEAR  (over 800 employees)
FINALISTS:
COMPUTER GENERATED SOLUTIONS ROMANIA (CGS)
GENPACT
MAJOREL ROMANIA
SCC SERVICES ROMANIA
SOCIETE GENERALE EBS
WINNER: SOCIETE GENERALE EUROPEAN BUSINESS SERVICES
CEO OF THE YEAR       –     DANIELA MICUSAN, GENERAL MANAGER MAJOREL ROMANIA
CATEGORY: CSR INITIATIVE OF THE YEAR       
FINALISTS:
COLT TECHNOLOGY SERVICES
SOCIETE GENERALE EBS
TELUS INTERNATIONAL
WIPRO TECHNOLOGIES
WINNER: WIPRO TECHNOLOGIES
CATEGORY: DIGITAL TRANSFORMATION INITIATIVE OF THE YEAR
FINALISTS:
GOODYEAR DUNLOP TIRES OPERATIONS
WIPRO LIMITED
TREMEND SOFTWARE CONSULTING
WINNER: GOODYEAR DUNLOP TIRES OPERATIONS ROMANIA
CATEGORY: EMPLOYEE ENGAGEMENT INITIATIVE OF THE YEAR
DEUTSCHE TELEKOM SERVICES EUROPE ROMANIA
WIPRO TECHNOLOGIES
ZITEC
WINNER: WIPRO TECHNOLOGIES
CATEGORY: EMPLOYER OF THE YEAR (less than 800 employees)
FINALISTS:  
DEUTSCHE TELEKOM SERVICES EUROPE ROMANIA
GOODYEAR DUNLOP TIRES OPERATIONS ROMANIA
ZITEC
LINNIFY
REBELDOT SOLUTIONS
WINNER: ZITEC
CATEGORY: EMPLOYER OF THE YEAR (over 800 employees)
FINALISTS:
ENDAVA
GENPACT
SOCIETE GENERALE EUROPEAN BUSINESS SERVICES
SCC SERVICES ROMANIA
WINNER: SOCIETE GENERALE EUROPEAN BUSINESS SERVICES
CATEGORY: L&D INITIATIVE OF THE YEAR
FINALISTS:  
SCC SERVICES ROMANIA
WIPRO TECHNOLOGIES
COLT TECHNOLOGY SERVICES
GENPACT
SOCIETE GENERALE EBS  programme 1 – Odyssey Developing Performance through Mentoring Program
SOCIETE GENERALE EBS programme 2 – The DelEx – Delivery Excellency Academy Program
SOCIETE GENERALE EBS programme 3 – The Intercultural Differences Program
WINNER: SCC SERVICES ROMANIA (SCC ONBOARDING & MENTORING PROJECT )
BRAND OF THE YEAR: ENDAVA
---
Trending Now
You may also like