Edenred and Asociația pentru Valori în Educație are looking for 50 public schools that want to raise the quality of education and hot meals for children, through the "Meal and Classroom" project
Posted On August 16, 2023
---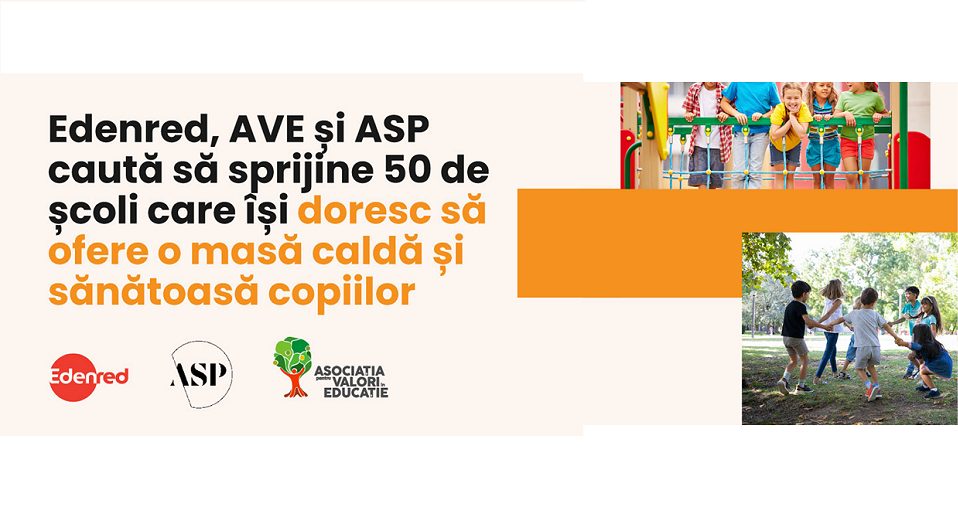 • "Meal and classroom" is a project implemented by Asociația pentru Valori în Educație and the Association of Private Schools, inspired by Edenred, through which 50 schools, kindergartens or high schools will be prepared to improve the quality of hot meals offered to children in school units.
• In Romania, approximately 30% of children between the ages of 7-9 are overweight, while between 15% and 20% of them are obese, according to a report by the World Health Organization, published in 2022.
Through the "Meal and Classroom" program developed by the Association for Values in Education (AVE) and the Association of Private Schools (ASP Romania), in partnership with Edenred Romania, 50 public school principals will learn to develop their management and leadership skills and will receive information and guidance to help them attract funding to optimize school meal solutions.
To this end, AVE and the experts in its network will support schools free of charge to attract funds with which to develop their logistical capacity, infrastructure, team or the nutritional quality of the meals they offer to children.
Within the program, enrolled schools will benefit from:
Support for increasing the capacity to attract resources, form teams and develop the necessary infrastructure to ensure quality nutrition for children.
Increasing the ability to access public, European or non-profit foundations funds.
Access to a guide on healthy nutrition for children, approved by nutritionists, doctors and authorities.
"This program is addressed to schools in any county that can register by filling out the following form until August 24. We will have a procedure for analyzing the applications received and we will pay attention to the motivation of the schools that want to enter the project. Schools can find out more information on the AVE website", said Andreea Nistor, Executive Director of AVE (Asociația pentru Valori în Educație).
As part of the program, ASP Romania and Edenred will develop, in collaboration with professional chefs, nutritionists and health specialists, a Guide of healthy recipes for schools. The guide will become accessible to the entire network of state and private pre-university education units, being available online for free.
"Edenred's initiative to support the formation of healthy eating habits and increase the access of children in schools to balanced nutrition through hot meals is a long-term commitment through our new strategic direction – EduFOOD. The approach completes the tradition of actions we dedicate to healthy eating through the FOOD Program, a European model of public-private partnership, launched and coordinated by Edenred, active in 11 EU countries, including Romania. We believe that school can be a positive transformational environment, including in terms of children's nutritional habits, and we are happy to be able to sustainably contribute to this community effort", said Dana Sîntejudean, Zonal Director Europe, Middle East and Hispanic America.
---
Trending Now
You may also like