Farlei Kothe, Stefanini EMEA: Connecting with your people, now more than ever
---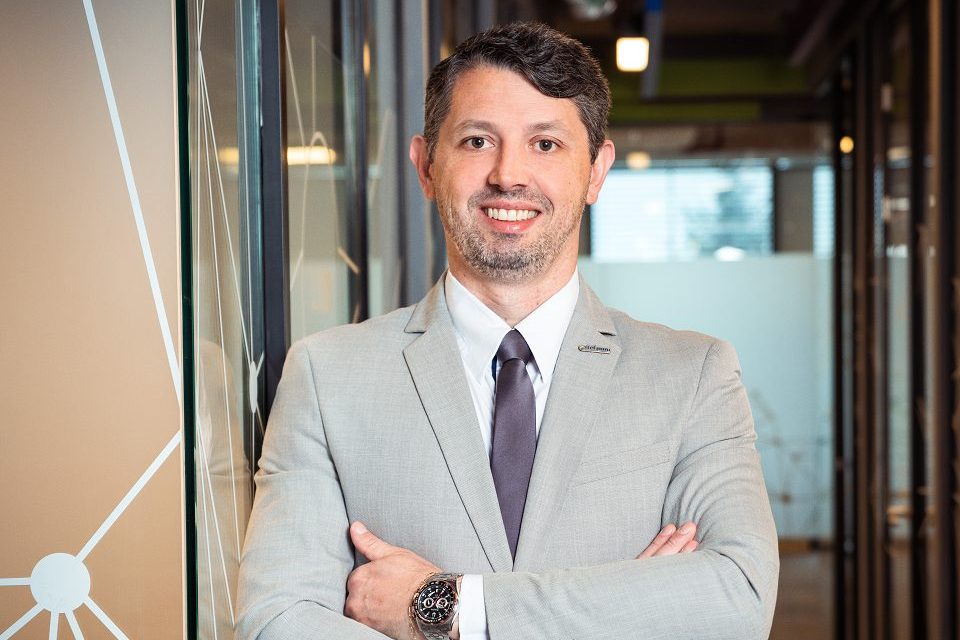 While the current economic environment remains demanding, it presents an opportunity for leaders to adapt and excel. In addition to mastering traditional leadership patterns and competencies, the emergence of human-centered leadership skills is becoming increasingly vital. These skills have the potential to be the differentiating factor that enables teams not just to survive, but to thrive amidst uncertainty and rapid changes experienced in recent years.
We recently talked to Farlei Kothe, CEO of Stefanini EMEA, a company that has seen record growth in the past year, about how he sees the transformation of leadership nowadays and which are the drivers of evolution for the company.
WHAT SHOULD A COMPANY PRIORITIZE THIS YEAR IN ORDER TO ACHIEVE THE EXPECTED GROWTH AND BUSINESS AGILITY?
MIX & EXPANSON OF BUSINESS SERVICES PORTOLIO
FOCUS ON GENERATING NEW BUSINESS
RECCURENT REVIEW ON THE ACTION PLAN
Staying even more connected
The leadership paradigm has changed radically in the past five years. Several years ago, everyone was in the office, everyone could see each other, and in our business, with a high demand of people, everyone could see anyone around and get a sudden answer, feedback and solution. Now, once the hybrid model became the norm, we don't have this anymore. But how do we still maintain the connection?
Leading by example and being more present than ever. Now, the leadership, in the hybrid model, is more complex. In face to face and online meetings as well, the people would click with you, because they like your style, your approach, they appreciate how clear you are on work aspects, how you are as person, the people follow you because they see you as a real person. In the current hybrid and remote working environment, the chance to directly connect with people has become more complicated. Everything we knew before about leadership now has a different twist. How are people going to follow you because they admire you for your knowledge or behavior? Or how do you do it naturally when they don't see you? You can do it by alluring them and connecting with them through events, being more present and active online, and using any chance and tool that the IoT ecosystem can provide. By using these channels, they can grasp the feeling of who you really are as a person and a leader.
You need to compensate by being more active online and getting to talk with people as often as needed in the most efficient, clear, and reliable way possible.
Get to know the people behind the screen
As a leader, you engage with individuals virtually, sharing strategies, action plans, and bringing clarity. Your style, energy, and understanding resonate with them effortlessly. However, personal connections are important, which is why our top management team of around 150 individuals gathers in Bucharest twice a year. While online meetings enhance leadership efficiency, face-to-face interactions provide authentic connections and an opportunity to explore soft skills. Striking the right balance is crucial.
WHICH ARE THE POWER SKILLS THAT RISE TO THE FOREFRONT OF LEADERSHIP?
LEAD BY EXAMPLE
OWNERSHIP
COURAGE (TAKE THE RISK BY DECIDING)
TRANSPARENCY ON THE STRATEGY
Technology is right here, and communication is now key, more than ever, to convey to people the right message in the right tone. But online can be tricky, as I mentioned before, because the screen can be a cunning reflection of a person. That is why, nowadays, in the hybrid working model, leaders and teams need to find the most appropriate and efficient communication model, so they can compensate the lack of the so-called direct connection people feel they have it when they talk face to face. There are days when I have more than 10 online meetings. That could not have been possible before. Yes, efficiency is better, but balance is the best.
In this new work environment, we must adapt our communication skills and strategies to ensure clarity, efficiency, and focus on performance objectives. Understanding diverse cultures is also crucial. The hybrid model is now a permanent part of our work lives. While some are familiar with remote work, many who have primarily worked in offices faced significant disruptions. Clear communication and strong soft skills are vital, particularly for younger generations who seek guidance. As a leader, you need to convey transparency and clarity on the business strategy, action plan and feedback, as growth means future for the most people.
EXPECTATIONS OF BUSINESS PERFORMANCE AND WORK ENGAGEMENT
QUALITY OF SERVICES
A CLEAR CAREER PATH & CAREER MANAGEMENT
FINE TUNING OF SOFT SKILLS
We have been passing a huge transformation since 2019. In terms of business performance, 2021 turned out to be a good year. 2022 was the best EMEA year ever! And 2023, looks like it will be outstanding, but this is a result of a 3-years preparation. For the entire global economy, the market was stuck in 2020, 2021 seemed like a challenging year and in 2022, everything just boomed in all aspects of businesses. That is why our expectations are even higher for 2023. This year will be a disruptive year for us and EMEA regions. Our NPS (net promoter score) surpasses 60% for three years in a row. Also, we need to keep transforming our portfolio to be the right partner for all our customers, as they need guidance, and they expect this from us. People need a career path and clear career management. The tools are in place and career evolution happens only within a growing business.
We are together in the same story and once you can convey the message that we build and growth together, success is already here. In career management, the leaders should identify and guide all through the right opportunities for their team members, because there is no recipe that fits them all. Everyone should grasp a sense of their own individual needs, expectations, ambitions and honor their values and life principles.
Now, in the "Chat GPT" era, it is a huge pressure, and we cannot be late and need to seize the growth opportunity. Everything seems now to be back in place, business travels, open spaces, events, inflation is reducing, it looks like the forecast about going back to normal in mid-2024 is already happening. Our business is going to be a lot impacted by the AI. We are going to have a lot of tasks that can be automated. In the entire economy landscape, some work roles are going to be largely disrupted and therefore, become obsolete. In three years, we are going to live in an entirely new world. Work roles and functions will disappear, while new roles will appear. This is just the world evolution, and we need to pay attention to how we adjust, imagine and transform new business models and make the best of the opportunities. The businesses will touch higher performances and get more competitive correctly scaling and adopting the AI-based tools and technologies. In this context, the leaders 'role is paramount, and they must lead by example. Nothing should be scary about AI, when it is developed and put to the good use of people and businesses. But as any tool, in the wrong hands, can be damaging, manipulatory and harmful. In this world, AI should be a tool used for the good of humanity.
The leading aspects to focus in 2023: People connection, Quality of work, Resilience
---
Trending Now
You may also like