The Next Generation Internet (NGI) European initiative to build on digital commons as a foundation of European digital sovereignty
Posted On January 31, 2023
---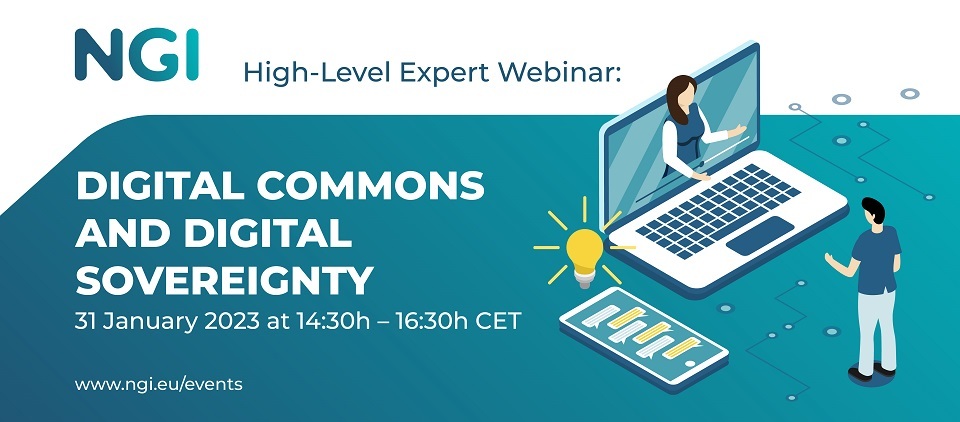 "Digital commons are non-rivalrous and non-exclusive digital resources defined by shared production, maintenance and governance. Under the right conditions, digital commons contribute to the preservation of the collective control and valuation of data, and consequently to improve the security of digital tools and innovations" (Declaration by the Presidency of the Council of the European Union)
The Next Generation Internet (NGI) European initiative to build on digital commons as a foundation of European digital sovereignty
Multilayer Internet infrastructure is becoming crucial to the European economy and the daily use of technology for interoperability and community governance. European businesses and citizens are starting to recognise the real benefits of an interconnected world, and it is time for Europe to grab new opportunities by strategically supporting digital commons.
On 31 January 2023 at 14h30-16h30 CET, the NGI Outreach Office will be hosting aHigh-Level Expert Webinar on Digital Commons and Digital Sovereignty. The webinar will be held online with key speakers, including Gemma Carolillo, Deputy Head of Next Generation Internet Unit and Nele Leosk, Ambassador-at-Large for Digital Affairs of Estonia, and together with a list of high-level panel speakers from Mozilla Foundation, WikiRate, and more.
For the first time ever, the high-level expert webinar will discuss the role of the NGI initiative as a way to foster digital commons and European digital sovereignty. The event aims to steer conversations around European digital priorities supporting an open, free, interoperable, and secure internet by exploring the latest evolution of digital commons. Therefore, policymakers, regulators, public authorities and all other relevant players in the internet arena will converge, defining collaboration, policies and targeted institutional and financial plans to guarantee the development and uptake of digital commons across the European Union.
The NGI's path to Europe's digital sovereignty
The NGI initiative is funding "commons" and open-source projects, both at the European and national levels. Several initiatives, including some digital commons communities, call for specific needs that the NGI initiative groups and connects these networks within the NGI Ecosystem, enabling sharing of expertise, knowledge, and the current concentration of Internet resources. The NGI is also actively promoting open calls launched by the European Commission and by the NGI project partners targeting strategic digital commons and giving opportunities for researchers and innovators to fund and support their ideas.
Digital Commons are among the core assets to pursue Europe's Digital Sovereignty. The future of technologies must support a fair and democratic Europe and seek prosperous opportunities by shaping tomorrow's digital society. The NGI Initiative sees that Europe has great potential to position itself at the forefront of an open and democratic digital nation. Let's take action now!
AGENDA
14h:30 – 14h:35 Welcome and introduction – Dr Monique Calisti, CEO Martel Innovate, Director NGI Outreach Office
14h:35 – 14h:50 The European Digital Priorities Next Generation Internet (NGI) contribution to Digital Commons – Gemma Carolillo, Deputy Head of Next Generation Internet Unit
14h:50 – 15h:10 Key note – Nele Leosk, Ambassador-at-Large for Digital Affairs of Estonia
15h:10 – 16h:25 Expert panel discussion

Paul Keller, Director of Open Future
Kasia Odrozek, Director of Mozilla Foundation
Melanie Dulong de Rosnay, Director of CNRS
Laureen Van Breen, Director of WikiRate

16h:25 – 16h30 Wrap-up and next appointments – Dr Monique Calisti, CEO Martel Innovate, Director NGI Outreach Office
REGISTER HERE (free)
---
Trending Now