Mihaela Popa, Wipro Technologies: HR is now in the driver seat
---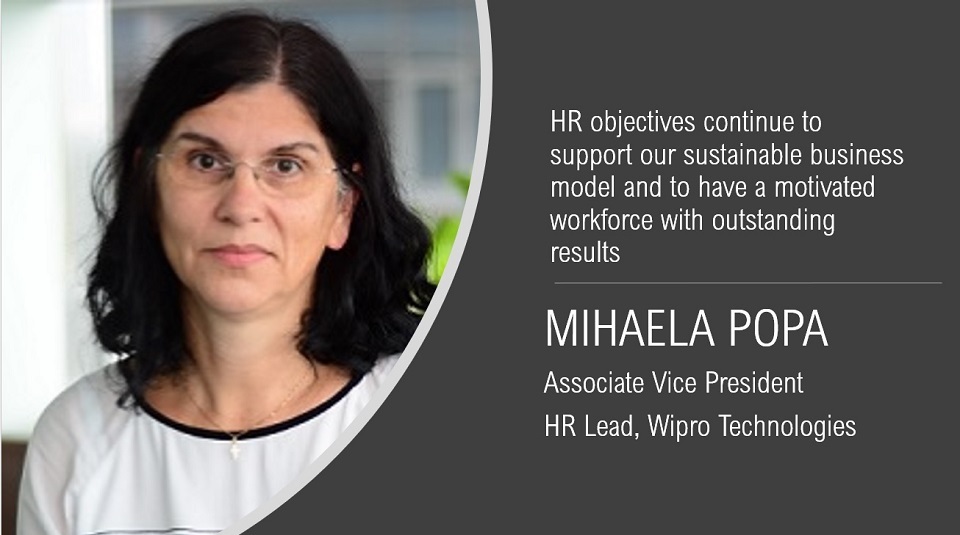 The HR & recruitment industry, highly challenged for the past two years, is undergoing a fundamental and structural changing process, has earned and proved a major strategic role in the companies, with ambitious targets and objectives to be achieved. People engagement, DEI, digital transformation, the people-centric approach, the sensitive aspects of recruitment and the increasing personnel fluctuation are often mentioned in company reports and statements. The new world of business, especially after the past two years, seem to become more people-centric and paying a great deal of attention to safety, healthy and well-being of employees. The workspace has tremendously changed and evolved to the benefit of companies and people altogether.
To better highlight the efforts and evolutions in achieving the assumed objectives of HR departments, MIHAELA POPA Associate Vice President, HR Lead, Wipro Technologies shared the company's insights on the current status and vision of HR.
HR objectives continue to support our sustainable business model and to have a motivated workforce with outstanding results. HR is in the driver seat.
What changes in fact, is how do we achieve these objectives, how do we keep our employees engaged? In our days when Covid is not a threaten anymore, as the Ukraine crisis has taken its place in the Geo. Compared to last two year there is one constant, we do work from home (home as a new office), and that has its own challenges. While working from home is not a novelty , as it might have been seen as a benefit for the employees some two years ago. Now it is a must and not part of benefits anymore. (1)Rethinking HR and reinventing employee experience was/is the main function objective. More efforts were made on Work-life balance, wellbeing, communication and collaboration. (2)Learning remains the driver for business success to up-skill employees and management. (3)Data driven HR and people analytics are base for business decision. (4) Inclusion & Diversity
Nowadays we are competing for talent. Employees are aware of this and some of them not resisting of the temptation to change very often the employer for different gains.
This is a challenge for all companies, as we seem to hire and release employees with same pace. As an organisation and HR function we have observed that employees are looking for options on how to increase their income, while the focus on career has been diluted. More and more requests are coming to commute from employment agreements to B2B agreements (PFA or Microenterprises), especially in the IT sector. While these forms seems to work for people, there are disadvantages too, as they bear some risk for both employers and 'employees'. This segregation makes more difficult the hiring and increases the cost further. Work-life balance, wellbeing and personal life are the employee's top motivators. To maximize the company offer to meet employee expectations, have implemented multiple programs: Employee Assistance Program, Personal & Financial wellbeing Programs, Flexible benefits covering offering Teleworking support and more. Most recently due to Ukraine crisis, we have matched employees' volunteering initiatives with paid days off, supported employees from Ukraine and Russia and contribute with donations. Our CSR team is very much involved on many other volunteering activities.
As the world struggled with pandemic, soon after the Companies struggled with the 'Great Resignation' phase that has not spared any geography or country in the world.
As it is challenging to recruit new talent, it is even more challenging to retain the talent. While companies adjusted and adapted to the 'work from home model' during covid allowing as much compassion and flexibility to employees, now we prepare for the 'Great Hiring'. We adopt new and creative ways to attract and retain talent with flexible measures as we have to accommodate the millennials (not only) moving beyond generations interest, values and aspirations. Our aim is to understand the need of candidates and employees to make our Value Proposition relevant, while doing business exceeding client expectation. Organizations can be successful if they are flexible to meet the needs of new talent and be creative in providing solutions, this being one of our focus of the current year.
Wipro is passionate about triple bottom line – aligning our business mandate with an ethical responsibility
Social Good is in our DNA and we believe in a holistic approach that covers: Social and Community initiatives; Sustainability, I&D. As employer of choice that attracts, develops and retains diverse talent, and believes in making 'inclusion a way of life'. Inclusion and Diversity (I&D), core to our strategy, has also undergone a transformation to align with our renewed focus on our people. This too has been marked in the industry for the past 2 years with several awards and recognising Wipro on various activities, like CSR, L&D and Innovation.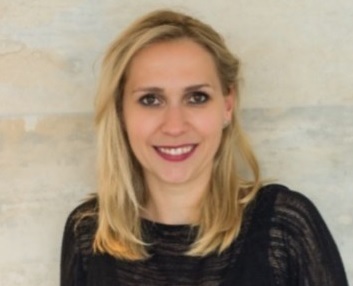 Teodora Todoran, TT Head,  Wipro Technologies: The L&D department has taken a different course of action, in addition to the standard growth agenda, and developed a Top Talent global program. The initiative was addressing the needs of upskilling, niche skilling and other professional development to ensure a sustainable business, through a redesigned learning culture. The program matured in a very natural way. It brought immediate benefits of role mobility, higher motivation at work, while at the same time there were valuable lessons in understanding and addressing some capability needs.  For the upcoming year, the focus remains in the same direction, however taking it to a different level. The new design emphasises the dedicated learning journey, ensuring an exclusivity or priority in accessing certain skills. Also the definition on a top talent is getting slightly redefined, covering the key employees also, which may be on the verge of becoming top talents, with the right guidance and development. All such efforts would ideally bring a measurable financial ROI through early revenue generation, increased retention and mobility opportunities.
Technology has transformed HR along years
Covid has compelled HR to swiftly respond to critical business priorities, handle fluctuation and harness latest technologies. Our employees are formed mainly by millennials and gen Z, being the largest population among our employees. These generations are tech powered and the way to manage. As we are a technology company and our focus is to offer our clients the best in class services as well high quality, and same level of service we are offering to ourselves. Recruitment is a department who was automated and applications/selection/offers and other transaction are moved in online and automated. Candidates and employees as well do appreciate that they have one stop shop online. Effortless shared services has speed up the digitization of the paperwork and automated and made more efficient the repetitive processes. Multiple automation/digitization were introduced from the integrated attendance and e-personnel files to Power BI reporting and real time data which support us to take fast decisions. HR Shared Services have taken over transactional activities from the HR function, giving opportunity to fully dedicate our focus and attention to employee's engagement activities/people practices.
Slowly we are exploring and designing a strategy to go back to office and we are equally confident that our employees will have a nice surprise and enjoy the workplace transformation
While our Country Head, Vivek Bakshi is an artisan of the workplace with a refined taste, and I have the philosophy of 'bringing home to office' as a concept. In the last years, Wipro was very much focused on workplace transformation and we moved in fully new office space in Bucharest and Brasov and full refurbishment of Timisoara one (undergoing currently). I can say that we are in class A office with dedicated offices, co-working space, amphitheatre, relaxation areas, fully equipped cafeterias and much more. All are environmentally friendly with green ecosystem integration, luxuriant offices awaiting our employees. It is a cosy space with home feel & look. I can confidently say the company is very well prepared to attract employees back to the offices. Our days have convinced employees that working from home is very convenient, however people interaction is a must. Video calls have saved some of people interaction, but I would say that this was an interim solution.
---
Trending Now
You may also like