Supreva, the first Eastern European B2B Marketplace to introduce a free Buy-Now-Pay-Later payment solution
Posted On February 11, 2022
---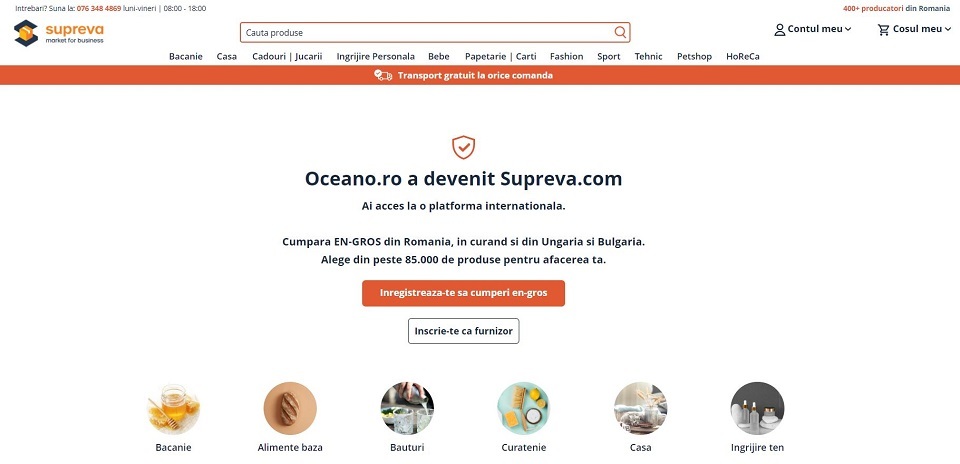 Oceano B2B Marketplace, a Romanian platform launched in 2021, becomes Supreva.com – Market For Business, a digital commercial ecosystem, intended primarily but not limited to SMEs, entrepreneurs and companies in business verticals affected by the pandemic.
Launched by local start-up Oceano Mercado SRL, Supreva is a digital platform that allows entrepreneurs to buy and sell wholesale in one place. By introducing, in January 2022, the Buy-Now-Pay-Later payment solution (BNPL), developed together with the Romanian fintech Filbo, buyers can benefit from net payment terms of up to 60 days, while suppliers will receive payment within 7 days following their order delivery. The BNPL payment option is free and available to customers who have had the company established for at least 12 months and have a legal and tax history without incidents.
"The context of social distancing in the last 2 years has brought radical functional changes to the business environment affecting various categories and verticals of companies from traditional retailers, HoReCa, local producers to importers, distributors and even SMEs in general. It has accelerated an irreversible process of digital commerce adoption (Gartner research "Future of Sales" estimates that by 2025, 80% of B2B transactions will be made online), stimulating the development of fintech and embedded finance areas, and the preference for local and regional supply versus Far East. We want to contribute to the support of the SME segment and the sustainable development of the Romanian business environment by creating an ecosystem in which companies can operate easily, without any risks, benefiting from a complete support system, from sales & purchasing services to free shipping, marketing, e-billing and even financial support to help our platform users' cash flow.", says Gabriel Margarit, founder and CEO of Oceano.
Originally called Oceano, the platform has been active since the beginning of 2021 and hosts an online community of over 4,000 businesses and a portfolio of over 85,000 products at manufacturer prices.
With a team of entrepreneurs and experts in the areas of trade, retail and banking with over 16 years of experience in the CEE region, the international platform Supreva offers several benefits to its growing community, such as: regional visibility, reduced marketing and promotion costs, advantageous financial options and free shipping.
---
Trending Now