Alexandra Peligrad, CEO Smartree: We expect a positive overall outcome this year for HR outsourcing services and HR software solution providers
---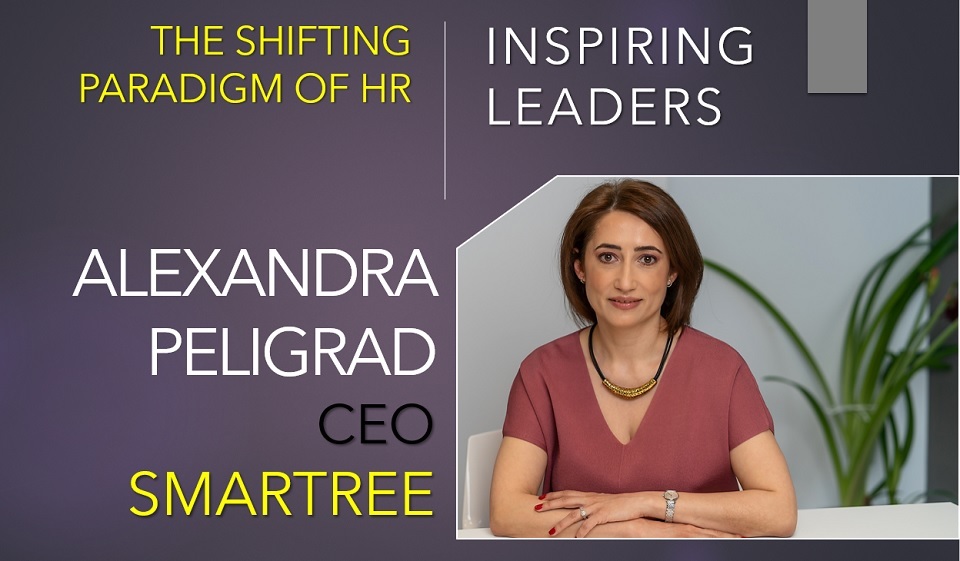 During the unprecedented difficult 2020 year and continuing in 2021, the HR and everything related to employees and employer branding have been of utmost importance for the companies' overall business development strategy. We talked to Alexandra Peligrad, CEO Smartree to find more on the company's insights on HR and L&D programs and strategies, workplace culture and business-wise expectations this year.
It all resumes to the concept of hybrid working and the challenges that arise as a result of it.
The issues we are facing today are those specific to this out of ordinary period we've experienced for over one year now, and are mainly related to adapting and redefining "the new normal" when it comes to labor relations between employers and employees.
In this new context, ensuring a safe environment through preventive measures of spreading the virus and meeting the employees' needs in terms of emotional health support is perhaps the main priority of HR departments in this period. As long as companies will be preoccupied about their employees' wellbeing and will take concrete steps in this regard, especially during this pandemic period, there are greater chances to retain them in the company for a longer period and to see an increase of employee satisfaction.
Another priority of HR department should be related to analyzing and redefining the organizational culture, which has certainly undergone through some changes after more than one year of remote working. It is obvious that the remote work has impacted the way employees communicate between them, the feeling of belonging to the company's values, so reinforcing the team spirit and building new principles and values with which employees can relate to, comes naturally. Especially since global trends are already introducing new, more human-centered leadership principles that truly put talent and people at the heart of organizational success.
Last but not the least is the trend that is gaining more and more ground lately and is related to digitalization and automation of repetitive and time-consuming tasks with the help of HR software solutions and artificial intelligence tools. We've certainly can confirm an increased interest for this type of solutions during last year.
Tackling the remote-flexible work culture in 2021
At this moment we are in the situation where we need to find a balance between a flexible way of working that meets the expectations of the employees at the same time with the gradual return to the offices, for a few days a week. So starting this month we have adopted a hybrid way of work, after a whole period of working mostly from home with few exceptions.
In this moment, the most important thing for us is to provide a safe environment for all employees when they come to the office. To facilitate this, in addition to all necessary preventive measures we have in place, we are implementing an application called PandemSafe, to help us schedule a safe return to the office and efficiently manage the hybrid working system. Basically, this application allows all employees to dynamically reserve the physical places in our open space facilities so that social distancing norms are being respected. Also, with the help of this application, we'll have access to all reports regarding employees who work from home and those who come to the office.
Another project that our company recently initiated is related to the increase of employees' commitment inside the organization and rebuilding the team spirit having as purpose the redefinition and development of a new modern organizational culture.
The recruitment story goes on
After a short period of a slower pace of recruitment projects during March-June period last year, when most of recruitment agencies experienced a setback, we can safely say things kind of got back to normal.
Compared to last year when there was a particular need in some fields of activities such as food retail, delivery and courier services, in this moment we have requests for performing new hirings in all kind of fields. On one hand there is a constant need, as usual lately, for very specialized software developers or testers for the gaming industry. On the other hand, we see an increased demand for engineers, electricians, construction workers or unqualified workforce very much needed for all kind of specific projects run for a period of time. But these are not the only examples.
There are also new companies entering the Romanian market like outsourcing services or intelligent devices distributors looking for Sales reps, call centers or back office agents. But while many companies started to feel confident and initiated new recruitment projects that were put on hold due to the medical crisis, we have reached again the point where there is a a large fluctuation and also a lack of workforce.
Given so far, we expect a positive overall outcome this year for HR outsourcing services industry as well as for HR software solution providers.
Companies are more aware than ever that in order to be competitive in nowadays environment, to scale growth but also to be able to react on the spot to various changes you have to have as many processes as possible digitalized or otherwise, outsourced.
If we particularly refer to Smartree, taking into consideration last year's unexcepted challenges, We could say We had a good year. We've managed to close the year with an increase of our business revenues and we expect a higher increase this year. We're assuming this kind of projections based on the general trends and the requests We receive that show an acceleration of outsourcing and digitalization projects involving HR departments.
Technology has become an inevitable part of our lives and enterprise applications are anything but new for a long period of time.
Meanwhile, the AI solutions are more and more appealing to companies and all studies predict an exponential growth for this market over the next few years. These applications will definitely transform the HR departments and a central role is played by the intelligent virtual assistants, such as MySmarty chatbot, developed by Smartree in partnership with Druid.
MySmarty provides automated interaction and instant access for employees to information and documents specific to personnel management, such as various types of certificates or pay slips. Also, it can cover other processes in the area of human resources, such as managing the recruitment process and performing certain operations, like entering and updating personal data. Certainly, in the next years, many of the companies interested in efficiency and employees' satisfaction will implement such a chatbot for repetitive HR activities especially since these chatbots are a great way to empower people in the direction of self-service tasks and autonomy.
As I said above, the new technologies are already common in companies and the medical crisis we have gone through has further accentuated the need for such systems. The challenges that came along with medical crisis led to new applications, which once connected to the main HCM systems, help you manage the safe return of employees to the office, as is the case of the PandemSafe application, which we are implementing internally as We speak.
In conclusion, during the past year technology not only brought some adjustments in the HR processes but rather became a huge catalyzer. Technology will certainly become the centerpiece of every organization interested in growth and any repetitive time-consuming process that can be automated will be automated in the near future. But also, technology has become a key instrument to a better interaction between employees and to an increased people's satisfaction by helping them access important information within organization one click away.
Learning & Development in 2021
This year, we took a particular close approach to Learning & Development programs within the organization. We basically have training initiatives for all levels covering both technical skills but also oriented to organizational development and leadership.
A clear example of an interesting project initiated during this period is an organizational analysis and development program meant to increase the natural commitment within teams and rebuilding the team spirit. We hope that at the end of this project We can develop new healthy modern principles and values compatible with our business objectives and with our employees' mindset.
---
Trending Now
You may also like