Monica Daliu, Regional Head of People Development and Recruitment, CE, Endava: A new working model is being shaped to respond to our people's expectations
---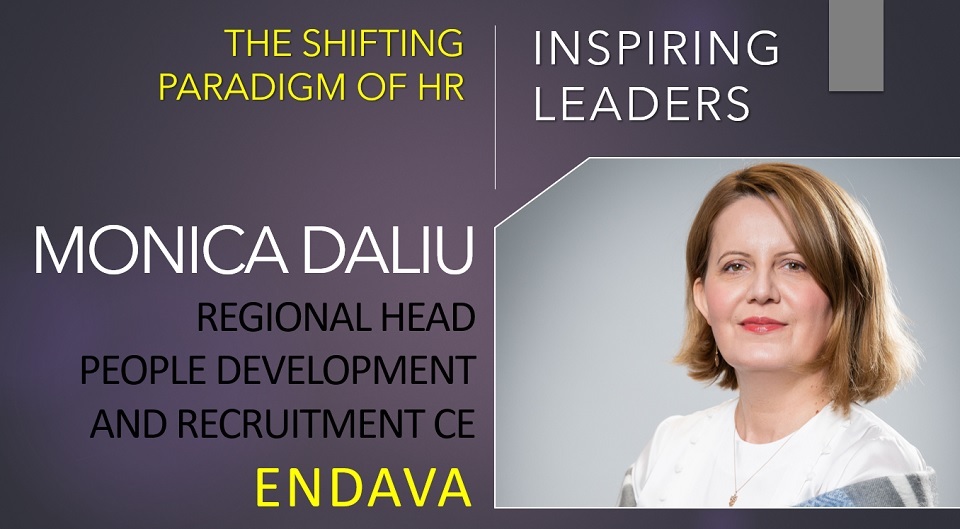 The HR approach in 2021, after the disruptive 2020
In Endava, we have a people-centric culture, and we are constantly encouraging open and transparent communication based on regular feedback. After one year and a half since we have been fully working from home, most of us (myself included) have truly missed the human interaction, the offline gatherings, the small talks from the morning coffee and the overall feeling of belonging to a community, which is a bit harder to share in an online environment.
The priorities of HR in 2021 remained pretty much the same, but with a shift of focus towards a more global and virtual approach of teams, projects and processes altogether. If in 2020 the primary goal was to ensure a lean transition of all the HR functions into a fully online setup, in 2021, we should explore more the benefits and prospects that such a setup can provide. I believe the changes in the last year will definitely significantly impact all the business models at a global level.
In my opinion, a hybrid work model will ensure a balance between the needs and expectations of our colleagues on the one hand and of our clients on the other hand. The key to achieving this balance is to listen to the people's needs and thoroughly analyze the best options. We have organized focus groups and detailed surveys for all the Delivery Unit Centers. Based on the information we have collected, a new model is being shaped to respond to our people's expectations.
Being an employer of choice is all about the culture you create, and that should always revolve around people
We are operating in the IT field and, in terms of hiring strategy for this year, we continue and going strong with our recruitment process. Even last year, when the pandemic slowed down other work fields, the IT market continued to thrive, as more and more businesses were faced with the immediate need for digitalization.
The recruitment market in Romania has evolved tremendously in the last couple of years. The competition grew at a fast pace, so the companies have to reinvent themselves in order to maintain that competitive edge continuously. Being an employer of choice is all about the culture you create, and that should always revolve around people.
The employee experience is an ongoing process. We, as human beings, are constantly changing. Our needs and expectations are evolving over the years. This is why feedback and carefully listening to your employees is of such great importance. If you are in a constant dialogue with your employees, then the culture is somehow re-adjusting itself; it follows a natural course based on our everchanging needs.
I believe it is more a matter of the values we are trying to cultivate than the means of doing so. As I've mentioned earlier, our culture revolves around people. In the last couple of years, the work market changed drastically, people are more and more oriented to what a company stands for and that's why is important that your company's values and culture to be genuine, otherwise those employer branding campaigns, no matter how good, will not reach the audience.
Digitalization will continue to be an essential component in the following years, alongside AI
If 2020 taught us how to transform the fully work-from-home environment into a high-level cooperation model between virtual teams, in the next period, we should focus more on expanding these models at a larger scale and to more business streams.
As all business pillars, HR operations benefited greatly from digitalization. Being part of an IT company was a major plus because we had the opportunity of developing and customizing our internal tools, which had a significant impact on our daily work. Of course, this transition wouldn't have been possible without a solid infrastructure to support it. Still, again, we had the advantage of having it all in place when we were put in the position of moving everything online basically from one day to the other.
The automated processes and automation tools, in general, will continue to play an essential part in HR, which will be translated into more efficient teams and a better overall experience with employees and candidates altogether.
Learning & Development area will also have to be synchronized with the hybrid work model
At least for the time being, everything is still working entirely online. This of course, has advantages, but also some downsides. While the people have a wide variety of trainings and courses that they can attend from the comfort of their homes, the information became harder to process. Among all the online calls and meetings, it's easier to lose focus, and therefore the ability to fully understanding the content is also affected.
According to one's needs, we provide to our colleagues a diversity of courses and trainings, targeting technical and soft skills. We also developed an internal online platform, which covers a high number of courses. We collaborate with external trainers and encourage our people to share their knowledge through regular Pass-it-Ons that they are organizing.
But again, here, too, the human interaction is also what adds value, so I think that the Learning & Development area will also have to be synchronized with the hybrid work model.
---
Trending Now
You may also like