Hays has launched the super connect for good – an international competition for start-ups and scale-ups
---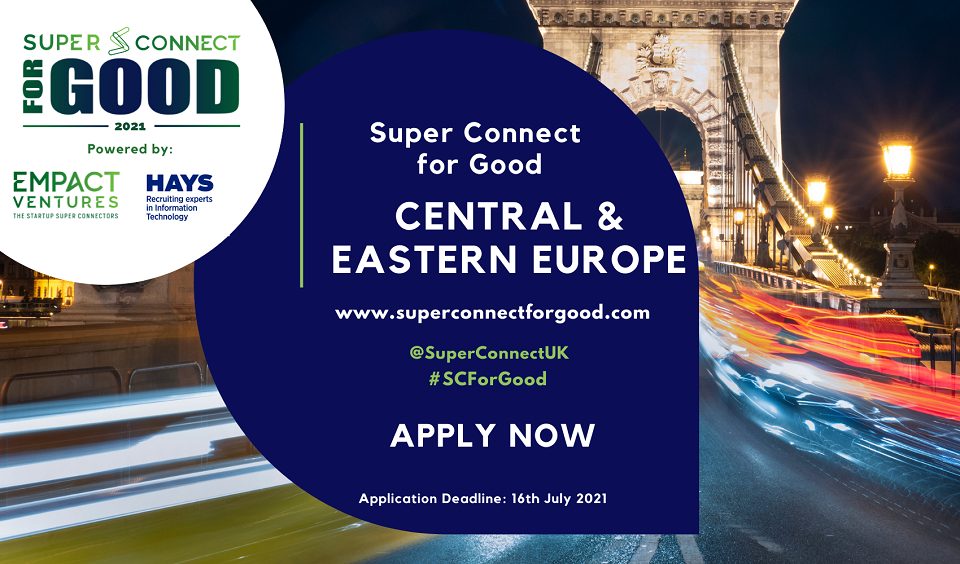 Hays and Empact Ventures have launched the second in the series of the Super Connect for Good competition
The competition welcomes entries from start-ups and scale-ups across European countries (Romania being one of the list), UK and Ireland
Hays Recruiting Experts in Information Technology, the recruiting experts and global super connectors, Empact Ventures, have launched 'Super Connect for Good' for the second year running, a European 'Tech for Good' competition in a bid to uncover the best emerging tech start-ups and scale-ups creating a positive impact on people's lives through technology.
Alongside Hays Technology and Empact Ventures, the competition is backed by partners including NatWest, Siemens Mobility, Microsoft for Start-ups, OVHcloud Start-up Program, FinTech Scotland, Leeds Teaching Hospitals NHS Trust, Seedrs, RTC North, Royal Agricultural University, Linkilaw Solicitors, NIHR Surgical MedTech Co-operative, Dublin BIC, Boardroom Advisors, Top Business Tech and HealthTech World.
The competition will take place across 5 regions within Europe, including D-A-C-H and Nordics, France, BeNeLuX, Southern, Central and Eastern Europe (including Romania), and 5 regions within UK and Ireland. Applications will be judged by over 30+ judges including regional experts, entrepreneurs, funders and professionals.
There will be 21 winners including an overall winner, 10 regional winners and 10 innovation stream winners including AI for Good, EdTech, HealthTech, MedTech, Smart Cities, FinTech for Good, CleanTech and General Tech for Good, Pre-Seed and Industry Challenge.
The competition is open to tech start-ups at the seed stage and scale-ups at Series A-B with the Pre-Seed Challenge launched this year dedicated to early stage start-ups in partnership with Microsoft for Start-ups. In addition, a new industry challenge has been launched with Siemens Mobility to improve public safety through new innovations that support transport infrastructure.
The Top 100 Innovation Applicants will be invited to pitch at the Top 100 Innovation Showcase event on 30th September 2021 where the top 10 in each of the innovation streams will go head-to-head to be announced in the Top 10 Tech for Good innovations in Europe announced at the Virtual Final. In parallel, the regional judges will review all applications to decide which 10 Regional Winners will be invited to pitch at the Virtual Final on 18th November 2021 to go head-to-head to become the Super Connect for Good 2021 Overall Champion
Timur Makhmutov, Managing Director, Hays Romania, said: "Following the success of last year's competition held in UK & Ireland, we are looking forward to again uncovering start-ups and scale-ups across the broader region, involving Romania, and highlight the social change and difference to people's lives they make. Not only do we endeavour to showcase the work of these organisations, through the various prizes on offer we will be able to provide exceptional support and networking opportunities to help these organisations accelerate to the next stage of their growth."
Kosta Mavroulakis, Founder & CEO of Empact Ventures, said: "We are honoured to be working on this high impact initiative with Hays once again after the success of the last year's competition which really demonstrated how tech start-ups and scale-ups are changing people's lives in every area from education to healthcare and public services. In 2021, we are excited to be expanding the reach, opportunities and super connections to a wider variety of tech start-ups and scale-ups including those in CleanTech, those at the pre-seed stage and based outside of the UK and Ireland across Europe"
To apply to the competition, please submit your application at www.superconnectforgood.com by 11pm on 16th July 2021 or to attend the virtual events please register at https://bit.ly/3vtbmzj and https://bit.ly/3vtbmzj. For enquiries, please contact hello@empact-ventures.com
---
Trending Now
You may also like