Mihai Constandiș, Cognizant Softvision: Key principles of work culture are flexibility, mobility, trust and optionality
---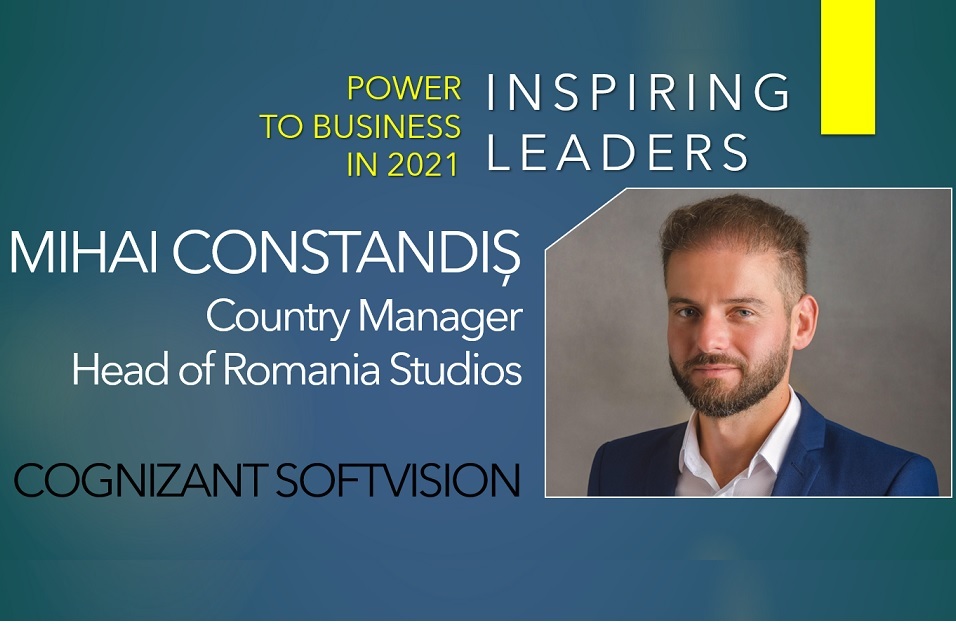 Business as usual or the resetting of the entire business structure? Making the best of the lessons learned in 2020 and turning it into the business growth's drivers in 2021? Envisioning a company structure built for people? Enablement of wellbeing, safety initiatives and multi-leveled and hierarchy-flexible communication conduct?
Mihai Constandiș, Country Manager, Head of Romania Studios, Cognizant Softvision answered to the Outsourcing Today's interview and addressed the plans, the core values and the actual enablers for business growth that marks the evolution of 2021.
The power words for this year: Flexibility | Innovation | Experience
The main business drivers for business growth in 2021
For us in Romania, we remain focused on talent recruitment and development, as well as creating a vibrant culture and community for all Softvisioners. Of course we are extremely sharp in building great software products for our clients, using the technologies we are passionate about to transform the client journeys, to make a difference in our millions of users' experiences. We have recently launched a new initiative that enables current and future employees in Romania to work anywhere in the country. We're providing all employees the flexibility to work in one of Cognizant Softvision's five existing software design Studios, remote from home, or wherever they are most comfortable.
This initiative embodies our Employee Value Proposition, "The Place To Be, Now and Beyond." This new, flexible work concept will open opportunities for employment with Cognizant Softvision to a broader range of individuals by removing any limitations related to commute time, or other challenges due to geography, especially as we look to staff 200+ technology and software product engineering roles.
COVID-19 accelerated tech adoption and transformation like never before
I don't think we're going back to business-as-usual. Business travel has been permanently disrupted. We've proven that we can collaborate and accomplish a great deal by working remotely. Indeed, COVID-19 accelerated tech adoption and transformation like never before. As Michael Dell said recently, 'what companies might have done in two or three years, they're now doing in two or three months.' This transformation means a definitive shift in terms of how we view remote work and the importance of corporate culture. All these things will continue to play a role in our business for the foreseeable future with accelerated digital transformation being very present.
The flag-ship project of 2021
We are squarely focused on rolling out Game of Pods, a new hyper-growth platform that focuses on driving excellence within software delivery teams while optimizing and accelerating talent development. To realize this, it's important to reflect on our model. Our operating model makes it possible for us to build successful software products for our customers. We focus heavily on the outcomes that our teams deliver, not just the output. This is part of what makes us a product engineering organization and such an important partner for our clients. We call our delivery teams Pods, and there is a robust talent development model behind the formation of Pods. Game of Pods captures the real-time excellence of our global team, with a focus on continuous improvement. The Game of Pods platform supports our on-the-ground delivery teams in their work, through what we call the "Delivery World," while in parallel supporting our talent development within the "Talent World."
Of course we are very proud that we are delivering flag-ship products for our clients every day, we are contributing to the overall acceleration of the digital journeys adoption, in essence bringing better experiences for millions of users around the world in all the business domains.
Speaking of experiences, another flagship project we are extremely focused on in 2021 is the definition and implementation of the future of work for us, with key principles around flexibility, mobility, trust and optionality. The key word for the future of work for us is the experience everyone will have while choosing to work from home or from the office; it's all about a meaningful Studio Experience.
The workspace culture: The Place to be
We want to continue to nurture a culture of empowerment and evolution to meet the individual needs and preferences of our existing staff, along with the growing creative technology talent throughout Romania. The past 12 months have led us to recognize that our employees value the flexibility a remote working solution can provide, and we are excited to offer this option going forward as an element of our culture. The Cognizant Softvision studios will continue as our Regional Command Centers, places to gather to create connections, products and friendships. Our studios will be The Place To Be for heads-up work, meet-ups, or events that impact and disrupt the tech industry. They will serve as centers of excellence for innovation.
The leadership: Fostering a culture of belonging
Leadership skills are essential in order to enable a successful business environment, and even more so to create a culture of evolution and a clear sense of community—all in all, a great experience for both employees and clients to thrive.
In Cognizant Softvision, our leadership is focused specifically on two core dimensions: our people and our clients. These are both instrumental for what we do, and is the reason we have our community and our delivery management organizations. Community managers are focused on people's evolution in their career, their constant motivation in ensuring there is always a fit between aspirations and what each project is offering. This also fosters a culture of belonging and gives us a clear sense of community, which are the real homes for our engineers. Delivery managers are focused on client partnerships, ensuring top quality delivery, enabling constant evolution of our processes and performance indicators, as well as supporting true business value for our clients by building magnificent digital experiences for their consumers.
While this organization was already mature and proving its value and scalability, the Covid-19 pandemic was a great test for its resilience. We proved to be extremely successful in keeping a clear focus on our people and our clients, even in these unprecedented times with everybody working remotely. We managed to evolve our delivery model to virtual teams, still collaborating and delivering really well, while remaining close to our clients when they needed us to accelerate their digital transformation initiatives. At the same time, our communities enabled us to continue to have everyone connected. There is a strong empathy that is helping us to move on, to learn and to enjoy some good community moments. Even though we weren't face-to-face as a community, the physical distance is not an issue anymore; our virtual community events were more inclusive than ever.
Of course we all look forward to getting back in our offices, which will be completely different. The offices will be the catalysts of experiences, collaboration, innovation and positive energies of people coming together for various purposes. In fact I strongly believe that managers should be the true enablers of experiences both for people and clients, with a strong business acumen and a clear responsibility for top results, evolution and growth.
We are excellent creative technologists. We're innovative software product engineers, we're collaborative with our clients as well as Cognizant partners. We need to become better marketers and work harder to build awareness about the amazing work we're doing and how we're disrupting and transforming industries. We all need to be more vocal when it comes to sharing our successes and demonstrating in all our studios the reason Cognizant Softvision is 'The Place To Be.'
---
Trending Now
You may also like