Raluca Burghelea, Accenture Romania: Leaders must have a well-thought-out plan, be transparent and ready to adapt to employees' needs
Posted On January 27, 2021
---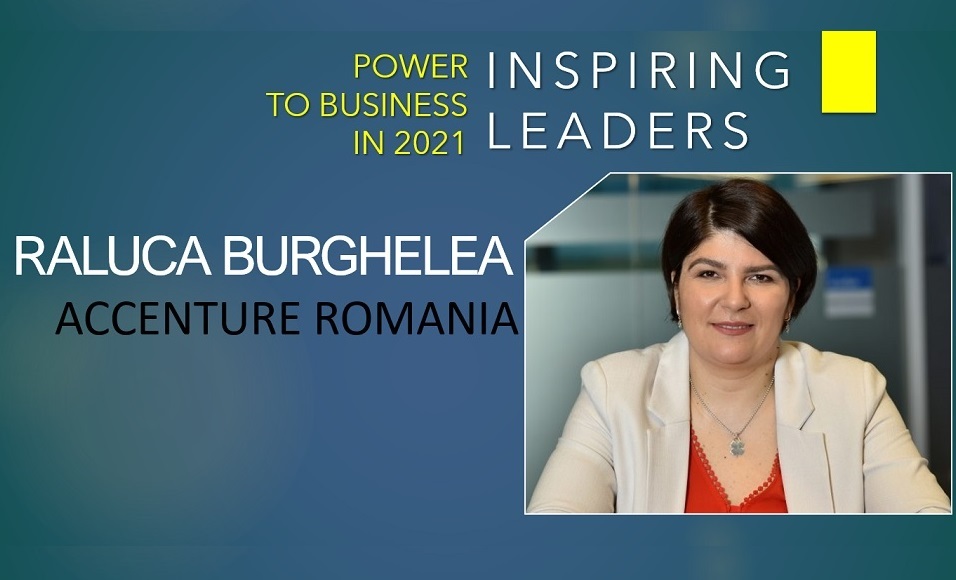 Business as usual or the resetting of the entire business structure? Making the best of the lessons learned in 2020 and turning it into the business growth's drivers in 2021? Envisioning a company structure built for people? Enablement of wellbeing, safety initiatives and multi-leveled and hierarchy-flexible communication conduct?
Raluca Burghelea, Managing Director of Accenture Operations in Romania answered to the Outsourcing Today's interview and addressed the plans, the core values and the actual enablers for business growth that mark the beginning of 2021.
POWER WORDS IN 2021: People | Technology | Agility
The COVID-19 pandemic has demonstrated that organizations now more than ever need to be able to predict change and respond rapidly to the evolving needs of both internal (employees) and external stakeholders (customers).
Our clients are increasingly turning to the potential of digital technologies, such as cloud, AI and automation, with higher expectations of what their operating model can achieve – in the context of creating new value.
Traditionally, companies made incremental improvements to existing models of operation without actually changing how the work gets done. Today, complete operational reinvention is front and center as companies must create entirely new ways of doing work – no more working in piecemeal approaches. This is a strategic approach to advancing the operating model by adapting how work gets done across technology, processes and people. This may appear scary for some who don't know where to start, but these uncertain times have shown us we must capitalize on the unexpected opportunities for meaningful change – in order to emerge stronger than before.
Many businesses have started their journey to recovery
However, continuing to outmaneuver uncertainty will require businesses to advance business operations maturity. As businesses have begun to reopen, the landscape has ultimately changed. Reopening requires more than a return to normal, as the unpredictable and long-lasting period that follows this pandemic will feature significant changes to economic activity, fast-changing cultural norms, societal values and behaviors.
This presents an opportunity for many companies to build the competences they wish they'd invested in before: to be more digital, data-driven, and in the cloud; to have more variable cost structures, agile operations and automation; and to create stronger capabilities in e-commerce and security. These will be the core of the long-term capabilities they build.
Virtually all companies are continuing to determine how we go about changing the way we work, short- and long-term.
In these rapidly changing times, leaders must be trusted by the workforce through leading with compassion. As the workforce continues to function and perform, many are still struggling with what is going on in their daily lives. We know that responsible leadership is an imitable formula so to navigate challenges, leaders must have a well-thought-out plan, be transparent and be ready to adapt to employee needs.
It's important that managers keep human needs at the heart of decisions. As decision-making is increasingly pushed onto individuals and businesses, the next phase of the COVID-19 crisis will be a litmus test for corporate behavior. Compassion and confidence have never been more important.
Trust is the new currency in employee interactions and it's important to foster culture by recognizing and incenting people to adopt these new behaviors and mindsets. From my view, managers need to move beyond transactional interactions to more meaningful, trust-based relationships with employees. Go high-touch to check people's pulse and think ahead to the things that will impact them. For example, on the path to recovery, many people will be anxious about returning to offices and public spaces so it will be important to protect people's interests and not to get ahead of them.
Digital excellence should act as a "North Star" for businesses as they look ahead to 2021 and beyond
In fact, our research found 74% of C-suite executives say they plan to completely rethink their processes and operating models to be more resilient, while 92% report that they're accelerating digital investments. So in 2021, we expect business leaders to prioritize bridging the gap between their current operations and what we like to call a "future-ready" state, where operations are better equipped to adjust to fluctuating conditions, power more innovation and achieve performance gains.
The "digital leaders" who have achieved this state have excelled in the adoption of technologies like cloud and AI to capture more profits. In our new research, "Fast Track to Future-Ready" future-ready organizations – the top 7% – achieve about 3X higher profitability and twice the efficiency compared to everyone else. Those that advance to the future-ready state can automate at scale, augment human talent with technology and commit to data-driven decision-making with better data. In terms of capabilities, we've found AI to deliver especially great ROI and we expect organizations to continue to scale its adoption. Our clients have seen the benefits – AI humanizes work by freeing up more time for creative tasks and critical thinking. On the customer size, it also enhances experiences with any time/anywhere access to services.
---
Trending Now
You may also like