---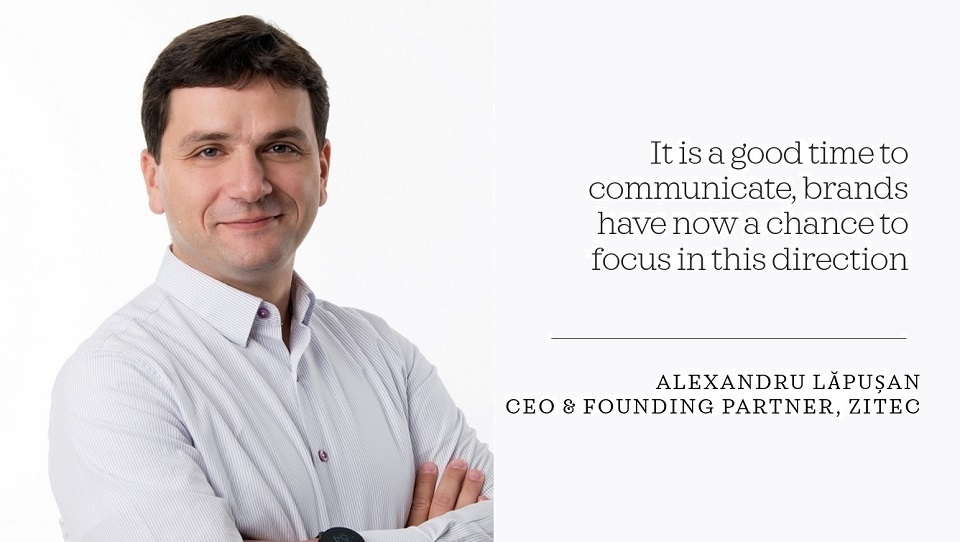 This year started business as usual but, in just a couple of months, 2020 brought a nasty surprise, not expected, with no anticipated effects and most important, with lessons to be learned for everyone. However, the actual state of doing business found Zitec, IT & digital marketing solutions provider in Romania in a rather fortunate position. The first effect of the pandemic was the challenge for the companies in setting the work-from-home environment and infrastructure, with all the triggered challenges, but Zitec, due to the nature of its operations, had already in place this modus operandi.
As Alexandru Lapusan CEO & Founding Partner at Zitec told Outsourcing Today, " the already existent Work from Home company policy resulted in virtually everyone working remotely. So, when the crisis escalated, it was very easy for us to switch entirely to working from home. There was no productivity decrease, quite the opposite. Our colleagues reported they feel more productive, due to less interruptions, meetings are much more efficient." According to Lapusan, when the company pushed towards the virtual meetings, the communication results were easy to be handled. "Even the All hands meeting, with more than 100 colleagues in the same video call, was spectacular. With no preset rules, everything was like clockwork: we covered everything, took lots of questions and closed on time. We are a strong united team and I am confident that together we will manage to overcome the impact of this crisis, both on a personal and a professional level," Alexandru Lapusan says.
With no preset rules, everything is like clockwork
The first measures taken by the company included monitoring international travel and instructing colleagues returning from travels to Work from Home for 14 days. "We have also recommended all parents to work from home as well, since schools suspended classes, and soon after the situation escalated internationally we have required all colleagues that are using public transportation to reach the offices to also work from home," Zitec's CEO says.
Second, the company revisited the entire client portfolio, collected direct feedback on how they were impacted by the crisis and how they plan to adjust any software development and online marketing plans. "In a couple of cases we are also working together with our partners to provide financing solutions for our clients, helping them better cope with the situation without damaging their development plans," Alexandru Lapusan explains.
After just one month since the pandemic case in Romania, the effects of the crisis are already visible. As stated also by Zitec's CEO, unfortunately, some industries have been severely affected, directly or indirectly, and many companies have adjusted or frozen their online strategies. There are companies that have seen their sales reduced by 70-90% or had to completely shut down their activity. On the other hand, there are industries that are growing and where certain opportunities appear. "Similar to the 2008 crisis, we expect a temporary suspension of the decisions to purchase software development services or online promotion (since consumer behavior has suddenly changed, for some industries it is not justified to invest in marketing campaigns, for example)," the manager says. Also, he adds that, on the other hand, it is a good time to communicate, people need positive news, brands have a chance to focus in this direction, and campaign costs are lower during this period.
"Should the pandemic escalate and as the social distancing policy will continue, I expect that remote communications, e-commerce, and the efficiency of some processes will become more and more important. All of this involves investment in IT, therefore, I expect the entire IT sector to register growth," Alexandru Lapusan adds.
Business leaders should have the opportunity to keep their gates open online
Maybe there was no similar time in the modern business economy when the call for leaders had been heard so loud and clear. As Zitec's CEO states, "this global situation will play an important role in showing business leaders across all industries that the digital transformation is now a must that should have been included in everybody's strategy starting yesterday. As the offline shops, malls and restaurants are closed for the moment, business leaders should have the opportunity to keep their gates open online".
Moreover, some of the other effects triggered by the unprecedented situation is that offline businesses will be forced to reinvent their businesses taking online into more serious consideration, managers will become more flexible regarding the Work from Home policy for their teams, since now they have a chance to see their people perform remotely, and not the last we will all be reminded that our families and close friends are the ones that matter the most, according to Alexandru Lapusan. "Zitec is and will remain a dedicated partner, on whom both our business partners and our people can count. We care deeply about keeping the promises we made and empowering our peers to achieve their goals while staying true to our values. Whether times are good or turbulent, loyalty is a matter of honor for us," the manager completed.
---
Trending Now
You may also like