"Regional Economy: Finding Opportunities In Challenging Times" – conference dedicated to the business environment in south-western Romania
Posted On November 15, 2023
---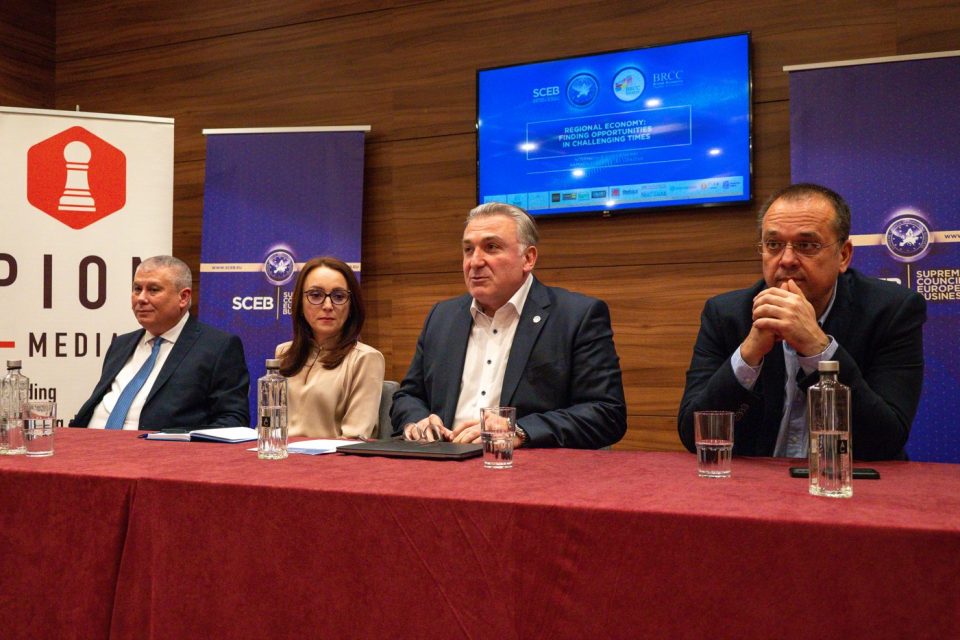 The "Regional Economy: Finding Opportunities In Challenging Times" conference organized by the Supreme Council of European Business (SCEB) and the British Romanian Chamber of Commerce (BRCC) on November 9, 2023 was dedicated to the business community of Craiova and the entire south- west of Romania. One of the main goals of the conference was to debate, together with speakers and participants, the most suitable strategies for business consolidation.
The focus was also on the solutions that entrepreneurs have to get through one of the most difficult times, marked by changing capital markets, interest rates, geopolitics and inflation. Equally, the current situation also creates some of the greatest opportunities for entrepreneurs and companies that have a regional presence and international ambitions.
Mehmet Sumeroglu, SCEB Chairman: "The business environment at the national and international level is once again going through a period full of rapid changes to which companies must adapt. In this context, entrepreneurs have several solutions they can turn to, namely: adapting operations and processes to the new situation, digital transformation and automation of as many aspects of the business as possible, effective crisis management and risk reduction, permanent analysis of market trends global, as well as the identification of strategic partners and projects carried out in collaboration with them."
Mădălina Cîinaru – Director of the British Romanian Chamber of Commerce: "In light of the rapid changes in the current economic landscape, at the local level one of the recipes for success in business consists in the ability to adapt and understand the new dynamics of the market. I am convinced that in order to strengthen business, not only innovative approaches are needed, but also constant adaptability to volatile environmental factors. Despite the challenges brought by changes in capital markets or inflation, Romanian entrepreneurs can still access significant opportunities in these uncertain times. The key lies in identifying and implementing the most suitable strategies, in collaboration with trusted partners, to navigate successfully in this complex business landscape."
During the panel conference, the participants learned new information and inspirational examples from Mehmet SUMEROGLU – SCEB Chairman, Ramona GENTĂRĂU – General Manager, Cost Contab Group, Florin PREDA – Owner, Exal Grup Romania and Cristian ANTON – Managing Partner, All Audio ( Datasoft Romania). The panel will be moderated by Alexandru Debrezeni – President of the SCEB Grand Council of Romania.
The Supreme Council of European Business is an international organization that aims to create and develop business opportunities for the economic and educational progress of every citizen of the world. SCEB acts through sectoral councils from European and non-European countries and brings together business people, decision makers and experts from various industries. The entire community is working together to create an international business environment characterized by agility and better adapted to today's challenges.
The British Romanian Chamber of Commerce, a chamber of commerce with a presence in London and Bucharest, is the leading business-led organization promoting bilateral trade and investment between the United Kingdom and Romania since 1998. The chamber of commerce is actively involved in creating and sustaining an environment dynamic business environment, where free trade and investment support companies in their development process. This year BRCC celebrates 25 years full of notable achievements and the formation of solid collaborations with community members. With a growing membership base, BRCC aims to expand geographically both in the United Kingdom and by developing its activities in other cities in Romania, such as Cluj, Iasi, Timișoara or Brașov.
---
Trending Now
You may also like