Romanians have the opportunity to apply for a free scholarship in the field of cyber security, offered by the best technology institute in the world
Posted On September 6, 2023
---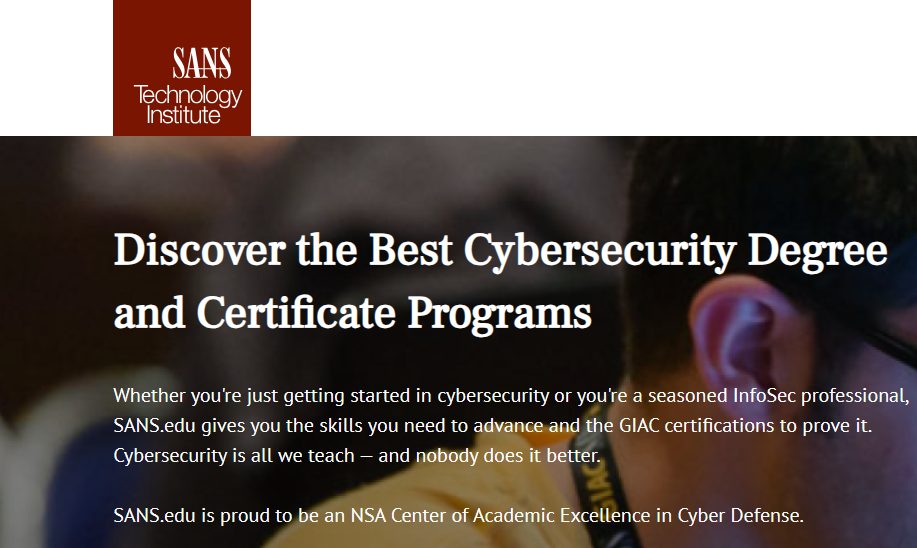 The SANS Institute of Technology is today launching the Paller Cyber Security Scholarship, a fully funded international scholarship designed to help close the cyber security skills gap.
The scholarship is open to applicants from Romania, the Czech Republic, Estonia, Latvia, Lithuania, Moldova, Poland and Slovakia. All courses will be held in English. Tailored for learners with varying levels of cyber experience, from seasoned information security professionals to people with no technology background, the scholarships allow admitted candidates access to one of two scholarship programs. Both programs offer top-level degrees and certificates, helping fellows get involved in making their organizations, regions and countries more secure and protected from cyber threats.
Through the New to Cyber Track – the program that does not require previous experience – learners can earn a Bachelor's Certificate in Applied Cyber Security, a Bachelor of Science in Applied Cyber Security or a Bachelor of Professional Studies in Applied Cyber Security. The second course, dedicated to the experienced, the Experienced Student Track – is open to those with a bachelor's degree and experience in IT or information security and will enable learners to obtain one of eight job-specific graduate certificates or a Masters in Information Security Engineering. The scholarship covers all course fees, course materials and GIAC certification exams, regardless of the program followed by students.
All programs include multiple Global Information Assurance Certifications (GIAC), are available 100% online and offer a range of challenging, on-demand or live sessions designed to suit the needs of learners. Built with the demands of industry professionals in mind, the courses are highly flexible and allow learners to take one course at a time, and most will conclude with an industry-recognised GIAC certification exam. Created and delivered by elite cyber professionals working in cybersecurity today, this hands-on online education takes learning beyond the screen and can turn it into a life-changing career in cybersecurity.
Named after Alan Paller, founder of the SANS Institute and SANS Institute of Technology, the Paller Scholarship in Cybersecurity is built on the educational legacy of this visionary in the field of cybersecurity, evidenced by the millions of security breaches prevented and the hundreds of thousands of lives saved which Paller helped change. Today, with organizations needing stronger defenses than ever before, SANS Institute of Technology is the leading international cybersecurity program and the only college focused exclusively on cybersecurity education, making a commitment that individuals with talent, drive and desire to protect have the opportunity to act and make a difference.
"The Paller Cyber Security Scholarship provides the world's best cyber security education to those who have the desire and ability to make an impact in the real world. A hands-on approach, delivered by those on the front lines of the cybersecurity industry, will be imperative for those seeking to defend against today's critical cyber threats.
No other cybersecurity education provider in the world has the same level of real-world exposure that we do, so we're excited to bring fully funded scholarships to those who are up for the challenge and determined to make a difference," said Ed Skoudis , President SANS Institute of Technology.
"Alan Paller has dedicated his life to vastly improving the skills of cybersecurity practitioners to counter ever-increasing threats. Thanks to Alan's commitment, sustained effort, and kindness, hundreds of thousands of students have become better cyber defenders. His legacy and lifelong dedication continue to embody the mission of SANS," he added. There are examples of learners who have transitioned into cyber security from completely different, unrelated fields and have been able to build successful careers. "If you work in this field, you have to be prepared to look to the future and stay connected to the cutting edge of technology. I directly attribute my current job to the certifications I obtained through the SANS Institute of Technology. SANS certificates are well recognized and respected throughout the industry and around the world. It's the best program of its kind in the industry," said Jake Danuser, a SANS Institute of Technology graduate who switched from philosophy and economics to cybersecurity and is now an associate security consultant for AHEAD, a leading provider of security solutions. cloud, data and digital engineering.
"The SANS Institute is the Oxford of security studies, so students naturally feel that the expectations of them are high. To live up to that is a tremendous achievement," said Shawna Turner, a SANS Institute of Technology graduate who transitioned from stage technician to cybersecurity and is now a senior engineer at Nike. No prior cybersecurity experience is required to qualify for the scholarship, but applicants will be required to pass an aptitude test and interview.
To find out more details or to apply for the Paller Cyber Security Scholarship visit www.sans.edu/paller-cybersecurity-scholarship. Applications are open until November 15 at 11:59 p.m.
---
Trending Now