E.ON embarks on a new chapter moving in Record Park's premier office space
---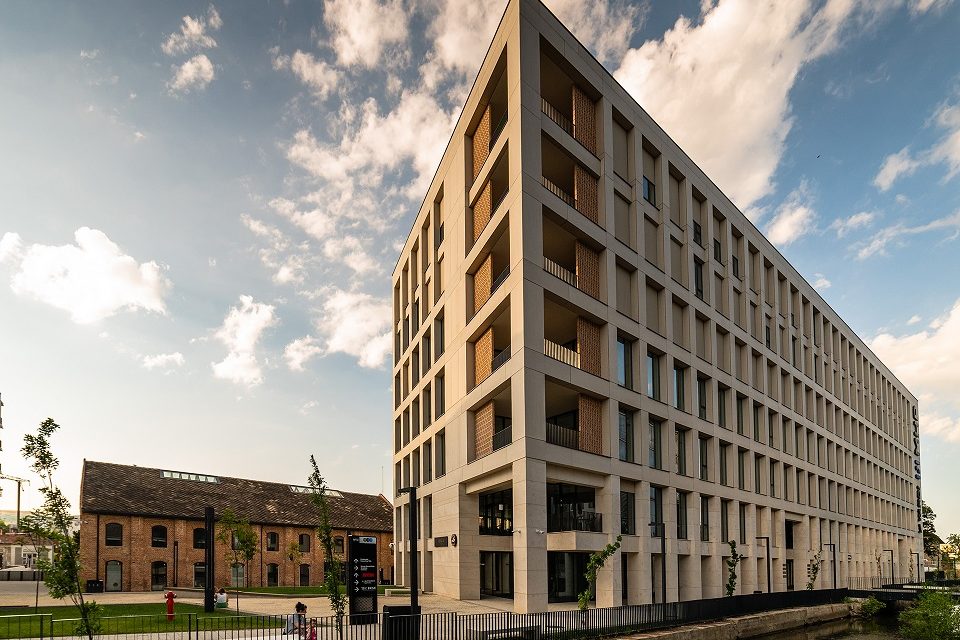 E.ON Business Services Cluj, one of the largest employers and most active players in the business support services field in Cluj-Napoca, will relocate to a new office space in Record Park, the mixed-use project developed by Speedwell, and owned by AYA Properties Fund. With the fit-out and preparations now finalized, Record Park is ready to welcome E.ON in their new state-of-the-art office, a space meticulously designed to cater to their specific needs and ambitions. Griffes real estate advisory, through Andreea Paun, mediated the office leasing transaction.
E.ON Business Services Cluj, part of the German group E.ON, one of Europe's largest operators of energy networks, was established in Cluj-Napoca in 2012, with the aim of providing high-quality accounting and financial services to the internal customers of the E.ON Group around the world.
E.ON's office space is a true embodiment of the company's vision to change the workplace environment. What was once a classic workspace has been thoughtfully transformed into a dynamic and collaborative design that fosters creativity, innovation, and synergy among its employees. The newly designed office boasts numerous collaborative areas strategically integrated throughout the workspace. These spaces serve as hubs for idea-sharing, brainstorming sessions, and team discussions, promoting a culture of collaboration and open communication. From cozy breakout zones and relaxing terraces to modern meeting rooms equipped with the latest technology, every element has been carefully curated to inspire teamwork and enhance productivity.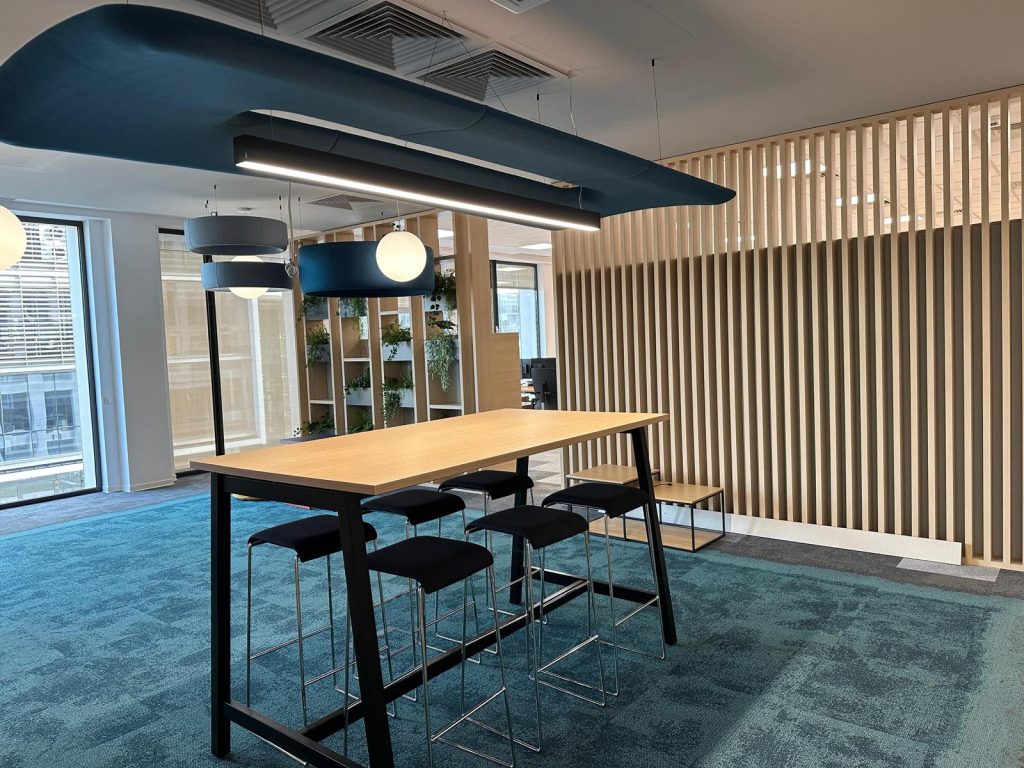 Record Park, known for its modern and dynamic workspace environment, aligns perfectly with E.ON Business Services Cluj' vision to offer cutting-edge energy solutions while fostering a collaborative and inspiring workplace culture. The new office space has been thoughtfully designed to accommodate the company's evolving needs, promoting seamless communication and greater synergy among teams.
"We are delighted to announce the successful completion of our new office in Record Park. This marks a momentous occasion for E.ON Business Services Cluj as we step into a new era of growth and progress. Record Park's exceptional amenities and strategic location perfectly complement our commitment to innovation and customer service. We eagerly anticipate the boundless opportunities this new workspace will bring to enhance our services and employee experience." – stated Stefan Balster, Managing Director E.ON Business Services Cluj
Record Park is the first mixed use development project in Cluj-Napoca, offering 15,000 sqm of office space and 236 apartments, anchored by leisure and recreation facilities, a convenience store such as Mega Image, the new Bruto bistro and a kindergarten.
"Witnessing the completion of E.ON's office fills me with great pride. Our vision for Record Park was to create a space that fosters innovation and collaboration, and this office perfectly aligns with that vision. It is truly gratifying to see how this space has transformed into an environment where they can excel in delivering top-notch energy solutions. I am excited to see E.ON's team thrive in this dynamic setting and eagerly anticipate the positive impact they will make in the energy industry from their new headquarter." – stated Didier Balcaen, CO-Founder and Partner of Speedwell
Speedwell has announced installing photovoltaic panels for two of its office projects: Record Park in Cluj-Napoca and Miro in Bucharest. The company plans to improve the properties in its own portfolio and transform them into buildings with a higher degree of sustainability. The addition of these panels does not only reduce its carbon footprint, but also provides a cost saving solution for its tenants.
The new tenant occupies two consecutive floors amounting to 3,500 sqm office space. "The office is truly state-of-the-art, boasting cutting-edge design and modern amenities that align perfectly with E.ON's commitment to innovation and excellence. It has been an exciting journey to witness the transformation of this workspace into a dynamic environment that will undoubtedly inspire E.ON's team and elevate their service offerings to the next level.", stated Andreea Paun, Managing Partner of Griffes, the consultant of the parties in the transaction.
Record Park Offices was successfully finalised and delivered in 2020, hosting the headquarters of MHP Consulting Romania, a subsidiary of Porsche AG and the US insurance company MassMutual, among others.
Record Park Offices are BREEAM certified with an Excellent rating. The BREEAM certification reconfirms Speedwell's high-quality standards and commitment to delivering unique and sustainable projects. The project also offers a great accessibility and parking tool that allows visitors and permanent users to use the indoor parking facility of the compound and pay per use, hence facilitating access in a usually crowded center area, whilst optimizing facility costs.
Currently, Record Park Offices is owned by AYA Properties Fund, a Belgian based real estate investment fund with focus on real estate assets at AAA locations in South-Eastern Europe.
* * * * *
About E.ON
The E.ON Group is one of Europe's largest operators of energy networks and energy infrastructure and a provider of innovative customer solutions for 50 million customers.
The German group E.ON is one of the market leaders on the energy sectors, having a consolidated presence in Romania of over 17 years. The flagship companies of the E.ON Romania group are Delgaz Grid and E.ON Energie Romania, which carry out distribution activities, respectively the supply of energy and energy solutions for about 3.4 million customers. Since entering the Romanian market, E.ON has invested around 2 billion euros, mainly in network modernization. At the same time, the value of the contributions transferred to the state and local budgets amounts to 2.7 billion euros.
E.ON Business Services Cluj was established in 2012, with the purpose of delivering first class financial and accounting services to the internal clients of the E.ON Group all over the world.
Thanks to its financial and accounting expertise, standardized processes and IT structures, E.ON Business Services Cluj has become an important partner in the global decision-making process in the E.ON Group.
About Speedwell
Founded by 2 Belgian Nationals, Jan Demeyere and Didier Balcaen, Speedwell aims to develop real estate with Passion. Having jointly developed over a 1 billion euro pipeline, Speedwell has a large portfolio of developments in Romania that includes RECORD PARK in Cluj-Napoca, THE IVY, TRIAMA Residence, The Meadows, Cityzen, and SpacePlus in Bucharest, Glenwood Estate in Corbeanca, MIRO offices in Bucharest, PALTIM in Timisoara, and RIVERSIDE CITY in Ramnicu Valcea.
About Griffes:
Griffes is the real estate consultancy company founded in 2016 by Andreea Paun, following an experience of 15 years in real estate and property marketing. Griffes' office building portfolio reaches 95,000 sqm and includes prominent properties such as Unirii View tower in downtown Bucharest, the Record Park mixed-use project in the heart of Cluj-Napoca, Liberty Technology Park, an urban regeneration project in Cluj-Napoca, Paltim in Timisoara, Muse boutique office building in Bucharest, and several other projects in regional cities.
Occupiers assisted by Griffes in the development or set-up of operations in Romania include the IT and outsourcing company Wipro Technologies, the Japanese software company NTT Data, the consolidation of Porsche technology center in Cluj-Napoca, ATOS IT Solutions, IPSOS Research, Veeam Software, the US insurance giant MassMutual, or the UK based PayPoint International.
Photo credits: Griffes
---
Trending Now