Closing the technology deficit could add up to $3 trillion of revenue for European companies, Accenture report finds
---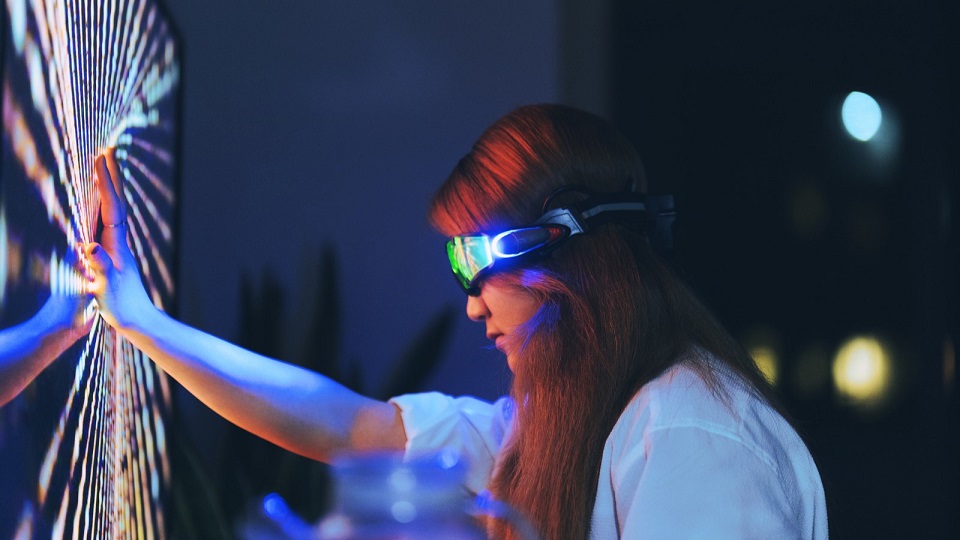 Only 14 percent of European companies' board members have technology experience, compared to 22 percent for North America.
New research from Accenture finds that European companies could generate up to $3.2 trillion in additional revenue by 2024 if they were to close the technology deficit against their counterparts in North America (NA).
Closing the technology deficit would require European companies to take a different approach, by improving technology experience in their boardrooms, accelerating R&D investment to pursue new business models, while capitalizing on their skilling strengths.
According to Accenture's "Innovate or Fade" report, the projected additional revenue for European corporates represents an increase of up to 12% of revenues in 2023 and of up to 13% of revenues in 2024.
The report, which includes an analysis of technology experience[1] in boardrooms of nearly 2,000 of the largest companies in the world, found that:
Only 14.4 percent of board members of the European companies analysed have technology experience, compared to 21.6 percent for NA companies;
Companies in the Netherlands, Ireland and the UK have the most technology experience (19.1%, 18.9% and 18.8% respectively), while Norway (6.2%), Austria (6.1%) and Portugal (4.5%) suffer the lowest technology experience in boardrooms;
Only 11 percent of CEOs of these European companies have technology experience, compared to 17 percent of CEOs in NA;
In a challenging macroeconomic environment, when companies need to continuously reinvent themselves to achieve greater resilience and growth, having technology expertise at board level has never been more critical.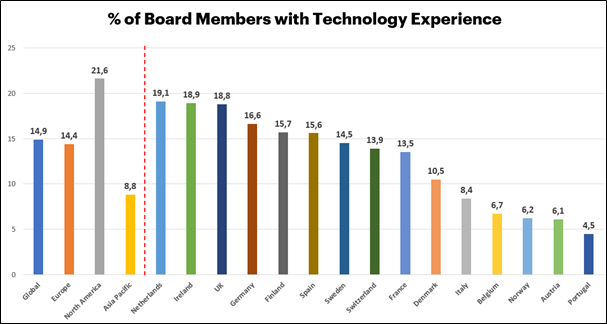 Jean-Marc Ollagnier, CEO of Accenture for Europe, said: "Boards and CEOs used to think business strategy first, and how technology could support it second. Now it is vital they integrate technology from the very beginning when developing new products, services or business models, or companies risk losing out on billions of additional revenue.
Take the application of generative AI, for instance. The key question for leadership is how they integrate this technology to drive efficiency and growth, responsibly – having the right expertise at the very top level is critical. Improving the "technology quotient" in boardrooms and in the C-suite is key to help companies make informed decisions about how technology can propel the organization forward.
Mastering technologies such as AI, next-generation networks, edge computing and digital twins, will also be critical to the industrial reinvention, which many governments across Europe are fostering."
Despite the tech experience gap at board level, the report found that European companies are more focused on upskilling their people in technology than their U.S. counterparts: 28% of respondents said they run a technology program across the business, while only 18% of U.S. companies do. This could help to explain why European companies seem less concerned by a tech skill shortage compared to U.S. firms.
Accelerate R&D to build future growth
According to the report, European companies allocate less of their revenues to R&D investments compared to NA and APAC companies.
What is more, this gap is widening: in 2017, the European companies analysed for the report trailed their NA counterparts by 70 basis points in terms of R&D investments as a percentage of revenue. By 2022, this gap had doubled to 140 basis points. This investment gap amounts to $147 billion in 2022.
European companies are also less likely to file AI-related patents compared to their NA and Asian peers. Accenture found that only 60% of European companies have filed patents relating to AI, compared to 77% of companies in NA and 89% of companies in Asia Pacific (APAC). Even less (34%) have filed patents in generative AI, compared to 60% in NA and 73% in APAC.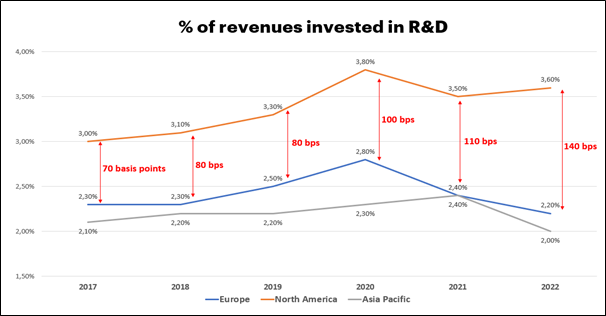 According to Jean-Marc Ollagnier: "Technology R&D investments are crucial to build future growth, through new products and services and new business models. For instance, to implement circular models, companies can look at how technologies such as blockchain can ensure the traceability of components and improving the transparency of the recycling process to help provide the trust that consumers expect to foster product reuse.
Technology can also play a critical role in accelerating R&D. Cloud, AI and Quantum can help accelerate drug discovery in pharmaceuticals and create more sustainable materials in chemicals. It is less the absolute amount that is invested in R&D that matters, but the portion of revenue allocated and most importantly how it is used."
About the research
Accenture's Innovate or Fade report includes an analysis of the technology experience of 19,495 board members (inside and non-executive directors) of 1,843 of the largest firms in the world, including in North America, Europe, and Asia Pacific; additionally, professional backgrounds of 1,695 CEOs (chairmen or not) were also analysed. For this analysis, Accenture defines individuals who have technology experience as those who meet at least one of the following criteria: 1) they have technology responsibilities (e.g., CIOs, CTOs, CDOs) at their current company or had such responsibilities in previous companies; 2) They hold or have held senior responsibility in technology firms. The report is also based on a survey of 1,000 business leaders across Europe, the United States and Asia Pacific, to better understand companies' technology spending and adoption, and on an economic-modelling-based analysis of 2,114 companies to evaluate the gap between European and North American companies in generating profitable growth from their use of technology, and quantify the potential additional revenues that European companies could generate if they were closing this technology gap against their North American counterparts.
About Accenture
Accenture is a leading global professional services company that helps the world's leading businesses, governments and other organizations build their digital core, optimize their operations, accelerate revenue growth, and enhance citizen services—creating tangible value at speed and scale. We are a talent and innovation led company with 732,000 people serving clients in more than 120 countries. Technology is at the core of change today, and we are one of the world's leaders in helping drive that change, with strong ecosystem relationships. We combine our strength in technology with unmatched industry experience, functional expertise, and global delivery capability. We are uniquely able to deliver tangible outcomes because of our broad range of services, solutions and assets across Strategy & Consulting, Technology, Operations, Industry X and Accenture Song. These capabilities, together with our culture of shared success and commitment to creating 360° value, enable us to help our clients succeed and build trusted, lasting relationships. We measure our success by the 360° value we create for our clients, each other, our shareholders, partners, and communities. Visit us at www.accenture.com.
---
[1] For this analysis, Accenture defines board members who have technology experience as those who meet at least one of the following criteria: 1) they have technology responsibilities (e.g., CIOs, CTOs, CDOs) at their current company or had such responsibilities in previous companies; 2) They have or had senior responsibility at a technology firm.
---
Trending Now
You may also like