More than 1200 children from rural areas will learn coding for free, through the CODE Kids Program, supported, for the 5th year in a row, by Societe Generale Global Solution Centre
Posted On November 1, 2022
---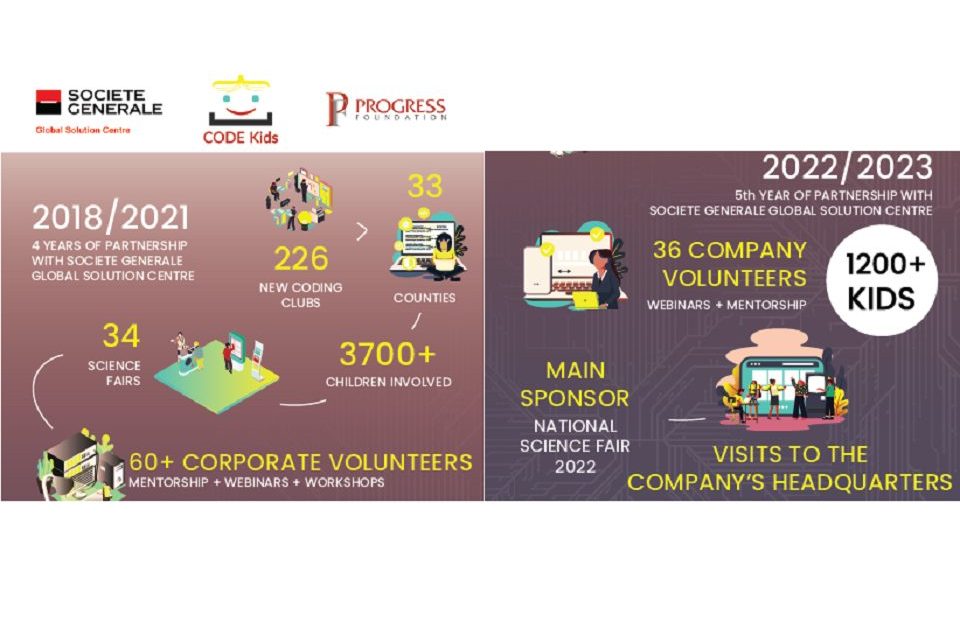 More than 1.200 children coming from the rural areas can join for free coding & robotics clubs in public libraries, benefiting from 8 months of webinars held by 36 top professionals from Societe Generale Global Solution Centre, which is continuing in this way the investment in the CODE Kids program, the biggest coding movement in Romania.
As the main sponsor of the National CODE Kids Science Fair 2022, the company is promoting the development of STEM education among children with exceptional results, who proved that they can perform well, no matter how developed their area of origin is. The company's employees are helping children prepare for the National Science Fair, mentoring them and teaching them how to pitch their ideas in the most attractive way possible. Kids competing in the fair are going to face a jury, similar to the financing process from tech industry. Thus, children will gain, besides technical abilities, significant soft skills that will help them prepare for a successful career in IT and even in entrepreneurship.
Since 2018, Societe Generale Global Solution Centre has contributed to increased IT competencies for over 3.900 children aged between 10 – 14 years old who are already part in the 4th Industrial Revolution, despite coming from rural, less developed areas. On average, 65% of them finished the first year of coding classes and reached an advanced level. The CODE Kids program is helping secondary school students make the first steps towards a career in tech and to reach their full potential, preparing them to the professions of tomorrow.
"Supporting education represents a strategic investment in the development of our community and society. Plus, encouraging the growth of digital competences for children is crucial for their future, in order to face the new labour market challenges. Although appearances show a digital evolution amongst Romanian people, the reality is that only 10% have advanced digital skills, whereas in rural areas the percentage goes even lower. Children are not as well prepared for the future because there are still many gaps in society.
This is why we decided to focus on supporting educational projects, such as those promoting developing youth's skills, especially for children and teens with a disadvantaged background. CODE Kids project is one of the programs that gives children relevant and essential knowledge for the labour market, which leads to bigger chances to a successful career in adulthood.", declared Daniela Vercellino, COO of Societe Generale Global Solution Centre in Romania.
"The relationship built in the past years between Societe Generale Global Solution Centre and Progress Foundation is a main pillar of the CODE Kids program. We enter the 5th year of partnership with a clear view that the success of this kind of program is based on a long-term and long-standing collaboration with our funding partners. Our funders understand that a major change in education can only be achieved in time for a sustainable investment. Children who joined our robotics and coding clubs have become in time alumni, trusting colleagues in CODE Kids, helpers of the other children, which is a confirmation of the program's multiplying force." Camelia Crișan, CEO of Progress Foundation.
About Progress Foundation and CODE Kids
CODE Kids is the flagship project of Progress Foundation, awarded 1st place in 2022 in Bruxelles at Emerging Europe Awards, Future-proof Education category. Progress Foundation is a nongovernmental organisation, founded in 1996 in Bistrita, that contributes to the development of community institutions and vulnerable people, helping them become more powerful through education, technology, research and innovation. The organisation offers support to citizens for development, reaching their full potential and increasing the state of wellbeing in sustainable and resilient communities. Through the Foundation's partnerships, the organisation focuses on facilitating the process of learning throughout one's entire life, the transfer of innovation, the creation of competencies in IT and STEM and the development of new social inclusion frameworks. To achieve its objectives, Progress Foundation uses public libraries and community areas in towns and villages as focal points and social innovation hubs. www.progressfoundation.ro
About Societe Generale Global Solution Centre in Romania
Societe Generale Global Solution Centre was founded in Romania, in 2011, as a service centre for the Societe Generale Group. The company offers a wide range of high-quality professional services in various fields of activity for the Group's entities worldwide: Finance & Accounting, Human Resources, Information Technology, Know Your Customer or Compliance.
---
Trending Now
You may also like