Code for Romania and Societe Generale Global Solution Center formalize partnership to encourage civic participation
Posted On November 11, 2021
---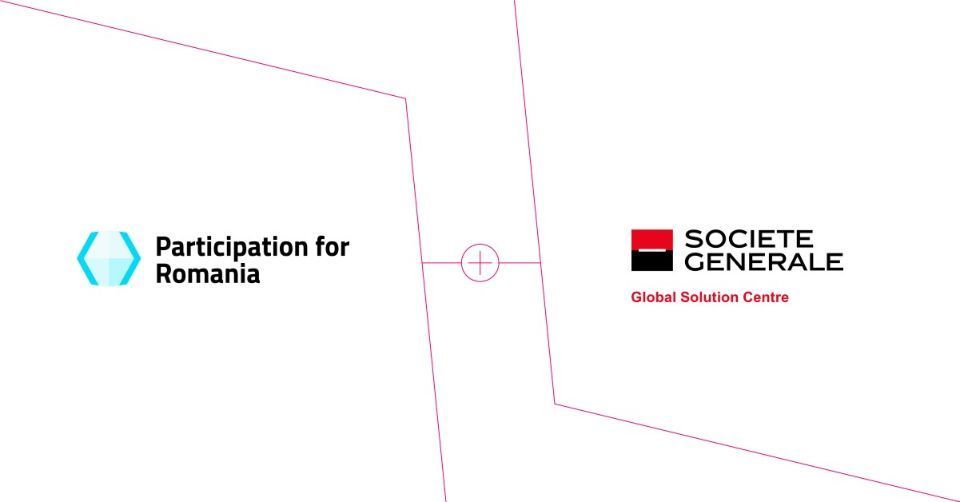 Societe Generale Global Solution Center joins the sponsors who support the Code for Romania mission within the Civic Labs program through which the association researches and designs digital solutions meant to solve pressing problems of Romania.
Societe Generale Global Solution Center is the new field partner for the Participation for Romania ecosystem, where topics are currently being researched aimed at identifying a set of digital solutions within the theme "Functional City Hall".
With the support of the Societe Generale Global Solution Center team, this year Code for Romania focuses efforts on town halls and other local authorities, institutions with which citizens come into contact in their relationship with the state, which is why the need for good functioning through internal processes is felt.
Good functioning, first and foremost internally, will naturally make difficult interactions of citizens with town halls easier and more efficient. Thus, the association will develop civic technology solutions designed to act to streamline the relationship between citizen and state.
"Some of the most impactful solutions of Code for Romania were solutions that support civic participation and involvement. I am glad that we found in Societe Generale Global Solution Center a partner dedicated to our design effort in this key field (Participation for Romania) because without functional public participation mechanisms we cannot improve any of the critical public services," said Bogdan Ivanel, CEO and co-founder of Code for Romania.
The research stage meant an immersive experience of working with town halls in various cities as a typology, during which time the organization had the opportunity to perceive in depth what the workload of a local government institution that has by far the largest working footprint. directly with the citizens.
"At regional and even global level, Romania has a competitive advantage, not only through the 'export' of IT talents, but also through the remaining talents in the country. The business environment in Romania knows this and how vibrant the current generation is. Together we create a healthy competition in the field, giving IT specialists the context to choose to contribute to society and its well-being in a broad sense. Through the partnership with Code for Romania, our IT colleagues will have opportunities of involvement specially created for them, they will be able to interact with other specialists and to contribute to the improvement of the difficulties that Romania faces. Personally, I am excited to see how Code for Romania proposes a modernization of volunteering, through the contribution of IT knowledge, so much sought after and valued today and in the future. We are proud of our motto in Societe Generale Global Solution Center Romania #WeCareTogether and we enter this virtual role to contribute to real life," said Ioana Botezatu, Head of CSR at Societe Generale Global Solution Center.
Currently, the Code for Romania team is designing the right solutions to build the digital infrastructure suitable for local public services.
---
Trending Now