BRCC versus NRCC QUIZNIGHT- 15th of September
Posted On September 8, 2020
---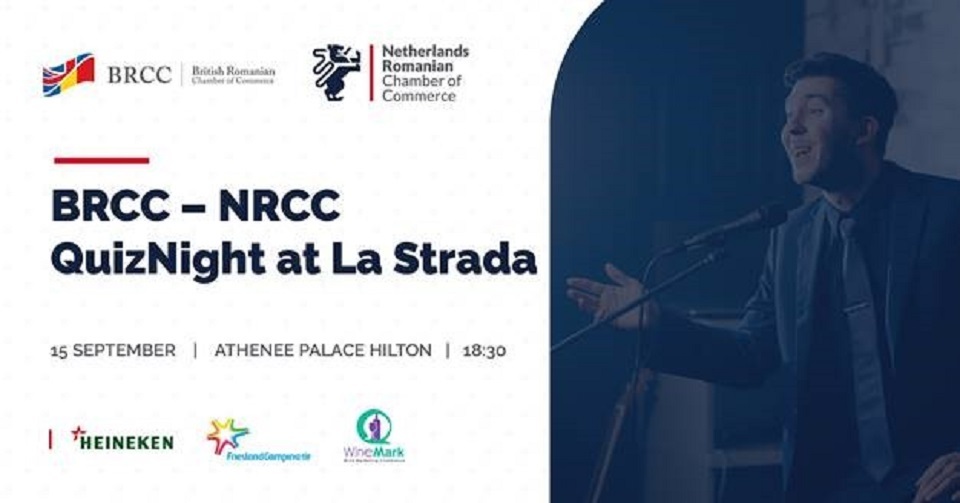 BRCC versus NRCC QUIZNIGHT, on 15 September, 18.30 at La Strada (Athenee Palace Hilton), a genuine and old fashioned BRCC versus NRCC QUIZNIGHT!
Get ready for a three-round Quiz Night and come and defend the honour of your organisation in this battle of knowledge and fun. Enjoy in the meantime typical English Pub Food and the company of the members of both chambers. Of course externals are welcome to join.
Hosted by Marc Jenner, the presenter of the extremely popular 'Big British Bucharest Quiz', we will be presenting a fun and light-hearted Speed Quiz testing you on your knowledge of the UK, the Netherlands and General Knowledge! Working as a team, you will use a tablet, along with the Speed Quiz app, to answer questions both correctly and quickly. All the devices will be connected to the Quizmasters central hub where he will control the questions!
You only get 10 seconds to answer each question, with bonus points awarded to the fastest teams, and spot prizes given out every twenty questions round. You also get to choose your own team name and buzzer sound!
Book your tickets now to BRCC NRCC Quiz Night and we look forward to seeing you there!
15 September, 18.30 hours, La Strada (Athenee Palace Hilton)
Price: BRCC and NRCC members: 175 RON
Externals: 245 RON
For registration, please click here.
BRCC-NRCC members can pay here.
Non-members can pay here.
---
Trending Now
You may also like