Sustainability in business, Raluca Leonte, Webhelp Romania: 2020 seems to be a turning point in terms of clients' need of innovation to meet the new expectations of their customers
---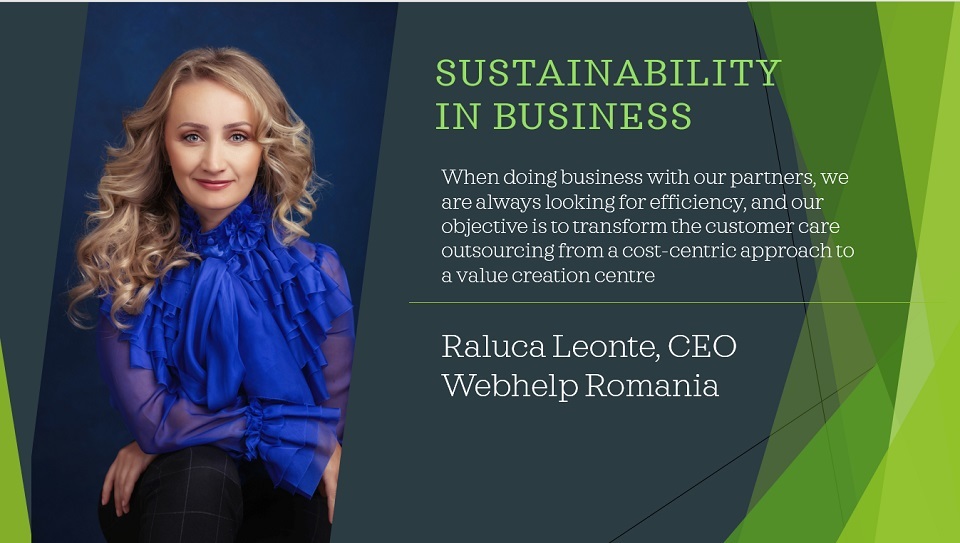 Last year was tremendous in terms of business evolution and transformation, according to the statements of Raluca Leonte, CEO Webhelp Romania, uttered in a recent interview.
"We did see an increasing need for customer care support through all communication channels, and industry leaders began to experience a big change," she told Outsourcing Today. "That meant for us a 10% increase in our company turnover, compared to 2018. Regarding the outsourcing volumes, one can acknowledge that the trends are not being set any longer by the mature industries, but by the new fintech and digital businesses. Therefore, 2020 seems to be a turning point in terms of clients' need of innovation in order to meet the new expectations of their customers."
The digital revolution that Webhelp Romania has been engineering for the past 3 years aims to empower clients to achieve positive transformation, performance improvement and considerable financial gain as a result of exceptional customer service.
"When doing business with our partners, we are always looking for efficiency, and our objective is to transform the customer care outsourcing from a cost-centric approach to a value creation centre," says Leonte. "Therefore, not only do we focus on our objectives to reduce costs for our clients, but to integrate them in a global journey of operational excellence. We achieve this by maximizing their Return on Investment, contributing to their entire value chain and becoming an integral part of their company."
Webhelp Romania's main differentiator is the ability to provide 360° outsourcing solutions: "We go the extra mile in helping our clients to build smarter and more human-centric customer experiences. Through a wide range of services, from contact centres to software solutions, data analysis and back office operations across multiple channels, digital included, in 13 languages, we position ourselves as an industry leader in BPO. We see great potential in the local market players as they start to consider outsourcing solutions as the most efficient and lucrative option for managing the relation with their customers."
Webhelp Romania aims to be an industry game changer and a trend generator, leading the BPO transformation to a new edge: "We can proceed with this global approach thanks to our Technology subsidiaries and capabilities in Romania that are adopting Robotic Process Automation and Artificial Intelligence in all layers of the BPO industry."
Within Webhelp Romania, Leonte explains, innovation is enabled and developed as a global enterprise programme across all layers: "Through this global programme and new technologies, such as RPA, AI and Machine Learning, we are constantly rethinking our operations, QA procedures, sales and human resources in order to build future-proof business models."
Besides innovation, please name several other business growth metrics important for you company in 2020.
Company turnover 2019: 29.5 million Euro
Company employees 2019: 2,000
Company employees 2020 (expectations): This year, we expect a 10 percent increase. But rather than focusing on FTEs, we concentrate our efforts on adopting automation to create new jobs, which will generate more added value for our clients and employees.
Company's location offices in 2019 in Romania: Webhelp has 5 offices in Romania – one in each of the following cities: Bucharest, Iasi, Cluj, Ploiesti and Galati.
Company's location offices targeted in 2020 (if applicable): The nature of work is changing fast and we acknowledge that remote work and flexibility are primary criteria for employees when choosing a company. Therefore, this year we will continue to invest in work-from-home solutions as an alternative to regional expansion.
CSR initiatives
"There is a strong link between a responsible citizen, a successful business and the economic growth of a local community. CSR is central to our overall people-first strategy and we consider ourselves very fortunate to manage highly engaged colleagues who share their passion for sustainability and get actively involved in the co-creation of our CSR programmes," Leonte says.
In 2019, Webhelp Romania ran around 40 CSR campaigns in charity, environment protection, education or social inclusion to ensure a more sustainable future.
One of the most important initiatives was to support, together with Webhelp SHARED Foundation, the social integration program of Hope and Homes for Children for 15 young people leaving the state care system. Within the program, the young people benefit from social assistance, medical services, psychological counselling, financial education, financial support and training courses, social counselling in order to increase their employability and to develop an independent lifestyle. "Last year we organized a call centre campaign, dedicated to Hope and Homes for Children Romania, and we contacted more than 5,000 companies to encourage them to donate 20% of their taxable profit to this charity campaign," Leonte adds. "This year, we also obtained a new grant from Webhelp SHARED Foundation, and we'll continue the social reintegration programme in collaboration with Hope and Homes for Children Romania, adding 7 new beneficiaries. As we speak, we have resumed the campaign for the same NGO."
The current trends on the workforce market are directing the companies that want to be on top of the game towards diversification of sources, according to Andra Antoche, HR director Webhelp Romania. "It is exactly what Webhelp is embracing as the main strategy this year: we are not waiting for talent – we find it," she explains. "We are a people-first company, so we have a proximity approach that creates relationships and goes beyond geographic limitations. Therefore, we are implementing mobility packages, work-from-home systems and referral programmes. We also do our best to stay present in the academic and pre-academic environment in order to get involved in our future talent's development from the very early stages.
Indeed, some of our potential candidates may not join our forces in the end. But if all companies had this approach, tomorrow's workforce would see a substantial increase in quality, which is a healthy thing for the entire economy."
Webhelp recruitment strategy for 2020 is to develop multilingual projects as much as possible, add new businesses – globally and locally – and grow teams by 10-15%, an addition to the existing 2,000 employees.
"It is important to us to be present where the talent is located," says Antoche. "We help candidates reach us in an effective but also engaging way. First impression is essential in recruitment, whether you are the employer or the candidate. This means we focus primarily on aligning our expectations with our candidates' in order to ensure a smooth integration and a fun place to work. Moreover, we let candidates take a look at their potential workplace before making a decision.
Flexibility and adaptability to new challenges are part of who we are as a company. Studies show that we need to accommodate the expectations of a new generation, so a shorter selection cycle is in place at Webhelp."
The current workforce is very diverse and exigent. Romania has an unemployment rate hovering around 4 percent. "So, candidates expect the employer to offer them a real "experience", just as we ask them in return to offer a real experience to our clients and customers," Antoche adds. "The key words are again flexibility and the power to adapt. This has transformed our working environment: we are experiencing a moment when companies need to respond to the expectations of four different generations. Therefore, we have created projects like Colleague Call Centre. Here our employees have at their disposal a call centre where they are treated as our most valuable Client. As passionate game changers, we try every day to find the best solutions and transform challenges into opportunities."
Workplace importance
Webhelp runs periodical surveys so that its employees can express their expectations as the workplace is a big part of the journey with the company.
"We are well aware of this, so we went through a major change last year. We brought all our employees in the same building so that they could all enjoy modern and creative relaxation spaces, well-equipped training and meeting rooms and a welcoming cafeteria," Leonte explains.
"As we have just finalised a massive strategic move in Bucharest, we don't have further plans for 2020 in this direction. The reasons for the move were to consolidate the feeling of belonging to the same team and company, to become an attractive destination for candidates thanks to our central location and to offer equal working conditions for all of us."
Raluca Leonte believes accessibility is one of the most appreciated advantages: "Close to all means of transportation, Victoria Square is extremely central. Another important aspect is that the location provides a wide range of facilities within walking distance, such as banks, cafes or restaurants. Also, on our floors we encourage sociability through open spaces, but we offer privacy as well in relaxation areas. Webhelp employees can play a video game together, football or do some quiet reading. This is possible thanks to our interior design and the equipment we make available to our employees. The training and meeting rooms feature the latest technologies such as smart boards and integrated communications systems."
CEO vision
"At Webhelp, learning and development are connected, so we are currently implementing a sustainable leadership programme," Leonte underlines. "We have developed an in-house training to prepare our employees interested in leadership roles before going through the Assessment Centre. We'll do our best to make sure that upon this intensive training, our employees are ready to pass the assessment day.  Afterwards, our future leaders can fill a position right away or become part of our management talent pool. We want to approach this process with a blended learning strategy.
At the same time, we are working on a complex learning programme that is going to improve our employees' emotional intelligence skills. We worked with a well-known consultant specialised in neuroscience in order to build the main block of this process. We anticipate that this L&D project will start in the second quarter of 2020 and it will benefit everyone: our employees will be better equipped to deal with their emotions – as BPO can be quite a challenging area – and they will provide the best customer experience for our clients."
"People are our best asset and they make the difference in our business. Therefore, investing in our teams' professional development is a key factor. We embrace change, are open-minded and make the best effort to adapt to the market, new technologies and new ways of working."
This year, Webhelp is looking for innovative problem-solving processes and continues to invest in artificial intelligence. "This way we can help our clients overcome legacy systems and provide best practice guidance, technical support and integration," Leonte concludes. "So far, our efforts have been focused on meeting and exceeding our clients' expectations. In 2020, we will continue developing the local market while investing more in training, rewarding and retaining talent."
---
Trending Now
You may also like