Teads and Lumen unveil findings from largest global meta-analysis of combined third-party attention and brand lift metrics
Posted On August 28, 2023
---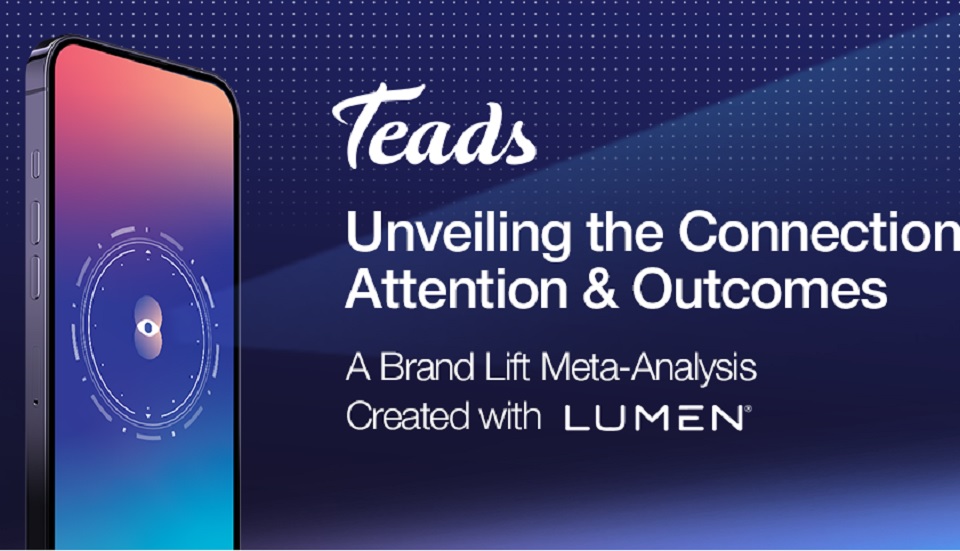 Significant learnings show the direct correlation between attention and brand outcomes, impact of high attention to lower funnel metrics, and reinforces attention as a much stronger predictor than viewability
Results highlight the importance of shifting focus toward attention to drive effectiveness of media spend while minimizing wastage
Teads, the global media platform, and global attention technology company Lumen Research today announced findings from their global meta-analysis, Unveiling the Connection: Attention & Outcomes. The largest study* that combines third-party attention with brand lift metrics, the report further fuels attention measurement as a catalyst for effective media spend while minimizing wastage. Since last year, Teads and Lumen have collaborated to expand attention measurement research and deliver consistent data for advertisers seeking to embrace attention-based metrics. In tandem with measurements from the Lumen Attention Measurement Platform (LAMP) and Dynata, the meta-analysis revealed branding outcome metrics with a high level of transparency from two independent third-party measurement providers.
Unveiling the Connection yielded three significant learnings – the first of which demonstrated there is a clear and direct correlation between attention and brand outcomes. Results became more impactful with longer engagement durations, with high attention yielding a consistent improvement across the entire funnel, including mid- and low-funnel metrics with longer dwell times. The positive impact of attention on lower funnel objectives yielded a 30% lift from exposures of 10+ seconds.
Caroline Hugonenc, Senior Vice President, Research & Insights at Teads said: "Our meta-analysis with Lumen marks an important milestone that examines a diverse range of brand outcome metrics with attention metrics from LAMP. These insights are the latest examples supporting attention as a more powerful driver of outcomes compared to viewability."
The second observation illustrated the need to prioritize attention to generate substantial differences in lower funnel metrics, shown by 9+ and 8+ attentive seconds required, respectively, for significant impact around consideration and purchase intent. Online Ad Recall had also shown to be predictive of lower funnel metrics, highlighting the significance of the upper funnel as a foundation in driving shifts further down the funnel.
Ben Flux, Group Investment Director, Starcom said "In the initial stages of attention measurement, clients would be wowed by a total amount of attention a campaign had driven without little indication as to what it actually meant. A focus on how to tangibly use attention was very much needed. To develop a more strategic approach, understanding the sufficient level of attention needed to drive an outcome is pivotal. This study gives us a much more real use of attention and enables a far more strategic and logical approach to activation."
"This is a landmark study that can help establish best practices for attention-first advertising, showing why context, creative and time spent with an ad are directly correlated with engagement and conversion." says Mike Follett, CEO at Lumen. "Whilst this latest report with Teads definitively proves that time viewed is one of the central and most important metrics for attention data when it comes to proving outcomes, we can also clearly see that attention is a complex topic that requires sophisticated modeling and media planning to drive brand growth."
Finally, the report further solidified attention as a much stronger predictor than viewability for delivering business outcomes, aligning with previous studies and highlighting the holistic value of attention metrics. Attention is more likely to yield significant results, both for Online Ad Recall and lower funnel measures such as Spontaneous Brand Awareness, where attention outperforms viewability in both scenarios.
Teads' and Lumen's Unveiling the Connection brand lift meta-analysis comprised of a select sample of 16 campaigns involving 14 advertisers. Studies were conducted across North America, APAC, and EMEA, and encompassed various brands across categories such as global CPG, retail, financial services, travel, charity, fashion, and electronics.
To download the full report, please visit: Link
* Study reviewed 16 campaigns involving 14 advertisers across North America, APAC, and EMEA, and encompassed various brands across categories such as global CPG, retail, financial services, travel, charity, fashion, and electronics.
About Teads
Teads operates a leading, cloud-based, omnichannel platform that enables programmatic digital advertising across a global ecosystem of quality digital media. As an end-to-end solution, Teads' modular platform allows partners to leverage buy-side, sell-side, creative, data and AI optimization technologies.
For advertisers and their agencies, Teads offers a single access point to buy the inventory of many of the world's best publishers and content providers. Through exclusive global media partnerships, Teads enables advertisers and agencies to reach billions of unique monthly users in brand safe, responsible advertising environments, while improving the effectiveness and efficiency of digital ad transactions.
Teads partners with the leading marketers, agencies and publishers through a team of 1,200+ people in 50 offices across more than 30 countries.
About Lumen
Lumen is the leading attention technology company in the world, with large-scale attention panels in the US and the UK, and temporary panels across many other global markets. Lumen's eye-tracking technology converts the webcam on a user's phone or desktop computer into a high-quality eye-tracking camera, capturing not only what users could see, but also what they do in fact look at. Lumen's eye-tracking panels are recruited to be nationally representative and fully GDPR compliant.
---
Trending Now
You may also like