Hays and Manchester City to host hackathon challenge
---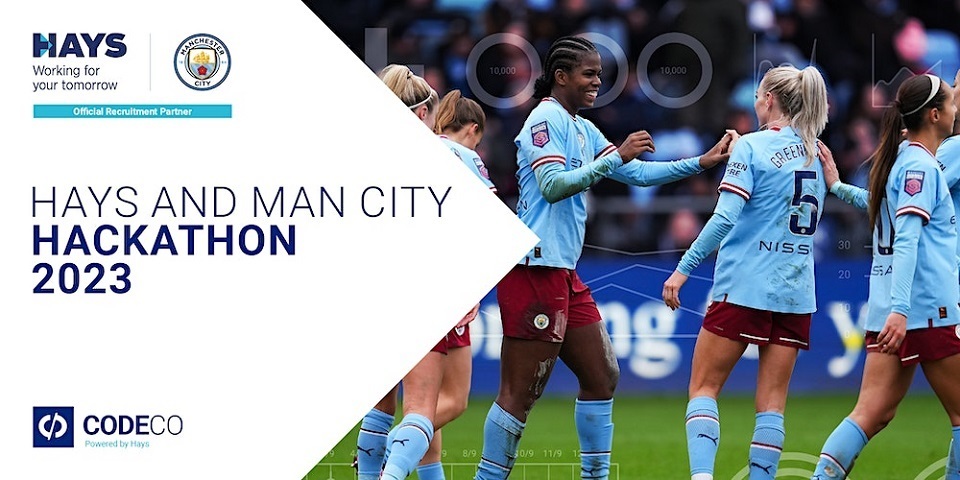 Hays and Manchester City have launched a hackathon challenge to develop an application to deliver real-time data to coaches during football matches.
Tech specialists taking part in the 'Hays x Man City Hackathon' are set the task of creating a prototype of an app or tool, which provides actionable match feedback on the performance of players to help inform the Manchester City Women coaching team's decisions during games.
To complete the task, participants will work with official Man City Women's Team data, provided by the sports data giant StatsBomb and Second Spectrum, the official tracking provider for the Premier League.
Teams consisting of two to five members will have between 6 March and 24 April 2023 to submit their ideas. Ten submissions will then be invited to pitch their ideas live on 24 May at the City Football Academy. The winning team will be given £1,000 worth of tech vouchers, as well as a matchday experience at the Etihad stadium, two signed shirts, and StatsBomb conference tickets. Prizes will also be awarded to teams finishing second and third.
James Milligan, Global Head of Technology Solutions at Hays, said; "We're really excited to be able to offer this unique opportunity to tech specialists and allow them to showcase their tech skills to Man City, one of the most successful and biggest football clubs in the world. It also presents a great opportunity to Man City, as it gives them the chance to hear about new ideas from outside the traditional footballing world. For the ten finalists it will be an exciting day that promises to give them the opportunity to network and meet representatives from Hays and Manchester City."
Brian Prestidge, Director of Football Intelligence at City Football Group said, "This is a really unique activation that we're excited to launch with our Official Partner Hays. Data and the actionable insights we can drive from it, plays a pivotal role at our football club and I'm looking forward to seeing the concepts that come through the process and welcoming the successful teams to the City Football Academy later this season".
Hays and Manchester City are encouraging tech specialists from a diverse background of skillsets from across the UK and Europe to sign up, from developers to UX designers and data scientists to hobbyists.
The Hackathon will be hosted on CodeCo, an online platform that houses engaging content for tech professionals, hackathons, coding competitions, and open project briefs for the tech community to take part in.
Visit here for more information and to register for the first Man City x Hays Hackathon challenge for 2023.
---
Trending Now