Orange Business Services releases the Business Internet Security 2022 report
Posted On November 11, 2022
---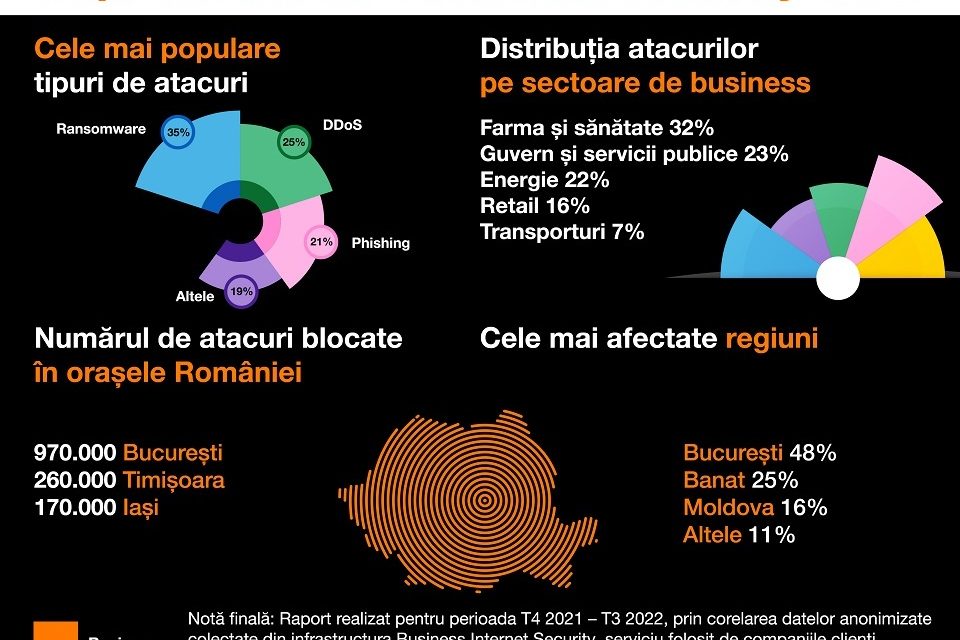 Orange Business Services launches the Business Internet Security 2022 report, a detailed analysis of the local market from the perspective of cyber security, against the backdrop of accelerated digitization in all business areas.
Now in its fifth edition, the report also addresses business protection solutions provided by Orange Business Services, in the context of the vulnerabilities brought by the remote working mode, but also details on how education, innovation and research can contribute to increasing the development capacity of the area of cybersecurity, as well as predictions for the year 2023.
According to the report made by Orange Business Services experts, the last year continued the trend of increasing threats directed at cyber security, a determining factor being the remote or hybrid working regime adopted by companies. In 2022, attacks on private companies and public institutions were increasingly numerous and sophisticated, with DDoS attacks increasing by 21% compared to last year, while ransomware attacks were almost 18% more than in 2021. There has been an increased interest of attackers in political and social targets, against the background of the war in Ukraine, but also in media, health institutions, government websites and applications.
Distribution of attacks on business verticals in Romania
Regarding the distribution of threats across business verticals in Romania, in 2022 there was a substantially higher total volume of threats at the industry level than in 2021, many of these attacks being triggered by geopolitical unrest in the region. The most affected sectors were healthcare and pharmaceuticals, 32%, government and utilities, 23%, energy, 22%, retail, 16%, and transportation, 7%.
Types of cyber threats in 2022 and their distribution by region
Bucharest was the most affected region, representing almost half of the target of all attacks, 48%, followed by Banat and Moldova. In the list of the most targeted cities in the last 12 months, the capital is in first place, with an average of 970,000 attacks prevented, Timișoara is in second place, with an average of 260,000 attacks blocked monthly, and Iași is in third place, with almost 170,000 of threats detected and blocked each month. In terms of hackers' preferred attacks, for the second year in a row ransomware is the leading type of attack detected and blocked by Business Internet Security, accounting for 35% of the total, followed by DDoS with 25% of the total, and phishing, with 21%.

"The Business Internet Security 2022 report, a detailed analysis of the security threats that shaped the digital world this year, shows us the extraordinary power of data in building stronger business and cybersecurity solutions. We've seen cyber security threats grow over the past year, with the internet being the place that keeps us connected but also at risk. In this context, Orange Business Services quickly became one of the most solid and capable partners and a reliable provider of security services.
We will continue to help companies with solutions tailored to customer needs, with support and expertise from our dedicated teams of experts, but also with a wide range of robust, mature and high-quality services, all supported by the best infrastructure network in the country," Ioan Constantin, Cyber ​​Security Expert Orange Romania.

The Business Internet Security report is part of an ecosystem developed by Orange Business Services for large and medium-sized companies, which aims to raise awareness of cyber security. Thus, through the Business Internet Security (BIS) service, a complete system for securing Internet connections, more than 9 million threats are identified and blocked monthly in the security infrastructure of business Orange customers. Orange Business Services collects anonymous and relevant data from companies in various industries, such as public services, retail, transport and energy. The data obtained is then processed through InfraAI, the Big-Data Security Analytics platform developed in-house at Orange Business Services, to correlate and enrich the business intelligence information offered to customers.
The Orange Business Internet Security 2022 report can be downloaded here: https://www.orange.ro/business/securitate-cibernetica/business-internet-security
Learn more about the cyber security solutions offered by Orange Business Services: https://www.orange.ro/business/solutii/securitate-cibernetica/
---
Trending Now