Andreea Miron, EMEA People & Culture Manager, Stefanini: Learning feeds employee engagement, which supports productivity, retention and financial performance in a virtuous circle of success
Posted On August 19, 2021
---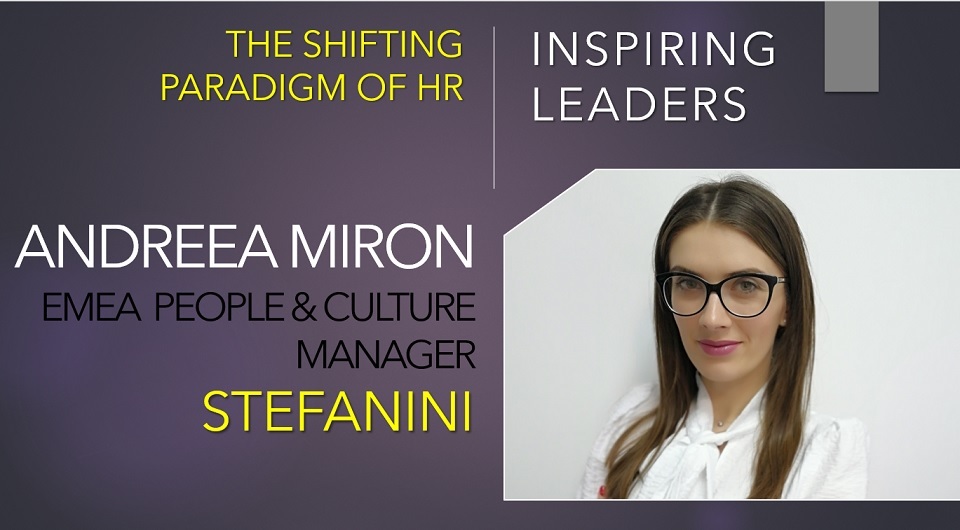 2020 was a different year, full of challenges for the People & Culture team. Even though in Stefanini we had a Flexible Arrangements policy in place before the pandemic, the challenges for my team came from the need to adapt all our internal processes into an online environment in a very short period, while keeping our colleagues safe and ensuring business continuity.
Now, after 2020, the main challenge that we have is to attract new talent.
As the People & Culture team, we have to adopt a more modern and out of the box approach when it comes to recruiting. It is very important to prioritize the skills we are looking for and to make sure that we are looking for the right skills across the market, not just in the known talent pools, and, last but not least, to adjust our approach to the actual requirements of the candidates.
Approach on returning to office
We didn't change our approach; we want to make sure that all our colleagues are safe – which is the main reason we have kept everybody home and won't be rushing our return to the office plan. Since March 2020, most of our colleagues have been working from home and will continue to do so. Our return to the office plan will be adjusted according to the evolution of the pandemic. Our focus will remain the same, keeping our colleagues safe while ensuring business continuity. Post-pandemic, we are intending to have a hybrid working model in place.
Onboarding in 2021
We have onboarded new colleagues in 2021. From the beginning of the year till now, we have hired around 600 new colleagues for the EMEA region. We had a diverse range of openings, from Support Engineer roles (1st level support) to developers, while also expanding teams in other areas, such as Talent Acquisition Partners for the local team in Romania.
We have noticed an increase in job opportunities in the IT Services area in Romania. There are new companies on the market, but also there are companies which have extended their portfolio of services and have started new projects. Even if the pandemic has affected several areas of activity, what we have noticed is the fact that, in 2021, candidates' salary expectations in the IT sector are growing. The biggest challenge in terms of recruitment is coming from the continuous increase of the competition and the limited number of candidates available on the market.
The number of IT opportunities in Romania is increasing from one year to the next, while candidates are looking for long-term stability, but also for medium to long-term career development opportunities, with these expectations often being prioritized above the compensation and benefits package.
Another noteworthy development is the fact that companies have started to recruit everywhere and candidates are taking advantage of this. Talented employees are now working from home for companies they most likely wouldn't have considered working for in the past.
There was tremendous growth in digitization in response to COVID-19
As we all know, everything was moved to online and we had to adapt our processes. The pandemic period forced companies to accelerate the digitalization process. This acceleration in the use of technology, digitization and new forms of working will remain the same post-pandemic. This means new leads for the IT companies and potential for growth.
When it comes to Stefanini, in 2021, our EMEA growth will be driven by our brand-new Natural Employee Experience Technology (N.E.X.T) offering, our Digital Workplace Services (DWS), transformation, and by scaling up all our customized digital solutions, such as digital applications, cybersecurity and digital marketing. We've also sped up the process of bringing our full financial platform to EMEA, which spans a core banking offer and full support for digital banks, fintechs and insurance companies.
We continue to grow organically, but we are also adding new acquisitions to our portfolio to expand and diversify our digital transformation offer and solutions for our clients.
Workforce development was a priority even before the pandemic, and will definitely continue to be important post-pandemic. Companies were facing skills gaps and were having issues in recruiting high-skilled personnel – this is becoming harder now when so many businesses are competing for the same talent.
One of the solutions would be focusing on internal resources and investing in them. Successful reskilling starts with knowing what skills are needed, both now and in the near future; offering tailored learning opportunities to meet them; and evaluating what does and doesn't work.
Digital has become central to every interaction, forcing both organizations and individuals to speed up their digital transformation plans
The trends in HR technology have been affected by the shift to remote work during the pandemic and the need to support our colleagues remotely. Digital has become central to every interaction, forcing both organizations and individuals to speed up their digital transformation plans. Now, we are living in a world in which digital channels become the primary customer engagement model, and automated processes become a primary driver of productivity. From enhancements in artificial intelligence to a new generation of employee self-service and continued learning tools, improving technology in HR will allow us to take on a more strategic role within our organizations.
Artificial Intelligence programs are increasingly playing an important role in recruiting and hiring processes. These programs can speed up the process by which recruiters review and filter job applicants; they can match skills and identify competencies. Also, chatbots can interact with promising candidates prior to in-person job interviews, which can help reduce a time-consuming hiring process.
In Stefanini, we have run an in-depth analysis of all the HR processes to define the priorities when it comes to investment in becoming more digital. One of our main priorities is recruitment, which we are currently working on.
At the organization-level, we will be focused on maintaining and boosting our culture, by reinforcing values, behaviors, vision and purpose
When it comes to employee experience, we are gathering feedback from our colleagues by having ongoing discussions with them, we have different programs in place which were created for this purpose, including our Employee Engagement Survey and Stay Interview. To improve the employee experience, we have to know the areas which need to be improved or addressed.
In 2021, we have started to organize focus groups with our colleagues, personal development plans, purpose-driven storytelling, all of which should lead to a better understanding of our colleagues' needs, but also of what makes our organization unique from any other company they could work for.
Also, this year, at the organization-level, we will be focused on maintaining and boosting our culture, by reinforcing values, behaviors, vision and purpose. This will help our colleagues feel a greater connection to the company which is important because employees that truly feel connected to our organization will be the best means to reiterating an EVP to their peers/friends.
Having your own brand ambassadors is the key to success
As mentioned before, it's very important to build a connection with current employees and co-create the employer branding strategy with them. Having your own brand ambassadors is the key to success. Of course, on top of this are the employer branding campaigns, that should come as a reinforcement of the company culture and values.
From my perspective, learning feeds employee engagement, which supports productivity, retention and financial performance in a virtuous circle of success. What I have seen in 2021 is that learning content is focusing less on what employees need to know and more on new topics that will help them expand their skill sets. Like other benefits, such as paid time off or a gym subscription, a continuous learning program will be a benefit that companies will start using to retain talent.
The L&D Team plays a central role when it comes to organizational performance, to be perceived like this – now, more than ever – they need to go above and beyond, by offering training courses and working closely with the business to address current and future organizational capability demands. They need to define initiatives that will help them to evaluate necessary capabilities, identify existing talent gaps and, based on these, create strategies for empowering the workforce to obtain new technical and interpersonal skills.
Strong leadership is especially important during times of great change, which is why, at Stefanini, we have been focusing on Leadership Programs in the first trimester of 2021.
---
Trending Now
You may also like