Laurentiu Iordan, Oracle Senior Account Manager, ERP & HCM Applications: It is worth to consider the role of new technologies for speed, efficiency and more personalized employee experiences
---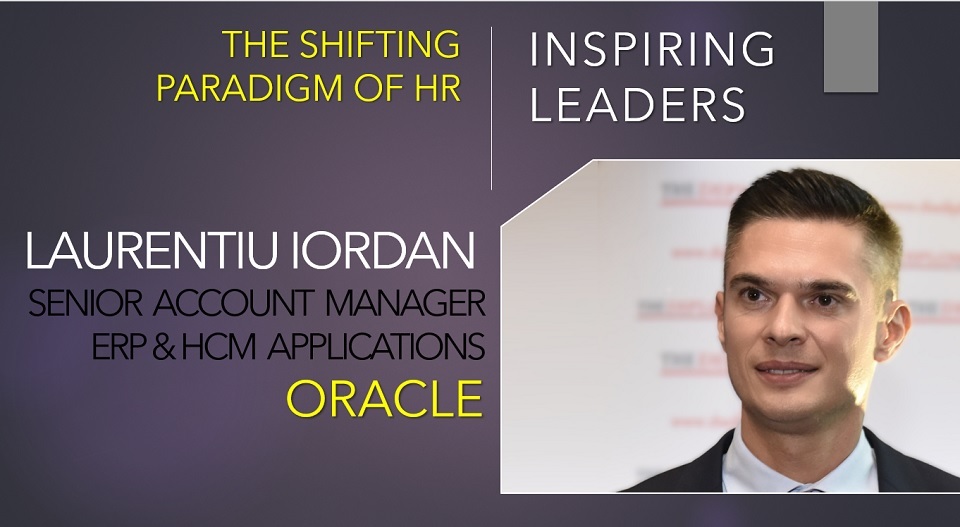 The 2020 pandemic has radically changed work as we know it. The workplace had already been transforming over the past few years, but the recent crisis pushed expectations over a cliff.
The rapid and sudden increase of remote work, shifting roles, competing home and work obligations, and a hyper-focus on workplace health and safety have forced businesses to rethink everything.
Oracle is a leading supplier of HCM solutions, thus we have an insight not only into our big organisation, but we see the challenges of our international and local customer base. As HR leaders orient business processes to a true people-first paradigm, three guiding themes have emerged: the need for empathy, resilience, and empowerment.
Prioritizing health, well-being, and psychological safety in a people-first culture became a major trend. According to a recent global survey of us 2020 has created the most stressful year in history and negatively affected the mental health of 78% of the global workforce. Moreover 76% of people believe companies should be doing more to support the mental health of their workforce.
The other major trend is "reskilling"— investing in critical skills versus critical roles. To better prepare for the unpredictable, organizations should shift their focus from individual roles to organization-wide skills. HR can facilitate this shift by motivating employees to think outside their role and traditional career paths.
The implementation of flexible, blended work environments will be a task after pandemic too. Remote work programs have been on the rise for years, but the 2020 pandemic brought the necessity of such programs into stark relief. As teams learned to adjust to extended video conferencing, flexible working hours, and changing priorities, a new challenge arose: how to grant autonomy to disparate individuals and teams while protecting the bottom line and business integrity.
And related to all of the above trends and challenges it is worth to consider the role of new technologies, such as adopting AI and cloud-based solutions for speed, efficiency and more personalized employee experiences.
Oracle as an organization managed to move from office work to permanent work from home overnight, benefiting both from the understanding and support of our employees and from the technology and equipment necessary for this immediate transition.
The main challenges have been to adapt our habits to the new structure, to stay connected, now only through online platforms, with our colleagues, to continue the strong relationships built in the office.
As the COVID-19 vaccine continues to be distributed and we start the return to 'normal,' we will see a hybrid workforce emerge. Some companies will return to pre-pandemic operations, but many will see increased employee demands for the flexibility workers have been requesting for years now. Remote work has been proven to work, there's no denying that, and as organizations begin to navigate the inevitable "return", things will look quite different.
The last 1,5 year gave a significant push for digitalization in all industries, and as an IT company we've seen a rise of exciting modernization, digital transformation projects.
For many organizations, cloud services turned out to be the best solution during lockdown and after that. Together with IDC we run a study earlier this year about the digital investments of CEE companies. It shows that Romanian companies define data management; modernization of business applications and implementing intelligent security solutions as their top priorities.
Everyone can notice that these are actually not separate goals but are strongly tied together: how you collect, use and protect your data. Overall this is the intelligent core which can secure a company's success. And important to mention that Oracle has outstanding solutions for each of these areas. In the research, nearly three-quarters (72%) of CEE survey respondents chose data management solutions as the most crucial facilitator to achieve the organization's goals. This is because high-quality data, professionally managed and analyzed using AI- and ML-powered tools, can help companies make quicker and more accurate business decisions. Overall we are optimistic about 2021 and onwards as digital solutions and modern business applications are much needed in all industries.
With sometimes stagnant budgets and headcount to contend with, more HR departments are incorporating AI technology to great effect.
AI is clearly a game changer in HR as it can help HR professionals, in particular, improve decision making, drive greater effectiveness and efficiency, and put the "human" back into Human Resources. At Oracle we are working on AI-powered intelligent applications within our HCM Cloud that can help businesses hire, engage, work, and adapt smarter. These four components will help HR departments become more effective and efficient, and HR will have more time to focus on the growth and engagement of their employees.
AI solutions help hire top talent quickly and efficiently; automate routine tasks; automate routine tasks; optimize processes to meet organizational goals.
With our homes doubling as offices over the past year, we've grown accustomed to the way technology improves our lives as consumers, and employees want that same experience at work.
As offices reopen, it will be critical to provide consistent and positive experiences both in the office and for remote workers – but it doesn't stop there.
Organizations need to provide guidance throughout an employee's entire career, from training to finding a mentor, returning to the workplace, and eventually traveling safely. To support this process we've recently announced a new solution, called Oracle Journeys, which will help HR teams by tailoring unique experiences for their workforce. Oracle Journeys guides employees through tasks and key milestones while delivering quick access to resources they need across HR and the entire organization. It also makes it easy for employees to take action as they move through various events: such as on-boarding, promotions, changing roles, maternity leave, returning to work etc. until retirement.
Many people took time during lockdown to reevaluate their career choices and consider new opportunities for growth. This is putting pressure on organizations and HR leaders to double down on both recruitment and retention.
But regardless, the foundation of their strategies should be centered around one thing: skills. We announced a new solution to help organizations better understand, manage, and grow the skills of their workforce. Oracle Dynamic Skills, part of Oracle Fusion Cloud Human Capital Management (HCM), gives HR and business leaders the insights needed to ensure they have the right talent both now and in the future by providing a comprehensive view of the skills within their workforce. Powered by artificial intelligence (AI), the new capabilities provide business leaders with an always up-to-date view of their employees' skills to help attract, develop, and grow the right talent.
The skills employees have and need today are constantly changing. Technology creates the need for new skills almost daily. Employees are expected to develop skills regularly, and because many people describe similar skills with different words or phrases, the pool of potential skills for an organization is essentially endless. Without a system to collect and track this continuously evolving data, it's difficult for businesses to have an accurate understanding of all the skills within their organization. And without a holistic view of their employees' skills, business and HR leaders struggle to find the right talent to support their business strategy. A complete view of this data helps HR leaders foster career development, more effectively plan, make better hires, and develop a highly skilled workforce.
---
Trending Now
You may also like