Adrian Bodomoiu, GM of Wizrom Software: We see massive potential for growth on the SMEs market segment in 2021
---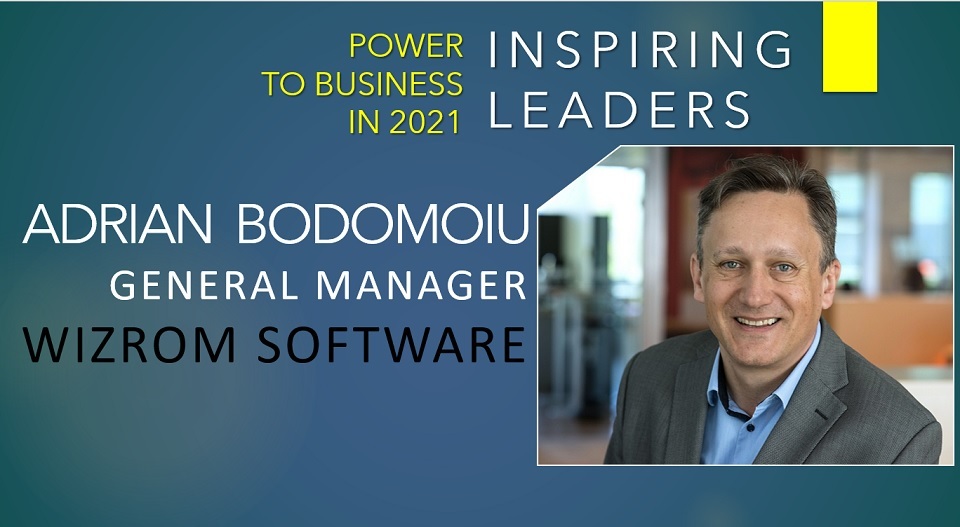 Business as usual or the resetting of the entire business structure? Making the best of the lessons learned in 2020 and turning it into the business growth's drivers in 2021? Envisioning a company structure built for people? Enablement of wellbeing, safety initiatives and multi-leveled and hierarchy-flexible communication conduct?
Adrian Bodomoiu, GM of Wizrom Software answered to the Outsourcing Today's interview and addressed the plans, the core values and the actual enablers for business growth that mark the beginning of 2021.
Power words of 2021: Creativity | Efficiency | Teamwork
In 2020, we saw how the transformations imposed by the pandemic sped up the digitalization of companies' internal processes at all levels, as a means for business leaders to keep their enterprises above water.
If large companies were, in most cases, already a few steps ahead on the road to digital transformation, smaller-sized companies bore the brunt of the pressure in invest in digital solutions – only to discover that, oftentimes, they were unable to find the proper solution that would solve their need, while also having a bigger price tag for additional functionalities they did not require.
Driven by this insight, we put our team's experience on the line to develop MyWiz, an online service of accounting supported by a fully automatic platform and expert accountants, that is designed specifically for the needs of small and very small enterprises.
In this year, we see massive potential for growth on the SMEs market segment – after a difficult 2020, small companies can no longer postpone investing in solutions that can help them be more efficient and move with agility, adapting fast to whatever new challenges will come their way.
According to a Eurostat statistic on the SME environment, no less than 88% of the total of half a million active companies in Romania fit into the category of micro-enterprises, while small enterprises make up 10% of the total. All these companies need the assistance of a registered accountant, but beyond that, they require an instrument that can help them in their day-to-day work and offer them simple and real-time visibility on their financial situation whenever they need to make a decision, not only at the end of each month. With MyWiz, we are confident we can successfully support their business decision making and truly make a difference in the life of small Romanian entrepreneurs. MyWiz also comes to complement our existing portfolio of solutions, some of which, like our HR management software WizOne, have already posted good growth in 2020. Also in 2021, we expect to see a lot of dynamic for ERP solutions, as companies will prioritize the ease of use and efficiency increase that an ERP affords.
After first starting work on the MyWiz project in 2018 and investing 500,000 EUR on its development and tunning with a selection of clients, now, in February, we have just officially launched this new service for all companies on the market. We will now focus our energies on building a solid portfolio of clients for this new solution.
In only a year, Covid-19 has completely changed the way we live and work. Several industries have been disrupted and forced to pivot their activity.
Others were forced into an acceleration of their business. However, one thing has stayed constant: our team's values. We strive, through each of our daily actions, to make a real difference in the lives of our clients' businesses. We strive to offer our clients the best solution we possibly can, by combining our expertise and business knowledge of 25 years with the flexibility they need and an openness to grow together.
2020 was, for many in the business environment, a year of speed: fast decisions, followed by fast action-taking, all in the name of making corporate survival possible.
Lead people by supporting them, instead of wanting to direct them.You will see that your team will develop much faster this way. As the Chinese saying goes, "Give a man a fish and he has food for one day, teach him how to fish, and he has food for all his life." At the same time, I think it is massively important to be flexible, reliable, and to make sure you strengthen people. It will make your staff happier and more productive.
In 2021, I hope to see, in the market overall, a more gradual and strategic approach. Our priorities as a team will focus most on building even closer relationships with our clients and offering them the support and the advice they need to use our solutions to power future growth.
---
Trending Now
You may also like