Farlei Kothe, CEO Stefanini EMEA: Flexibility is a key behavior for our company as it helps us adapt to the customers' reality
Posted On February 26, 2021
---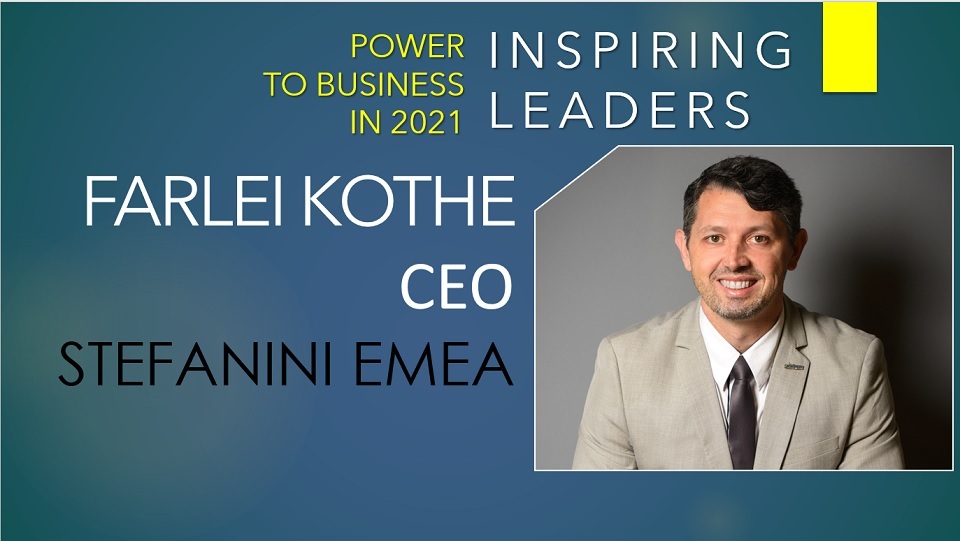 Business as usual or the resetting of the entire business structure? Making the best of the lessons learned in 2020 and turning it into the business growth's drivers in 2021? Envisioning a company structure built for people? Enablement of wellbeing, safety initiatives and multi-leveled and hierarchy-flexible communication conduct?
Farlei Kothe, CEO Stefanini EMEA answered to the Outsourcing Today's interview and addressed the plans, the core values and the actual enablers for business growth that mark the beginning of 2021.
THE POWER WORDS FOR 2021
Resilience – we need to adapt fast, to be agile in a new framework.
Teamwork – together with the upper management team, we are working closely on this approach. Actually, given that we are a global organization, I must say we have never had such good and close relations: we now have weekly meetings with all CEOs and board members, which has made us more aligned than ever before.
Flexibility – it is a key behavior for our company as it helps us adapt to the customers' reality.
Keeping focus on "traditional business" by transforming it with a strong digitalization programs
In 2021, Stefanini EMEA's growth will be driven by our brand-new Natural Employee Experience Technology (N.E.X.T) offering, our Digital Workplace Services (DWS), transformation, and by scaling up all of our customized digital solutions, such as digital applications, cybersecurity and digital marketing. We've also sped up the process of bringing our full financial platform to EMEA, which spans a core-banking offer and full support for digital banks, fintechs and insurance companies.
On top of our traditional business development model, we are also adding new digital capabilities either by developing them in-house, or by bringing mature solutions from the Group to EMEA, or even through acquisitions. We started our digital transformation process long before we were all forced to do so by the turn that 2020 took. However, it is important that we keep focus on what we call our "traditional business" by transforming it with a strong digitalization program, as most of our current and potential new customers are on their own digital transformation journey – with different level of maturity. We have a really important role in guiding them on this journey.
We continue to grow organically, but we are also adding new acquisitions to our portfolio to expand and diversify our digital transformation offer and solutions for our clients.
When it comes to acquisitions, Romania is our most important market in EMEA, but we are also looking at other markets throughout EMEA, where our presence is not yet as strong. We have already closed two local deals in Romania in the past years, adding digital marketing and cybersecurity joint ventures to our portfolio. For this year, we are planning more local acquisitions. One of them is more advanced, as the due diligence process has already started. We have also made an offer for another important acquisition and we are hoping to make progress on this in the first quarter.
As for other markets, we're primarily focusing on Spain, Portugal and the Nordic countries, where we will soon be announcing new acquisitions as well.
For EMEA, the main driver was the transformation of our traditional business – we are bringing forward innovations that will allow us to dive deeper into the digital transformation we developed internally to support our customers.
Covid-19 will remain a reality at least the next 6 months and we probably won't be back to any kind of normal routine for the rest of 2021
I think we will develop a new "business as usual" model in response to the past year. What we used to describe as business as usual no longer applies – everybody in our offices worked from home, we have established new communication channels, and our customers are also changing direction. More than ever, we have alternatives. Covid-19 will remain a reality at least the next 6 months and we probably won't be back to any kind of normal routine for the rest of 2021. We will definitely not take as many business trips as we used to, as we've seen how well we can handle meetings remotely – it's all about efficiency.
This year we will continue to put in the extra effort to raise engagement and long-term commitment among our people, with a joint effort from our HR and marketing departments
Workplace culture is an important part of our business – so in 2020, we had to make sure that remained the case, even though we could only speak to each other via video calls. Managers were very important in the process, as they had the difficult task of keeping people motivated throughout difficult times. And they did a wonderful job! In many cases, we had more meetings and kept in touch more than ever before.
We just ran our yearly employee survey for 2020 and the overall result was good, which we were expecting as a result of implementing an action plan that addressed issues raised within our previous survey. On other hand, Covid-19 posed challenges, so our strategy was to maintain transparent and close communication with our teams – which was recognized and appreciated by our people.
Other than that, we remain faithful to our customer-centric strategy to which we have added our digital transformation focus. We are here to guide them through the digital transformation journey, so we started this process internally, to support our customers outside our organization in the best possible way.
We are providing more training than ever, especially since we are using a lot of new tools and we must make sure the entire organization knows not only how to use them, but how to master them. We have prepared all our people for this new, almost entirely digital world, to be able to help our clients in the best and most efficient way.
---
Trending Now
You may also like