---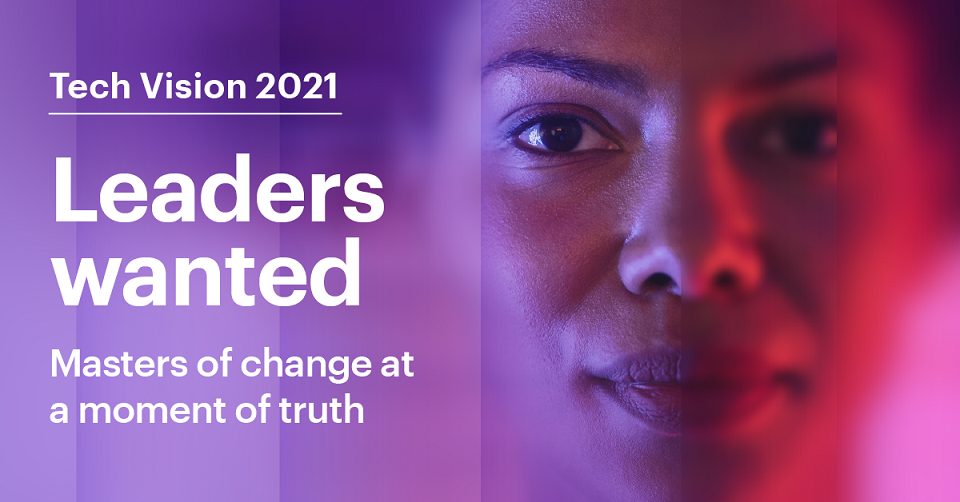 As companies move from crisis to reinvention, the boldest and most visionary leaders – those who use technology to make a difference – will define the future, the Accenture Technology Vision 2021 report concludes.
The study, now in its 21st edition, predicts the main technological trends that will redefine companies in the next three years. According to the 2021 report, "Leaders Wanted: Masters of Change at a Moment of Truth," top companies are compressing a decade of digital transformation into one or two years. Relying on a strong digital core to adapt and innovate at the speed of light, "Leaders" companies grow their revenues 5 times faster than "Laggards" (companies that find it very difficult to adopt new technologies).
Between 2015-2018, "Leaders" developed 2 times faster. The result is a wave of companies competing to reinvent themselves and use technological innovations to shape the new realities they face. "The global pandemic has hit a huge future. Many organizations have stepped up their efforts to use technology in extraordinary ways to keep their businesses and communities running – at a pace they previously thought impossible – while others have faced the harsh reality of shortcomings. lacking the digital foundation to pivot quickly, "said Paul Daugherty, CTO at Accenture. "We now have a unique opportunity to turn this moment of truth for technology into a moment of confidence – embracing the power of the exponential change of technology to completely reimagine and rebuild the future of business and human experience."
92 per cent out of the more than 6,200 business leaders and IT executives surveyed by Accenture for the Technology Vision 2021 report said their organization prioritizes innovation this year. At the same time, 91% of executives believe that to be the leaders of tomorrow in their sector of activity will need their organization to define this sector. Outlining the future will mean for companies to become leaders in change by respecting three key imperatives.
First, leadership requires technological leadership. The era of companies that quickly imitated the innovations of competitors has passed – continuous change is permanent. Tomorrow's leaders will be the ones to put technology first in their business strategy. Second, leaders will not expect a new normal, they will reinvent, building new realities using radically different mentalities and patterns. Eventually, leaders will accept a broader responsibility as global citizens, deliberately designing and applying technology to create positive effects beyond business to create a more sustainable and inclusive world.
Accenture Technology Vision identifies five key trends that companies will need to consider over the next three years to accelerate and embrace change in all directions of business:
• Strategic organization: Building a better future – A new era of competition in the industry begins – one in which companies compete based on the architecture of IT systems. But building and using the most competitive technology package means different reporting to it, and business and technology strategies become identical. 89% of executives believe that their organization's ability to generate value for business will increasingly be based on the limitations and opportunities of their technology architecture.
• A world in the mirror: The power of smart digital twins – Leaders build smart digital twins to create replicas of factories, supply chains, product life cycles, and more. By bringing together data and information to represent the physical world in a digital space, new opportunities for operation, collaboration and innovation will be unlocked. 65% of executives surveyed expect their organization's investment in smart digital twins to grow over the next three years.
• Me, Technology Specialist: Democratizing Technology – Strong capabilities are now available for people in all business sectors, adding a core level to companies' innovation strategies. Now, every employee can be an innovator, optimizing their work, solving sensitive points and keeping the business in sync with new and changing needs. 88% of executives believe that the democratization of technology becomes critical in their ability to promote innovation throughout the organization. • Everywhere and Everywhere: Working in their own environment – The most important transformation of the workforce today has led companies to expand the boundaries of the organization. When people can "work in their own environment", they have the freedom to work without problems from anywhere – whether at home, at the office, at the airport, at partners' offices or elsewhere. In this model, leaders can rethink the purpose of work in each location and can rely on the opportunity to reimagine their business in this new world. 81% of executives believe that the top organizations in their industry will start to move from the "Work on their own device" approach to the "Work in their own environment" approach.
• From Me to Us: The Road to a Multi-Party System through Chaos – Multi-party systems can help companies gain greater resilience and adaptability, unlock new ways to approach the market, and set new, ecosystem-oriented standards for their industries. 90% of executives surveyed say that multi-stakeholder systems will allow their ecosystems to create a more resilient, adaptable foundation and create new value together with their organization's partners.
For 21 years, Accenture has systematically analyzed the ecosystem of organizations to identify emerging technology trends with the greatest potential to disrupt companies and industries. For more information on this year's report, visit www.accenture.com/technologyvision or follow the conversation on Twitter with # TechVision2021.
---
Trending Now
You may also like