10 tech companies with businesses of over 1 million Euro entered the third group of start-ups enabled by BCR-InnovX Accelerator
Posted On October 28, 2020
---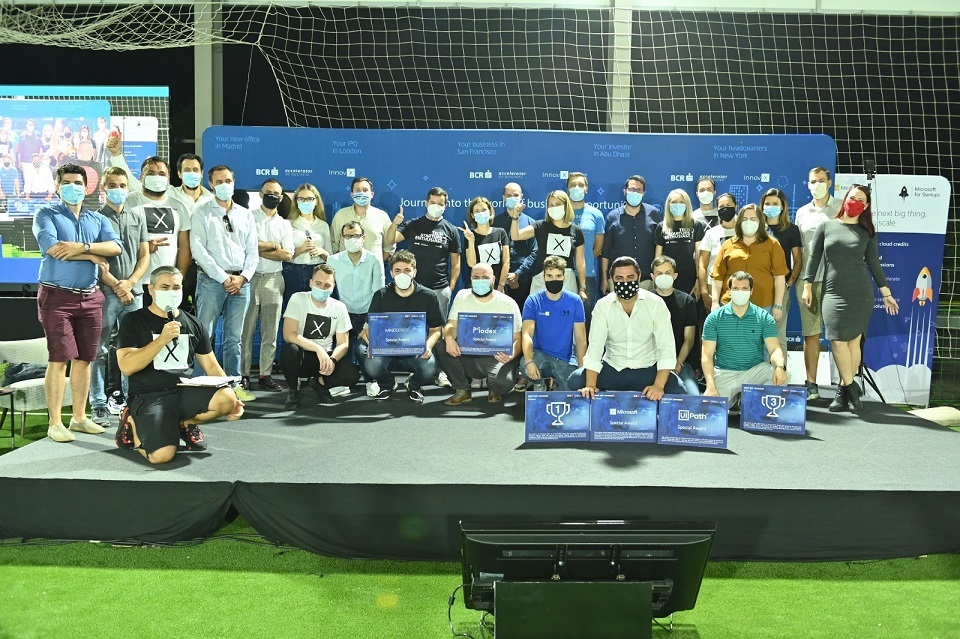 The BCR-InnovX jury, through the technology business acceleration program, selected the 10 companies that will participate in the Bootcamp of the Scaleups group. This is the third group this year within the Accelerator, addressed to businesses with a turnover or financing attracted between 1 and 5 million euros, which develop innovative solutions and products in technology. This year, the incubation program runs virtually from October 26 to December 4.
The 10 companies that entered the program are:
• Adservio from Iași – is an educational management solution that helps schools and kindergartens to be more agile, through an efficient organization based on data and through a secure communication between principals, teachers, parents, students and local authorities.
• Gemini CAD Systems from Iași – provides technology for the fashion industry, from designing fashion products to manufacturing and selling on e-commerce platforms, as well as a line of solutions for independent designers and small garment creation and production workshops .
• Jobful in Bucharest – is an innovative recruitment solution, based on gamification, through which candidates are attracted, hired and monitored. These are then correlated with the opportunities offered by companies, the platform improving their retention rate.
• Leichmann Weifert Invest in Bucharest – the purpose of the platform is to create an independent and fully automated trading software system that allows people with no experience in the cryptographic market to participate in it.
• Mecanex from Botoșani – offers solutions in terms of pump repair, consulting, service, installation and commissioning of water supply systems, as well as maintenance of water supply systems for individuals, companies and owners' associations.
• Prietenii Tai from Gorj – offers a solution that interconnects formal and non-formal education, meeting the educational needs of children and assisting teachers in the instructional-educational process, through camps, excursions and creative workshops.
• SmartHuts in Bucharest – is a SaaS solution that allows the distribution and monitoring of tasks assigned to employees or contractors. It also optimizes the resources and processes involved, through careful documentation and highlighting them in workflows.
• Termoline in Oradea – offers solutions in the field of energy efficiency and renewable energy, through a series of innovative products for heat recovery from wasted energy. They have been successfully implemented on the market in several projects in the last 5 years.
• Vetro Solutions from Iași – operates in the field of veterinary medicine distribution and offers solutions that include medicines and medical equipment, digital tools for the administration of veterinary offices, continuous training and access to the community of specialists.
• WATTO in Bucharest – is working on the development of the first regional network of charging stations for personal and commercial electric cars, in ecosystems that will integrate solar energy, batteries for its storage, cafes, spaces for commercial vehicles and the most innovative existing technology.
"We launched the BCR-InnovX program with the confidence that we will support the ecosystem of technology start-ups to reach the enormous potential that we believe it can have. Now, after a year and a half, we have reached 79 start-ups and technology companies enrolled in incubation and acceleration programs, most with notable results after the program. They attracted funding, signed new partnerships, applied for European funds or rethought their business model. This is the impact of an accelerator. It helps entrepreneurs to grow in the direction they want or discover new opportunities, "says Ionuț Stanimir, BCR Marketing Director.
"The Scaleups group is dedicated to entrepreneurs who already have a solid business case, attracted funding and partnerships that will help them grow in the future. But to be able to scale a business you need access to more resources, constructive feedback from experienced mentors, interaction with C-level specialists from multinational companies such as BCR, Microsoft or UiPath and a curriculum focused on continuous development", says Daniel Dumitrescu, CIO InnovX.
The members of the jury for the Scaleups group consisted of: Aimen Aldahash (Partner Development Manager at Microsoft), Daniel Ilie (Former Commander in Special Forces), Mădălina Hagima Hristescu (Managing Partner at HM & Partners), Silviu Florea (Fintech Solutions Developer), Nicu Iancu (I2DS2 President), Sergiu Pop (Microsoft Program Startup Manager), Roxana Guiman (PrivacyOn Partner), Ciprian Păltineanu (Innova Human Capital Principal Investor), Anca Gherasim (BCR Procurement Executive Director)
---
Trending Now
You may also like