---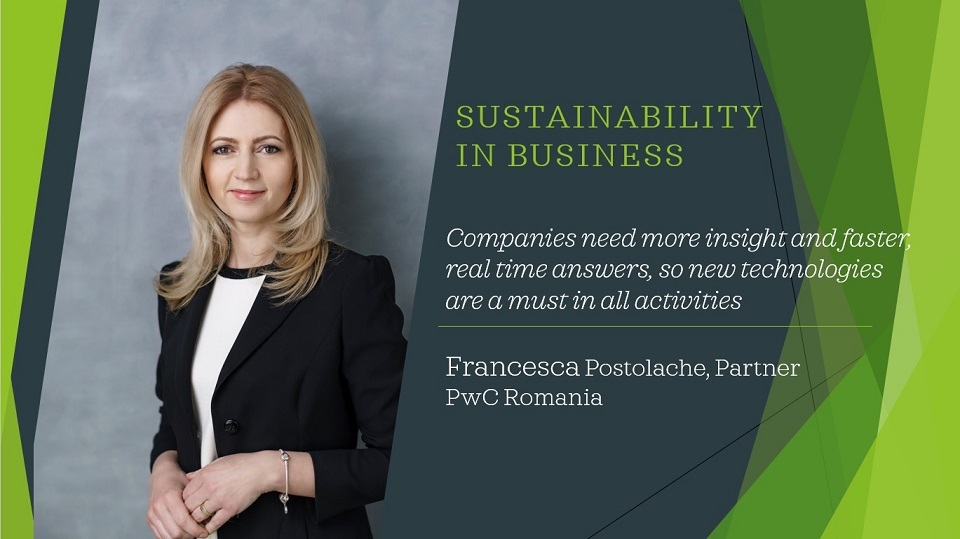 In today's complex and fast-moving world, the clients face increasing challenges and opportunities driven by technological advances, stakeholder expectations and other changes, according to  Francesca Postolache, Partner PwC Romania.
"They require us to work together across the broad range of our operations helping them to deal with issues such as regulation, trust, cyber security and strategic workforce planning," Postolache told in a series of interview series conducted by Outsourcing Today.
"This includes identifying skills gaps and mismatches against likely future needs, workforce planning, upskilling programs, cultural change and advising our clients on the challenges posed by rapid technological change. They also demand us to use technology more effectively to create greater value. Our digital transformation is marked by key investments in technology and a focus on upskilling our people. Our aim is to use the combination of people and technology to be the most relevant organisation for our stakeholders and a cloud-enabled organisation."
Francesca Postolache explains: "Most of our clients have adopted automation – RPA and AI across their business and we are supporting them with understanding how best to pilot it, test it out and gradually scale it.
We have many initiatives for adoption and promotion of technologies such as data analytics, artificial intelligence, and robotic process automation, the development of tools and digital assets to enable standardisation, simplification and automation of existing services, and the development of new services.
We are enabling better client service delivery through cloud programmes such as Google, Microsoft and Salesforce, as well as effective internal operations through solutions including Workday and a sophisticated learning platform available across the network. Combined, these cloud solutions support real-time data availability and efficient decision making."
In a fast-moving world, innovation is a top priority for companies everywhere
Consumers are eager for new and sophisticated products, services and experiences. "At PwC, innovation is finding new ways to achieve our purpose to build trust and to solve important problems for clients and society," says Postolache. "For example, we have an internal Global Innovation Challenge that is exploring our people's ideas around the world so some can become reality and have a global impact. The shortlisted participants/teams pitch their ideas live at PwC's annual Global Innovation Conference, and the winning solution is chosen by a vote. The inspiring nature of this goal saw our 2019 Challenge set several new records. We received 273 entries—more than double the entries in 2018—from over 4,300 PwC innovators located across 36 countries and within all areas of PwC's business."
CSR initiatives
PwC's CSR strategy comprise a few directions: Education, Community and Care for the Environment.
"As an example I can mention our latest education programme based around Cyber security for youths – in a pioneer project, our Cybersecurity team partnered with Adfaber delivered 1 hour trainings to 6th to 10th grades on how to be safe on the internet and shared with them tips & tricks on digital conduct and behaviour," Postolache mentions.
"We also have a strategic partnership with Ashoka, the largest global organisation for social entrepreneurship and social change. We are working together with social entrepreneurs to integrate innovative approaches and increase their systemic impact in society through mentorship, pro-bono consultancy or direct involvement in some of the most powerful community social change projects in Romania.
In Ashoka Localizer programme we had three main projects: on education – for empowering youth and increasing opportunities in education, on women empowerment – supporting & empowering survivors of domestic violence and creating a mechanism for labour market integration and on energy – developing a cooperative offering its members the possibility of consuming 100% renewable energy at a price similar to conventional energy."
Francesca Postolache explains that technology continues to change our world and education must too: "So, we are focused on preparing our people, in areas like data analytics, robotics process automation and artificial intelligence for use in their work and also to advise clients, but also preparing the society for the digital world of tomorrow. Over the next four years, PwC is committing USD 3 billion in upskilling globally – primarily in training our people but also in developing and sharing technologies to support clients and communities. The program will also have an impact in Romania."
PwC Romania currently has 900 employees and the HR department focuses on creating "the right mix of skilled and adaptable people, aligned to our value and culture and with the right mindset".
Asked about the current workforce market in Romania and which are the challenges to be addressed in this respect, Francesca Postolache said that automation is threatening many existing jobs and that there is a severe shortage of qualified talent, especially for the new digital economy:
These trends are broadening the gap between the skills people have and those needed by the labour market.
There is an urgent need for organisations, governments, educators and citizens to come together to fix this growing problem. It all starts with the educational system, that must be changed from the roots. Business has also an important role to play and PwC is committed to play an active part in tackling this growing mismatch. We're aiming to help by accelerating the upskilling of our own people, helping other organisations prepare their workforces, convening stakeholders including governments and institutions, and making upskilling a key focus of our programmes."
Space-as-a-service is an increasingly used concept, especially in the office market. Having a good working environment is important and flexibility is an asset, both in working hours, as well in working space. In order to succeed with this, one needs to have a building with many technologies and digital options, according to Postolache: "A green one is a bonus for people and the company. You add social and open spaces that increase communication between colleagues and team-mates.  Of course, you have a lot of areas for talking on the phone, conferences or meetings that need privacy, like we have at our new offices. But the most important part is that people feel free to work from home, or near a window. They can gather at a standing desk and debate on the projects. And all this needs to be taken into consideration when we are talking of space-as-a-service concept."
Every year, PwC conducts a global survey of the CEOs of major companies. Now in its 23rd year, the objective of the survey was to identify key trends and patterns in the global economy that affect important management decision-making by leaders of the business establishment.
"This year, as CEOs look ahead to 2020, we see a record level of pessimism. For the first time, more than half of the CEOs we surveyed believe the rate of global GDP growth will decline," says Postolache. "This caution has translated into CEOs' low confidence in their own organisation's outlook. Only 27% of CEOs are 'very confident' in their prospects for revenue growth in 2020, a low level not seen since 2009.
The Top concerns in 2020 are excessive regulation, trade conflicts and uncertain economic growth, policing cyberspace, the upskilling challenge and climate change.
The CEOs in Romania are more pessimistic than their counterparts in Central and Eastern Europe and even at the global level. For 2020, 57% believe that the global economy growth will slow down, compared to 38% in 2019.
Leaders must ensure that their efforts create lasting value while also building trust with the communities and stakeholders they serve. They need to make decisions in a way that is both more dynamic and more resilient. At root, all of this means changing how we think about many of the ways we have conducted business for years. Leaders today can harness the power of technology to reimagine the way they plot strategy."
"Act now! If organizations can get out of their defensive crouch and assume a more aggressive stance, they have a better chance of maintaining their balance and shaping their future. Building and harnessing the mutually reinforcing attributes of optionality, agility, and resilience will enable leaders to adopt the strategies and mind-sets that allow them to succeed in the full spectrum of uncertain outcomes."
---
Trending Now
You may also like