The 2019 edition of the Programmer's Week Conference to be held in September
Posted On September 4, 2019
---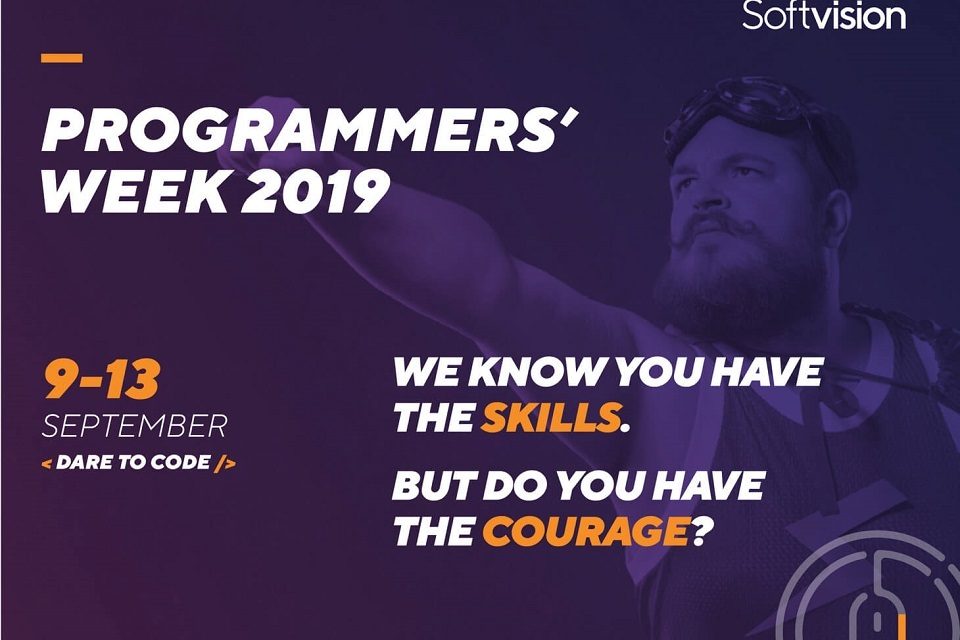 The 2019 edition of the Programmer's Week Conference, one of the largest technology events in Romania, will be held September 9-13 in Bucharest. New to this year's event is the ability for developers from across the globe to join in select activities, including Tech Talks presented by Cognizant Softvision executives and other technology luminaries. 
This year, Programmers' Week will highlight the intersection of business and technology.  Activities will include 4 days of technology discussions, the 256 Conference that brings together top national and international speakers, and announces the largest Coding Contest organized in the country to date. The first edition of the event took place 5 years ago in Romania; last year, Programmers' Week was available to Cognizant Softvision associates around the globe.
"We live in an era where technology is business, and business is technology," said Alin Turcu, Mobile and Artificial Intelligence Community Manager at Cognizant Softvision. "We are pleased to create a bridge between the business and technologies communities to encourage innovation and generate ideas that transform not only business, but society as a whole.  Through Programmers' Week, we're offering developers the opportunity to hear from some of the best and brightest while challenging them to create ground-breaking solutions that use some of today's most sought after technologies."
Programmers'Week precedes the largest Coding Contest organized so far in Romania. The competition aims to bring together over 200 programmers, grouped into approximately 50 technically diverse teams, who will be challenged to provide the best ideas on topics such as: Chat Bots, AR / VR, Internet of Things, Artificial Intelligence and technologies from Machine Learning. Participants will have the chance to win prizes between USD 5,000 and USD 25,000.
Highlights of Programmers' Week, taking place at the InterContinental Hotel in Bucharest, include:
Tech Talks: a series of webinars covering various branches of technology, supported by specialists from Cognizant Softvision. The talks will take place Sept. 9-12.  Online, streaming access is free, based on prior registration.
256 Conference: Taking place on Sept. 13, World Programmer's Day, the 256 Conference will have top local and international speakers discussing global technology trends. The agenda will include topics such as Internet of Things, artificial intelligence, machine learning, mobile, and more.
Romania's Largest Coding Contest:  Taking place Oct.19-20, the contest aims to gather more than 200 programmers, divided into approximately 50 technically diverse teams.  The teams will be challenged to offer the best ideas and solutions harnessing chatbot, augmented reality/virtual reality, Internet of Things, artificial intelligence and machine learning technologies.
Speakers for the 256 Conference include:
Malcolm Frank, President, Cognizant Digital Business
Andres Angelani, Chief Executive Officer, Cognizant Softvision
Shaun Walker, Technical Director and Guildmaster, Enterprise Cognizant Softvision
Bret Greenstein – Vice President and Global Head of Artificial Intelligence
Victor Rentea, Trainer Independent and Coach, Java Champion, Lead Architect  IBM România
Axel Fontaine, Founder and CEO of Boxfuse | Creator and Project Lead of Flyway
Vlad Iliescu, Head of AI, Strongbytes, Microsoft MVP
Vlad Zelinschi, Chief Technology Officer, Strongbytes, Google Developer Expert
The Cognizant Softvision company has been present on the Romanian market since 1998, continuing to develop over time. Currently, it consists of a team of more than 1,600 experienced IT professionals, as well as young professionals working in the studios in Bucharest, Cluj-Napoca, Iasi, Timisoara and Baia Mare.
---
Trending Now
You may also like