---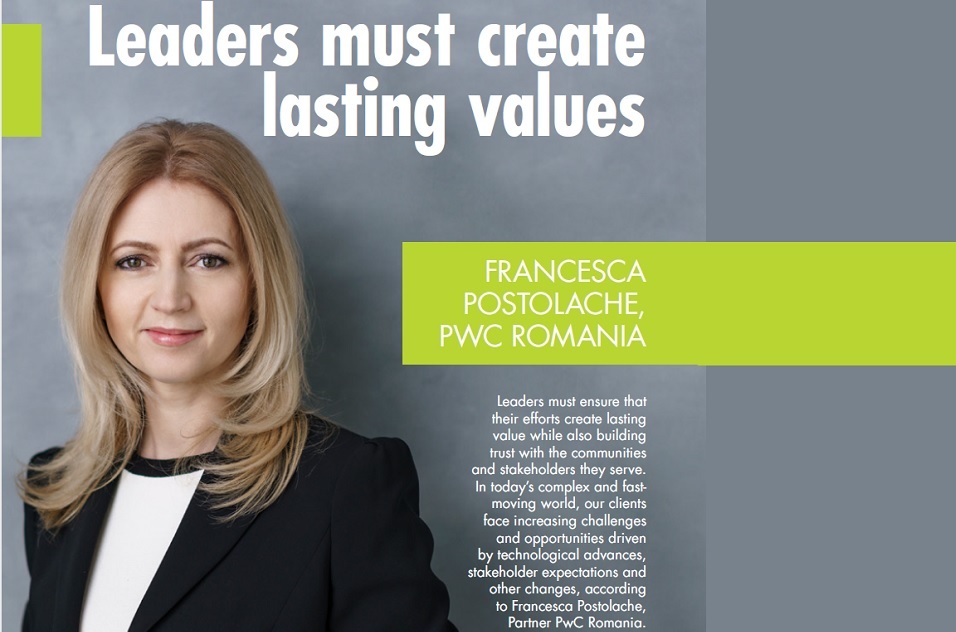 Francesca Postolache, PwC Romania: Leaders must ensure that their efforts create lasting value while also building trust with the communities and stakeholders they serve
In today's complex and fast-moving world, our clients face increasing challenges and opportunities driven by technological advances, stakeholder expectations and other changes, according to Francesca Postolache, Partner PwC Romania.
"They require us to work together across the broad range of our operations helping them to deal with issues such as regulation, trust, cyber security and strategic workforce planning," Postolache told Outsourcing Today.
"This includes identifying skills gaps and mismatches against likely future needs, workforce planning, upskilling programs, cultural change and advising our clients on the challenges posed by rapid technological change. They also demand us to use technology more effectively to create greater value. Our digital transformation is marked by key investments in technology and a focus on upskilling our people. Our aim is to use the combination of people and technology to be the most relevant organisation for our stakeholders and a cloud-enabled organisation."
Companies need more insight and faster, real time answers, so new technologies are a must in all activities, Postolache explains: "Most of our clients have adopted automation – RPA and AI across their business and we are supporting them with understanding how best to pilot it, test it out and gradually scale it.
Francesca Postolache explains that technology continues to change our world and education must too: "So, we are focused on preparing our people, in areas like data analytics, robotics process automation and artificial intelligence for use in their work and also to advise clients, but also preparing the society for the digital world of tomorrow. Over the next four years, PwC is committing USD 3 billion in upskilling globally – primarily in training our people but also in developing and sharing technologies to support clients and communities. The program will also have an impact in Romania."
PwC Romania currently has 900 employees and the HR department focuses on creating "the right mix of skilled and adaptable people, aligned to our value and culture and with the right mindset".
For the full interview, stay tuned with our online updates and the printed edition to be issued on the market in May this year!
---
Trending Now
You may also like