ABSL returns to Brasov with a new Business Mixer event on February 20
Posted On January 23, 2020
---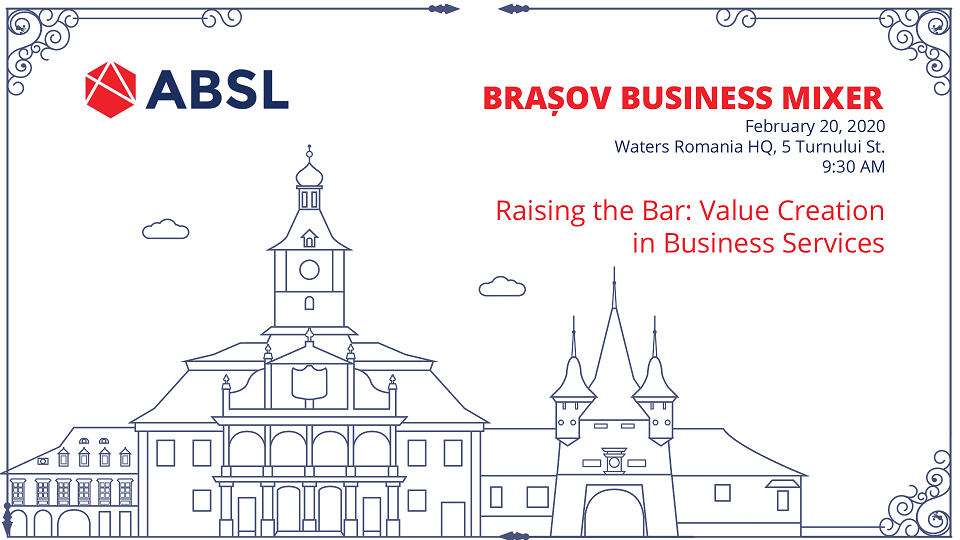 For the second year in a row, The Association of Business Service Leaders in Romania (ABSL) is returning to Brașov, to meet once again the local business services community within Brasov Business Mixer event, to take place on February 20, within Waters Romania Hq.
This year event's proposition is Raising the Bar: Value Creation in Business Services
Creating value is what truly distinguishes one company from the others and ensures success. In this day and age when competition is fierce, it becomes clear that delivering value is the key to running a prosperous company.
Needless to say,value can be challenging to create and measure. So how do we define it or measure it? What are other companies doing to drive it? We invite you to take a deep dive into analysing the sources and drivers of value creation within the industry, the company, and the market. Understanding what creates value will help us focus resources on the best opportunities for growth.
The event aims at tackling the intangible assets that drive value: technology, human resources, customer relations, community & brand value during ABSL Brașov Business Mixer!
AGENDA
09:00 – 09:30 | Welcome coffee and greeting the participants
09:30 – 11:30  | Let's hear from the Experts!
11:30 – 12:00  | Coffee break & networking
12:00 – 13:30  | [Workshop] Driving Value Creation in Business Services
13:30 – 13:45  | Short Coffee break
13:45 – 14:45  | Case studies: What are you doing to create value in your company?
14:45 – 15:30  | Late Lunch
More on the event: https://www.absl.ro/event/brasov-business-mixer-2020/
---
Trending Now
You may also like