Lockheed Martin to partner with multiple European companies on F-16 training center in Romania
Posted On November 13, 2023
---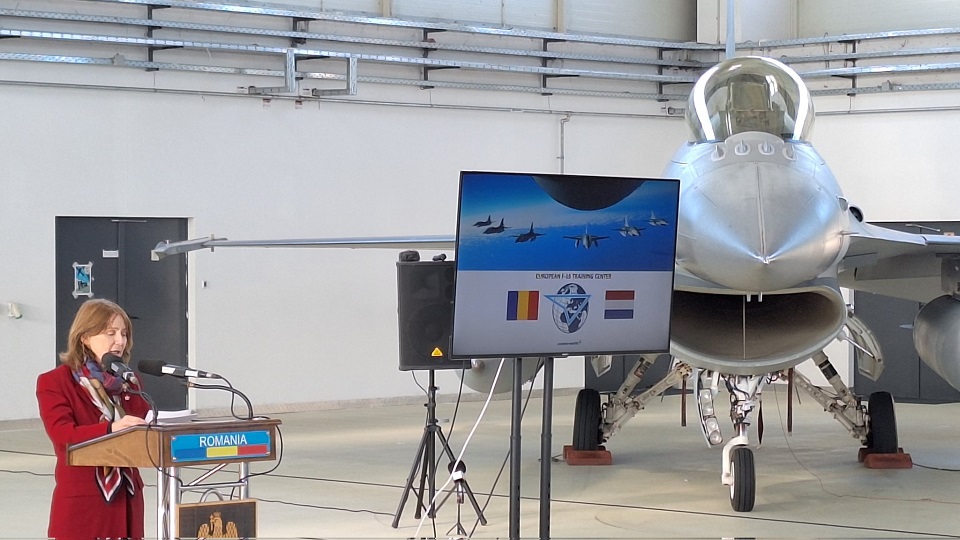 The first European F-16 Training Center was inaugurated on Monday, Nov. 13, at the Fetești Air Base in southern Romania. Lockheed Martin (NYSE: LMT) and subcontractors, Daedalus Aviation Group, Draken International, GFD, a subsidiary of Airbus Defence and Space, and ILIAS Solutions will work as one team to provide F-16 training at the newly formed center, which is the result of unique collaboration between the Romanian Ministry of National Defence, the Romanian Air Force and the Royal Netherlands Air Force, in partnership with Lockheed Martin.
As part of the agreement, the team will be responsible to organize, schedule, operate and maintain the F-16 fighter jets provided by the Royal Netherlands Air Force (RNLAF) in support of F-16 training. More specifically, GFD and Draken will provide experienced F-16 instructor pilots with recent front-line experience flying F-16s in the U.S. Air Force and air forces throughout Europe. To further compliment the training, Daedalus will bring expertise in the European Military Airworthiness Requirements regulatory framework including Part 145, which focuses on aircraft maintenance, repair and overhaul; as well as CAMO—short for Continuous Airworthiness Management Organization—which focuses on the continuing airworthiness of aircraft. Daedalus will furthermore perform F-16 maintenance, repair and logistics activities supported by experienced Draken aircraft technicians.
To round out the training team, ILIAS Solutions will be responsible for providing integrated defense software solutions for logistics and sustainment, training management and flight scheduling.
"The F-16 continues to play a crucial role in 21st Century Security missions for the United States, Europe, NATO and allies around the world," said OJ Sanchez, vice president and general manager, Integrated Fighter Group, Lockheed Martin. "Lockheed Martin is proud to partner with the Netherlands and Romania on this European F-16 Training Center, which will enhance mission readiness through a comprehensive F-16 training solution for Romanian pilots. The center will focus on ensuring effectiveness and safety of Romanians flying and operating F-16 fighter jets and could eventually expand to include training for other nations.
"Together, with our partners from Daedalus, Draken, GFD and ILIAS, we're providing world-class training to enhance mission readiness and ensure safety of Romanians flying and operating F-16 fighter jets," he added.
As part of the agreement between the Netherlands and Lockheed Martin, the RNLAF will continue to own the aircraft and maintain sovereign rights.
About the F-16
The F-16 is a strategic and valuable choice for many customers around the world seeking advanced fighter aircraft capabilities, regional and worldwide partnerships, and affordable lifecycle costs. More than 3,100 F-16s are operating today in 25 countries. The F-16 has flown an estimated 19.5 million flight hours and at least 13 million sorties. Today's latest version, the Block 70/72, offers unparalleled capabilities and will be flown by six countries and counting.
About Lockheed Martin
Headquartered in Bethesda, Maryland, Lockheed Martin Corporation is a global security and aerospace company that employs approximately 116,000 people worldwide and is principally engaged in the research, design, development, manufacture, integration and sustainment of advanced technology systems, products and services.
---
Trending Now