Cognizant Softvision unveils lineup for 8th Annual Programmers' Week
Posted On August 30, 2022
---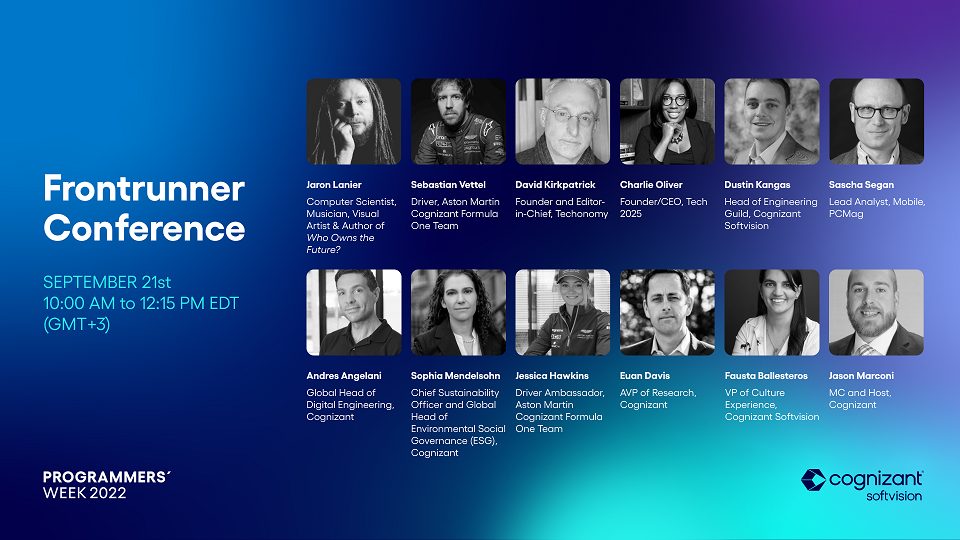 Sebastian Vettel, legendary Formula One driver, and Jaron Lanier, 'father of virtual reality,' anchor speaker lineup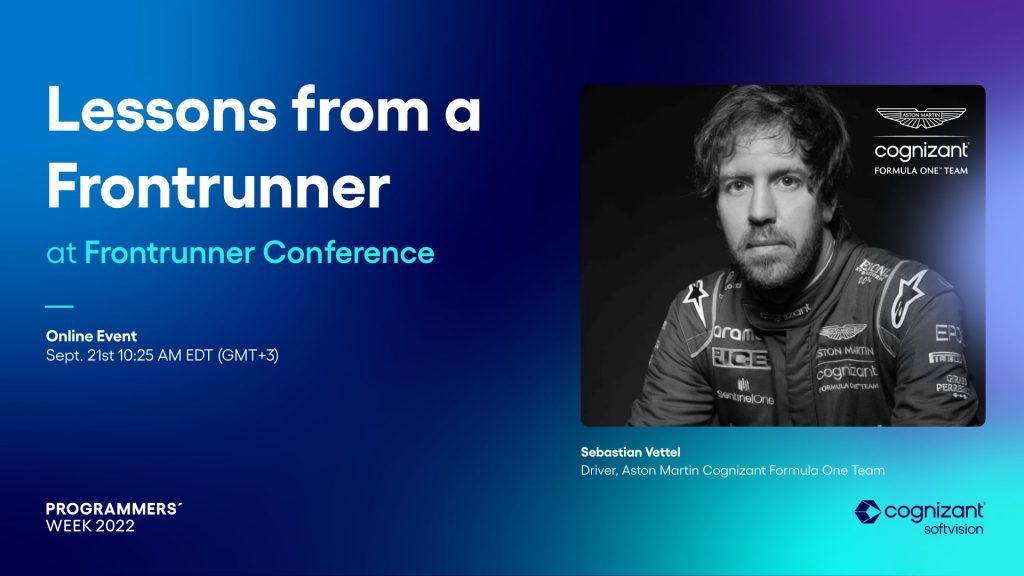 Programmers' Week to feature a special "Frontrunner" virtual conference on 9/21, alongside more than 50 forward-looking tech talks throughout September.
Featured speakers include iconic Aston Martin Cognizant Formula One driver Sebastian Vettel, founding father of virtual reality Jaron Lanier, Techonomy founder David Kirkpatrick and many more.
Cognizant Softvision, the integrated digital engineering arm of Cognizant (Nasdaq: CTSH), one of the world's leading professional services companies, today unveiled its lineup of keynote speakers, panelists, and presenters for its eighth annual Programmers' Week global event.
In addition to more than 50 informative tech talks that will take place throughout September, this year's Programmers' Week also features 'Frontrunner', a dedicated virtual conference that will take place on September 21th. Key speakers for Frontrunner include VR pioneer Jaron Lanier, Techonomy founder David Kirkpatrick, Aston Martin Cognizant Formula One driver Sebastian Vettel, Tech 2025 founder Charlie Oliver, Cognizant Softvision CEO Andres Angelani, and many more.
"This year's Programmers' Week is designed to deliver real insights, information and lessons on what it takes to lead in technology, in business and in your career," said Andres Angelani, CEO Cognizant Softvision. "Our Frontrunner conference is built by technologists for technologists. Attendees can expect to spark connections, cultivate community, and learn how to overcome obstacles to become a Frontrunner in your respective career and in life."
"Programmers' Week began eight years ago in Romania as an internal event, thanks to the initiative of a few colleagues passionate about sharing their experience. We are delighted that we have grown every year and have taken this spirit of initiative to the next level. This is an important element of our culture, and expresses how we connect, interact and learn together both in our technical communities and in external ones. Programmers' Week was created to inspire all technology enthusiasts, globally, to learn constantly, to be bold and creative in thinking, to generate solutions using the very extensive possibilities of technology," said Mihai Constandis, Country Manager Romania, Community Head GGM (Global Growth Markets)
Programmers' Day, the 256th day of the year
Programmers' Week is the biggest event organized by a Romanian company completely dedicated to the tech industry.
International Programmers' Day takes place on the 256th day of the year. The number 256 was chosen because it's the number of distinct values that can be represented with a byte, a value well known to programmers. Cognizant Softvision began celebrating Programmers' Day about eight years ago. What began as a one-day, in person event in Romania, has today blossomed into nearly a full month of September activities, featuring both internal-facing training and development events for our 30,000+ engineers, designers and developers, as well as external initiatives that help share our vision and thought leadership regarding the future of digital engineering, technology and business.
Register for the In-Person Tech Talks (in Cluj, Bucharest, Galati)
Programmers' Week 2022 will also include a series of technological discussions (Tech Talks), both virtual, as well as several Tech Talks that will take place at Cognizant Softvision offices (called studios) in Cluj-Napoca and Bucharest, as well as in Galati.
Programmers' Week 2022 will also feature a series of tech talks, both virtual and in some global markets in-person, on platforms and technologies including cloud, automation (QE, AQ, DevOps), product engineering (.NET, JAVA, Web and mobile), and Data/Analytics/AI and ML.
For more information on Programmers' Week and to register for the September 21 Frontrunner conference, visit programmersweek.com.
---
Trending Now
You may also like