Crosspoint Real Estate supports its employees with benefits to enhance their wellbeing
---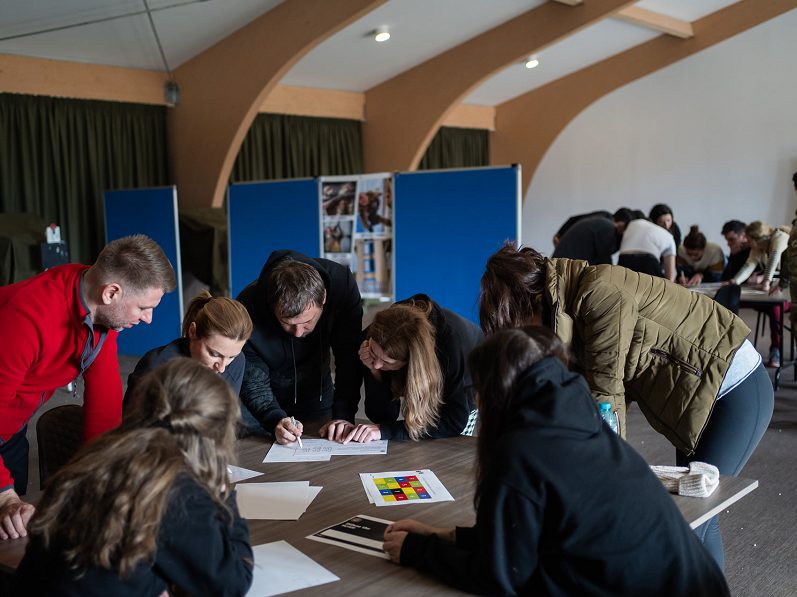 Crosspoint Real Estate has created a set of new benefits for its employees and their wellbeing status, including a floating room, special frameworks for joint celebrations, as well as a weekly coaching program.
During the global pandemic, entrepreneurs have stepped up their organizational transformation efforts, accelerating digitization efforts and incorporating sustainability principles into their strategy so that staff can work remotely. This "distance", however, began to be felt more recently (or more often) in social relations at work, sometimes defocusing teams from the performance goals they have. Crosspoint Real Estate anticipated this phenomenon and came in time to support its employees and collaborators, through personal development programs, team buildings and individual and group coaching programs.
"As an instructor, trainer and coach with over 15 years of experience in the field of organizational management and leadership, I am glad to be part of this initiative and to be with #PeopleofCrosspoint. From the very beginning, I set out to create a safe, non-judgmental, reliable space for the client's ability to find solutions to any conflict situation and to accompany him in the development process, so as to achieve a level of performance that it might be harder to reach on your own. I believe that a team that knows how to have fun together, to celebrate the events within the company together, also knows how to work together. Because the coaching process is a dynamic one, each client (can be replaced by a colleague) is unique, and the experiences are very personal – each coaching relationship is unique, confidential and personalized", says Raul Marina, founder of SIAFS, a company specialized in coaching and training.
According to him, part of the benefits of these coaching and mentoring sessions would be that they provide access to methods and techniques that can bring a professional even closer to identifying their own solutions for personal development
you have a professional by your side who can create the right framework for your development process; you become more aware and responsible for what you need to do toward your goal;
you know how to set your goals concretely and clearly; you can more easily prioritize what brings value in your life but also at the level of the team you are part of; you can have techniques to accelerate your motivation and that of those around you;
you can learn to express your dissatisfaction in an assertive, non-critical manner, always looking for solutions to meet the needs of both parties involved;
the availability of an organized framework for small celebrations, either to applaud and rejoice together for new or successful transactions of colleagues, or to celebrate birthdays or company anniversaries and many, many more.
"The relationship of communicative action with the ethics of collective responsibility expresses an interesting and sustainable view that the path from individual responsibility to the need for collective responsibility could be made possible by the development of moral responsibility," Marina adds.
In addition to these complex benefits, the company also provides its employees with a <floating room>, which is a technique of relaxation and mindfulness, built right in the office. "I have a passion for self-discovery and I wanted my colleagues to have at their fingertips one of the most useful and powerful techniques for this purpose, in addition to all the other benefits provided by the company," Codrin Matei says, one of the founders of Crosspoint Real Estate.
Floating room is a floating therapy, which accesses relaxation, stress and tension relief, facilitating a high-level connection with oneself, along with many other medical benefits it offers. According to numerous studies, this technique is used by great executives of large companies, with the aim of becoming more and more performant and successful, through the extraordinary results that this type of mindfulness therapy demonstrates, as a result of achieving an extraordinary wellbeing.
About Crosspoint Real Estate
Founded in 2005, Crosspoint Real Estate offers both real estate trading and consulting services, as well as financial solutions needed by large investors, for all types of properties: offices, retail, industrial, land, hotels and residential. Crosspoint Real Estate is the international partner of Savills in Romania, one of the largest real estate companies worldwide, founded in 1855 – with revenues of over GBP 2.15 billion generated in 2021.
---
Trending Now
You may also like