Giuliana Veronese, Stefanini's EMEA Technical Director: Innovation at the core of business development
---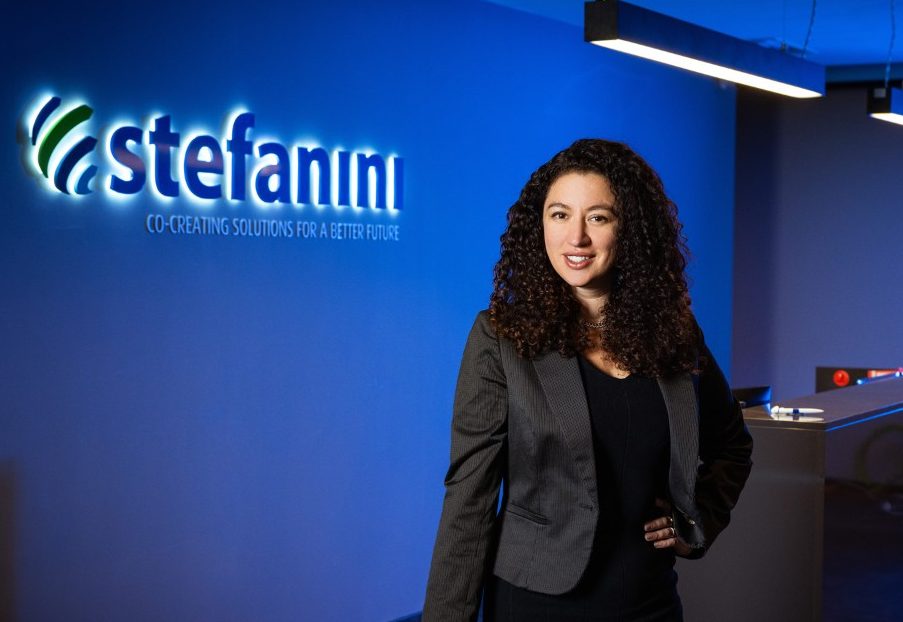 Which are this year's technology trends and the most common demand from customers in terms of solutions and services? Tell us more regarding fostering technology innovation worldwide through your Global Innovation Center.
Increasingly businesses are recognizing the value of data fabric, which provides a flexible, resilient integration of data sources across platforms and business users, making data available everywhere it's needed regardless of where the data lives.
There's also growing demand for cybersecurity mesh security solutions to work together to improve overall security while moving control points closer to the assets they're designed to protect.
Businesses are also looking to benefit from cloud-native platforms that allow you to build new application architectures that are resilient, elastic, and agile
Finally, we all know the way in which we work has been transformed. Creating a workplace that properly responds to this new way of working, projecting organizational values – and offering a seamless experience between the physical and virtual spaces – is crucial to keeping employees engaged and productive.
We're able to deliver powerful solutions by drawing on the strength of our innovation ecosystem, which harnesses expertise from partners, academia and new ventures.
What is the leadership model in the EMEA market and which type of innovative solutions do you provide across markets?
When it comes to solutions, we pride ourselves on our ability to combine scale with flexibility. This means that we take an entirely technology agnostic approach and harness the scale and expertise of our network to provide whichever innovative solutions are required to help businesses realize their goals, taking into account their existing use of technology and maturity level.
How were the digital capabilities accelerated at Stefanini in the past years? Which are the strengths and challenges in providing digitalization to customers?
We have evolved our offering by bringing together a powerful digital ecosystem formed by our ventures, innovation centers and strong partnerships with tech leaders. We have invested in our co-creation approach, which connects technology and business experts and empowers them to collaboratively develop new value by embracing new concepts, solutions, product and services.
What is meant by "innovation" in your company? What does it imply and to what outcome?
Innovation is a process that is best managed with a long-term perspective. That doesn't necessarily mean it needs to be measured in over long periods of time – such as months or years – but rather there needs to be an understanding of whether goals are being hit and how these set the business up for the future. This requires separating the innovation process into three implementable stages: the identification of goals and roadmap definition, the delivery of short-term outcomes and the evaluation and near-term development stage.
The first stage, identification of goals and roadmap definition, defines the course of action and establishes the motivational inspiration for the entire innovation process. Setting forth a vision for the innovation goal and providing opportunities to explore various solutions enables innovator buy-in to the goal.
Once the goal has been identified, the steps that need to be accomplished for success can be prioritized, assigned to stage 2 or stage 3, and executed accordingly. It is important to realize that stage 2 and stage 3 are not static, and should be routinely reviewed and updated following an Agile approach. As goals in stage 2 are completed, some of those in stage 3 move into stage 2 to provide the basis for a new set of measurable results and outcomes. It is management's responsibility to assess performance at each stage and determine when a goal has been completed or moved into a different stage.
By splitting the execution phase into 2 stages, the innovation process is positioned to yield a continuous flow of near-term successes, which maintains innovator motivation. Additionally, if the initial strategy needs to be adapted, this can be done in a timely fashion and at a relatively low cost.
How do you tackle the new markets and what trends in terms of solutions demand do you identify there?
In each opportunity/bid process, we evaluate the elements that make that opportunity unique, taking into consideration the business vertical and customer segment
We then make a purchase evaluation to understand the buyer moment (when and why the customer is buying)
This is followed by direct/indirect competition analysis, followed by an analysis of complementary products and services, as well as how we can evolve our offerings with our digital ecosystem.
The final stage is the environment analysis, during which we evaluate different market/economy/political scenarios.
How do you tackle the new markets and what trends in terms of solutions demand do you identify there?
We invest around 8% of our global revenue on identifying new markets and developing our presence in these.
This involves strengthening either our presence or our service offering in a particular region based on trends or market conditions.
For instance, at the very beginning of the pandemic, it was clear that a likely significant increase in remote working was set to contribute to a growing cybersecurity risk level for businesses. We responded to this with our joint venture with Cyber Smart Defence, one of the most dynamic cybersecurity companies in Romania, alongside the launch of a new SOC, which provides a comprehensive portfolio of cybersecurity services to clients across EMEA.
Which are the business priorities for the EMEA Technical Director and in this regard, which are the most pressing demands coming from customers?
Across our entire organization – which means for all of our directors – our purpose is co-create solutions to provide a better future. We're committed to bringing out the best in every person in each team, and to creating strong partnerships and long-term relationships with our customers.
What is the company's strategic focus for development in 2022 and what do you anticipate for 2023?
Stefanini is committed to acting as a digital advisor that can deliver transformative solutions for businesses.
Our efforts here have included expanding the capabilities of our innovation center, including the addition of an analytics center of excellence, while also bringing in new cloud architects and investing in AI.
All of these initiatives are set to play a role in supporting and speeding up digital transformation within our customers' environments. Next year, we are planning to expand via acquisition, which will further build our scale and expertise across EMEA.
---
Trending Now
You may also like