Ioana Ceausu is the new COO of The Entrepreneurship Academy
Posted On January 21, 2022
---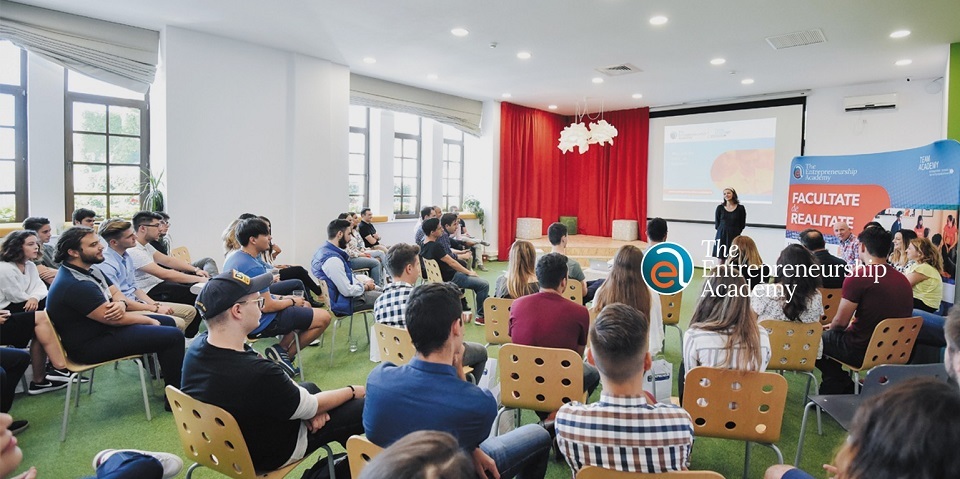 EA – The Entrepreneurship Academy appointed Ioana Ceausu as its new Chief Operating Officer, starting this month. She joins the management team alongside Alexandru Ghita, President of the faculty, and Cosmin Alexandru, Dean and co-founder. Prior to this role, Ioana Ceausu was a Program Manager in the EA team, starting in the summer of 2019.
"For me, this role means getting closer to the EA students, listening to them so that I can better understand their needs and challenges. Together with the whole team we want to make sure that we offer them everything they need to reach their potential, and this translates into a special emphasis on their success. I'm speaking not only from an academic perspective or from the businesses they developed within the university, but also from the perspective of the professional network that they are already starting to build. It is also about the local and international educational and entrepreneurial experiences to which they are exposed to, as well as their development as young adults, autonomous and interdependent. They will contribute to the prosperity of our society as entrepreneurs (through the successful startups they develop or will develop in the future), or through their mentality and entrepreneurial skills in the corporate or non-governmental projects in which they will choose to get involved", said Ioana Ceausu.
EA – The Entrepreneurship Academy is the only business faculty in Romania where, in addition to the academic study component through which students acquire knowledge and skills of business administration, they are guided and supported to start their own entrepreneurial initiatives. Among the EA projects already developed and that are already successful are FLIP, which attracted 1.5 million euros in investment from eMag Ventures, with a turnover of about 14 million euros at the end of 2021, or The Outfit, which managed to attract 2021 investments of 300,000 euros from private investors. Among the projects being "incubated" at EA – The Entrepreneurship Academy are Glow2Go, Humance, Fustițe cu Luminițe.
"Since I joined the team, I have noticed a dynamic that I have not found in other academic contexts until now. Between the EA students, the experts and the business mentors within the school, there is a relationship that leads to the development of projects together, investments and collaborations of all kinds. Therefore, a priority of this role is to strengthen and grow the EA community, bringing together entrepreneurs, investors and professionals from the local and regional entrepreneurial ecosystem, to inspire and support EA students to develop as entrepreneurs and intrapreneurs", added Ioana Ceausu.
---
Trending Now