Five new associate partners enhance the expertise of EY Romania's Assurance, Consulting and Tax departments
---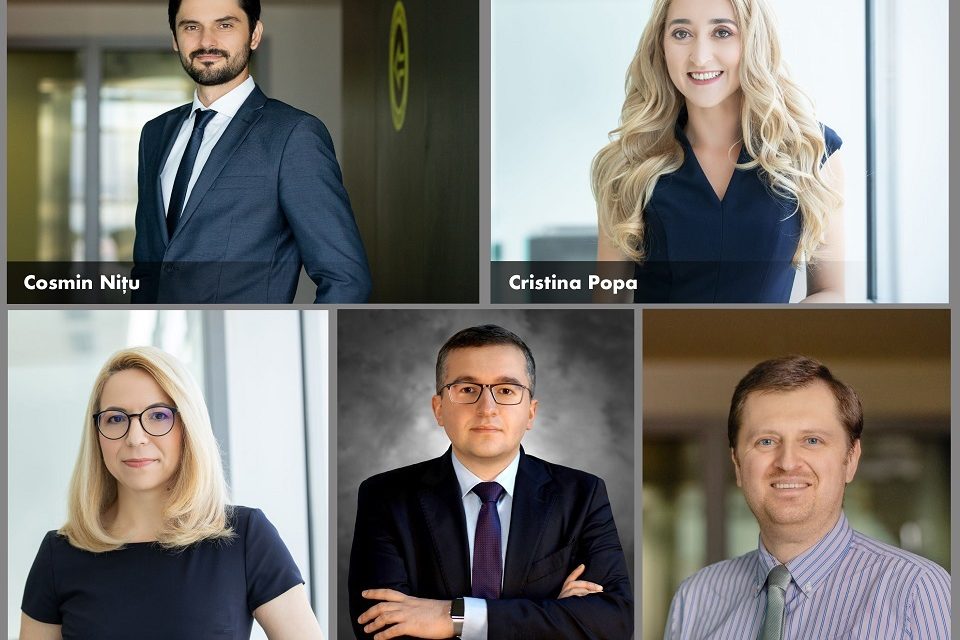 Cosmin Nitu and Cristina Popa were promoted to Associate Partners with EY Romania's Assurance department, Sofia Stoican and Iulian Chira are now Associate Partners with the Consulting line of services, while Costin Manta is the new Associate Partner with the Tax and Legal team.
Cosmin Nitu joined EY in 2007 as a junior with the Assurance team, right after graduating university. Over the past 14 years, he has been involved in auditing small-, medium- and large-sized clients in multiple industries, including real estate, retail, industrial products, manufacturing, healthcare and distribution. Cosmin has extensive experience in auditing financial statements in accordance with the Romanian Accounting Standards and the International Financial Reporting Standards, as well as in capital market transactions.
Cristina Popa started her career in 2008 immediately after graduating university, when she joined a team of young professionals. In 2013 she was promoted to Manager and in 2016 to Senior Manager. As she advanced in her career, she has managed complex audit engagements, diverse teams across all departments, as well as across the entire organization globally. Her main clients operate in the telecommunications, oil and gas, and automotive industries. She is also a member of the EY Capital Markets team.
She is very passionate about DIGITAL GAM, standardization and simplification. Since 2019, she has been Country Data analytics implementation leader and advocates for digitalization as a new way to conduct audit processes.
Nicolas Sabran, Partner, Assurance Leader, EY Romania: "With a professional experience of over 13 years in EY, Cosmin and Cristina demonstrated determination and professionalism in the projects in which they were involved and I am convinced that they will have a significant contribution to the growth of our audit practice."
Sofia Stoican is an experienced advisor, who has been servicing clients in the public sector for more than 10 years. While her main area of expertise focuses on European Union policies, programs and funding, Sofia has participated – including as a coordinator – in transformation projects in various areas, such as the reform of the public procurement system, the modernization of taxation authority, the digitalization of public services, as well as in initiatives related to the national social security system.
Carmen Adamescu, Partner, Consulting, Government & Public Sector Leader, Head of Technology Transformation, Solution Delivery and Cybersecurity EY Romania & Moldova: "By nominating Sofia as an Associate Partner with its Consulting Department, EY Romania confirms its commitment and focus to help design and implement public policies in Romania, both by developing local competences and by harnessing its global expertise."
Iulian Chira was promoted to Associate Partner with EY Romania's Consulting department, specializing in technology and project management consulting services.
Iulian joined EY in 2015, and he now oversees a team of 35 technical advisors with an expertise in developing web and mobile applications, integration of enterprise software, cloud infrastructure, reporting solutions based on business intelligence and machine learning systems. With more than 14 years of experience in software development, Iulian has implemented project portfolio management (PPM) solutions for international clients active in various business sectors.
Iulian is also in charge of developing the EY Transformation Hub, a complex software product intended to help organizations in their extensive transformation processes by defining and thoroughly implementing business strategies and by transparently monitoring generated value.
Iulian graduated the Faculty of Automation and Computer Science within the Technical University of Cluj-Napoca.
Costin Manta joined EY in 2008 as a senior consultant with the indirect taxation team. Over the past 13 years, he has been involved in consulting, tax audit assistance and tax litigation projects for clients in multiple industries, including real estate, retail, industrial products, manufacturing, healthcare and distribution.
Costin has developed innovative projects, such as VAT refunding for uncollected receivables, supporting VAT deduction for cross-border services, VAT refunding for discount-like contributions, as well as developing VAT automation solutions, such as EY VAT check.
In his new role, Costin will continue innovating solutions to decrease taxation cost for his clients.
Alex Milcev, Tax & Law Leader, EY Romania: "In his new role, Costin will continue the process of innovation in tax cost reduction solutions for our customers and will further contribute to the growth of our tax and legal services practice."
---
Trending Now
You may also like