People Empowering Business Forum to take place on October 12 at Bucharest
---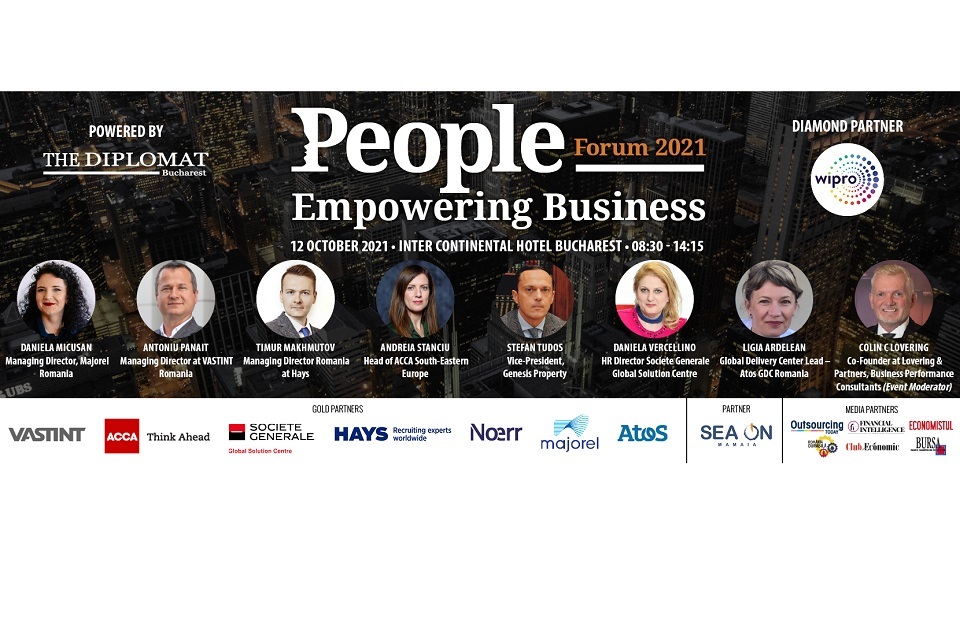 The new empowering role of employees within a reshaped workplace has changed the priorities and discussions about HR. The new world is governed by a stronger synergy of people and technology emerging within a global platform economy. Everything is now inter-connected and the power of combined expertise working in unison will succeed in shaping the current business and workflow landscape.
REGISTRATION AT THE EVENT: People Empowering Business Forum 2021 – powered by The Diplomat Bucharest
The 7th edition of PEOPLE EMPOWERING BUSINESS FORUM, 2021 edition organized by The Diplomat-Bucharest on October, 12 will depict the latest news, trends and findings of the companies and business leaders. The talks aim at finding out under what auspices this year has evolved and where we are now in terms of people resources, talents and capitalization of their skills. The annual event dedicated to the human resources brings together HR leaders from cross sectors to collaboratively map solutions to the challenges of building sustainable and agile learning organizations. The discussions will be focused on the most successful operating models, as well as characteristics of the talent and leadership the companies need, how data can be leveraged to provide relevant insights, and the technology worth investing in.
MEET THE SPEAKERS
COLIN C LOVERING, Co-Founder at Lovering & Partners, Business Performance Consultants
STEFAN TUDOS, Vice-President, Genesis Property
TIMUR MAKHMUTOV, Managing Director Romania at Hays
DANIELA MICUSAN, Managing Director, Majorel Romania
ANTONIU PANAIT, Managing Director at VASTINT Romania
ANDREIA STANCIU, Head of ACCA South-Eastern Europe at The Association of Chartered Certified Accountants
DANIELA VERCELLINO, HR Director Societe Generale Global Solution Centre
LIGIA ARDELEAN, Global Delivery Center Lead, Atos GDC Romania
---
Trending Now