Horizon Europe open calls relevant for internet innovators (next generation internet)
---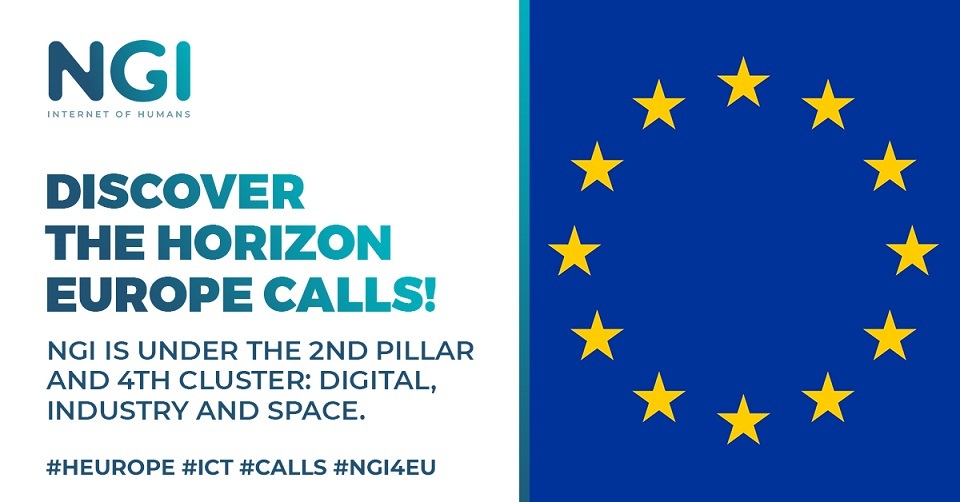 Horizon Europe, the EU's key funding programme for research and innovation with a budget of €95.5 billion, will provide support for the next seven years and is organised around three pillars:
Excellence in science (ERC, mobility programmes, research infrastructures)
Global Challenges and industrial competitiveness
Innovative EU (start-ups, SMEs, developers, helping to bring to the market), a new pillar.
For the period 2021-2022, the European Commission will dedicate EUR 62m to support top internet innovators in the areas of trust and data sovereignty on the Internet; Trustworthy Open Search and Discovery; Internet Architecture and Decentralised Technologies; as well as enhanced EU-US and EU-Canada cooperation and collaboration.
The European Commission announced renewed EU finding for NGI and under Horizon Europe. Calls relating to the Next Generation Internet, of relevance to the NGI community are listed under Pillar II, Global Challenges and European Industrial Competitiveness, Cluster 4, Digital, Industry and Space.
Next Generation Internet (NGI) is an initiative of the European Commission, which aims to shape the Internet for the future as a powerful, user-centric (Internet of Humans) ecosystem that meets the fundamental needs of the population, including those of confidence, security and social inclusion. NGI comprises an ambitious research and innovation program based on an initial European Commission investment of over € 250 million between 2018-2020 and is part of the future Horizon Europe program (2021-2027).
The NGI program funds the best research and innovation projects in the field of the Internet, focusing on advanced technologies, including privacy, search and discovery, decentralized architectures, blockchain, Internet of Things, social media, interactive technologies and technologies that support multilingualism and accessibility.
OPEN CALLS RELEVANT TO NGI COMMUNITIES
HORIZON-CL4-2021-HUMAN-01-04: TRUST & DATA SOVEREIGNTY ON THE INTERNET (RIA)
Objective: to deliver architecture, protocols and services to ensure that end-users can exert their rights and benefit from decentralised technological solutions that ensure that they are fully in control of their personal data on the Internet.
Deadline: 21 October 2021
For more info, check the EC portal.
HORIZON-CL4-2021-HUMAN-01-05: TRUSTWORTHY OPEN SEARCH AND DISCOVERY (RIA)
Objective: to develop technology and solutions enabling new and trustworthy ways of searching and discovering information across a variety of resources such as connected devices/smart objects, services, multimedia content etc.
Deadline: 21 October 2021
For more info, check the EC portal.
HORIZON-CL4-2021-HUMAN-01-07: NEXT GENERATION INTERNET COMMUNITY-BUILDING AND OUTREACH (CSA)
Objective: the proposal will support the European Commission in engaging a diverse community of stakeholders, including internet innovators, researchers, start-ups and SMEs, but also policy makers, internet end-users, social partners, local communities and citizens at large, in order to develop and implement the NGI vision of a human-centric internet.
Deadline: 21 October 2021
For more info, check the EC portal.
HORIZON-CL4-2021-HUMAN-01-08: NGI INTERNATIONAL COLLABORATION – TRANSATLANTIC FELLOWSHIP PROGRAMME (CSA)
Objective: enhanced EU-US and EU-Canada cooperation in the development of Next Generation Internet technologies, services and standards. Supporting the EU internet policy objectives by sharing the EU vision and values with US and Canadian counterparts and forging bonds through concrete collaborations. A transatlantic ecosystem of top researchers, high-tech startups / SMEs and Internet-related communities collaborating on the evolution of the Internet according to a human-centric approach.
Deadline: 21 October 2021
For more info, check the EC portal.
HORIZON-CL4-2021-HUMAN-01-09: NGI TECH REVIEW (CSA)
Objective: increased value and maturity of internet technologies tackling key societal challenges such as response to pandemics, climate change, disinformation, or the protection of privacy. Improved collaboration of internet innovators to develop, test and improve solutions based on open source technologies.
Deadline: 21 October 2021
For more info, check the EC portal.
---
Trending Now