Andrei Romanescu, Veeam Software Bucharest: Business leaders around the globe have to manage uncertainty with decisiveness under pressure
Posted On February 23, 2021
---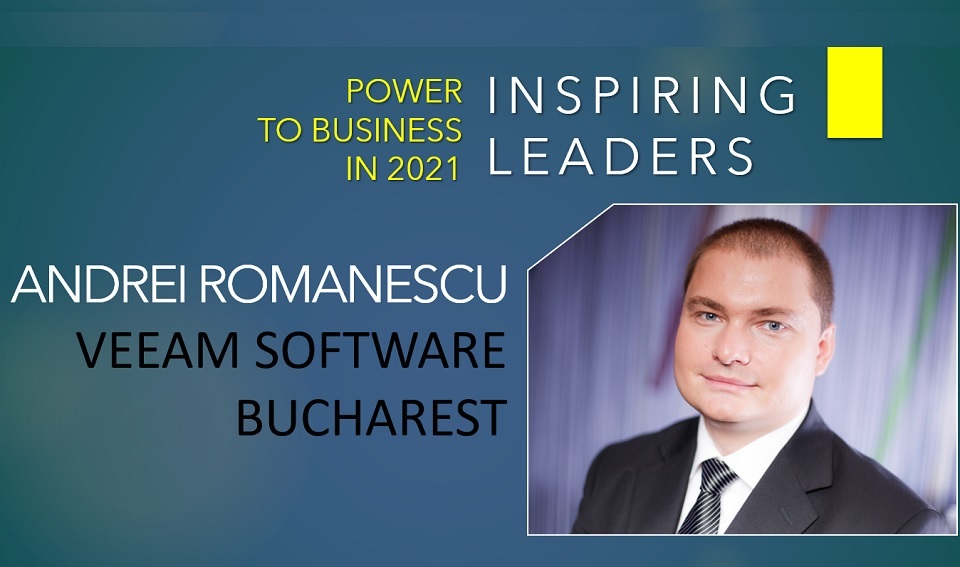 Business as usual or the resetting of the entire business structure? Making the best of the lessons learned in 2020 and turning it into the business growth's drivers in 2021? Envisioning a company structure built for people? Enablement of wellbeing, safety initiatives and multi-leveled and hierarchy-flexible communication conduct?
Andrei Romanescu, Managing Director at Veeam Software Bucharest talked to Outsourcing Today on the topics and addressed the plans, the core values and the actual enablers for business growth that mark the beginning of 2021.
The global impact of the coronavirus crisis poses extraordinary challenges and lot of pressure for leaders
The current pandemic may be the most challenging crisis many leaders face in their careers, because this is not an ordinary crisis, but a large-scale medical one with long-term financial implications. The context is unprecedented and the crisis should be addressed and responded to in a very dynamic and complex way.
In fact, I don't think we have just one crisis, but four different challenges happening at the same time: a demand crisis, a supply crisis, a medical crisis, and a trust/ fear crisis. To overcome those challenges, leaders should focus on some key communication aspects.
First, a leader should be a strong communicator because leadership communication during crisis is vital. Every leader should keep their teams informed during the crisis and never forget that it is natural for people to look towards leaders for answers and comfort. As ambiguity increases, fear and doubt can spread across organizations.
In everyday business communication, the best communicators exhibit a balance of empathy and trust, which is always the appropriate combination. When anxiety is high and things are uncertain, it's more important than ever to be considerate and empathetic in how and what we communicate.
Moreover, as we reach the era where working remotely gradually becomes the norm, to succeed, leaders should demonstrate understanding and sensitivity when communicating with the employees. It is important to speak to them using the right communication channels (email, phone, video call etc.). In such a context, over communication is better than no communication.
On the other hand, a leader should be a good listener, with the capacity to digest large amounts of information from different viewpoints.
During times of crisis, showing empathy for your staff and partners helps you relate to one another on a more personal level, and successfully navigating a crisis together can dramatically enhance trust and unity.
Last but not least, one of the greatest challenges for a leader during a crisis is decision making. A good leader must have the ability to rapidly make the right decisions in the face of difficult circumstances, even if under pressure or not having all the details at hand.
Difficult circumstances could trigger both progress and regress in people's work, in terms of focus, productivity and creativity
That`s why we have always made sure that all our employees know they can count on us, that we are there for them, whenever they need us and together, we can find solutions for any problem that may arise. I believe that employers should demonstrate ongoing support in order to have a big impact on an employee's attitude towards work and wellbeing.
Moreover, we`ve created specific opportunities for the teams to connect and bond with their coworkers, from virtual coffee connect sessions, virtual parties, cooking challenges or sport related virtual gatherings. Even if we are talking about video meetings, people still get to know each other better in an informal setting and are motivated to perform well in their jobs and as part of a team.
Communication is one of the most important functions of management and can make or break an organization. Leaders who communicate effectively, especially in times of crises, are poised for success
In times of crisis, leaders should be honest with employees, partners and customers and communicate transparently. Be sincere about what you know, tell them frankly how the company could be affected and what this crisis means for people. Leaders who actively share their concerns often feel more confident in making tough decisions, particularly when they make the effort to face their employees directly.
But this does not mean you should stick to cold directives. When people are frightened, they need reassurance. As much as you can, provide a vision of the future that they can work towards.
Moreover, a good leader never forgets to communicate the positives and celebrates progress and accomplishments. It is important to share stories of team members who have shown perseverance and resilience and communicate, with total confidence, that the organization will emerge from this crisis.
Communication with your team is a big part in building business resilience but it is not the only factor. Business resilience is achieved also by using IT services that allow you to operate after a security incident occurs. Under the circumstances, we may see leaders implementing business continuity and disaster recovery plans.
A strong team with good procedures and processes in place need to also back-up documents, emails, and all types of critical business data. Using technology to protect you from failure, accidental or provoked, means that your partners and customers can trust you and the profile of the company is also improved. More resilience also means more business opportunities, after all, customers want to work with companies that are proactive in addressing their continuous availability, enhancing digital transformation strategies, and showing strength and flexibility in the face of unforeseen changes.
Crises are times when customers face many unknowns, and the level of uncertainty is very high
That is why you must be there, always prepared to listen to them and ready to create the best solutions for their problems. Remember that good customer knowledge is as important as good product knowledge. You need to understand your customers, their history with you and their challenges. If you manage to come with tailored solutions, your business will be successful too and your organization will also gain more and more loyal customers.
Moreover, this is an important time to reach out to your network for support, advice, and collaboration. Keep communicating with your support networks and speak with other business owners to share ideas and innovative practices.
During challenging times, you have to use every advantage you have to keep your business running. By efficiently protecting your data for example, you protect your business and secure its future. It might be surprising, but not everybody has back-up plans and systems in place, for example. This means that you can easily navigate the changing world of working from home or hybrid working places that for some entrepreneurs pose big challenges. You can also grow your business more easily and work more closely with your team if you do not have to worry of ransomware attacks.
As a result of COVID-19, CEOs' priorities and concerns have changed during the global pandemic and business leaders around the globe are now seeking to manage uncertainty with decisiveness
At the beginning of 2020 many companies were planning on adopting new technology, new recruiting methods and new ways to improve the employee experience. However, those plans had to change in light of this new reality imposed by the pandemic.
Now, after several months of pandemic, the primary purpose of leaders is to keep their employees and customers safe and protected from the effects of the pandemic and, moreover, keep their business active in this difficult period.
Of course, in addition to the challenges related to the pandemic, a leader continues to face traditional concerns, including attracting and retaining talents, creating new business revenue opportunities and the pressure to remain competitive.
As for us, Veeam Romania, we will continue to actively assist all our customers and partners through personalized products and services. As a matter of fact, our company is constantly innovating to meet customer needs, and a recent example is the expansion of public cloud support with the general availability of NEW Veeam Backup for Google Cloud's Platform, completing Veeam's support for all three major public cloud providers.
Our primary concern is to offer our support and care to our employees, whom we listen to, we offer all the necessary support, and we enable moments to connect with the team through various initiatives.
From the early stages of the pandemic, we understood that our employees could go through difficult moments because of the disruption the pandemic has brought into their lives
So, our leaders have always been available for their team members, they`ve made efforts to understand what they are facing, their feelings and perspectives and guided them. Employees tend to be more committed to their work when they know that their employers not only care about their output, but are concerned with their wellbeing, too.
I truly believe that the workplace represents the place where people turn to others for help when faced with challenges. In these difficult times, employers need to look for ways to support their employees and if there are concerns, they should address them by offering whatever support the company can provide.
At Veeam, we have implemented some successful initiatives, among which "Global Day of Learning" – one day designed to inspire our colleagues and to challenge them to think about career growth, even during this time, or the project "Conversations from the heart" – a webinar series of intimate discussions with our Veeam leaders. The series focuses on getting to know our leaders as they share their career experiences, early influences, and perspectives on their favorite Veeam stories and values. Another project that we are very proud of is "Veeam Cares" through which we give 24 volunteer hours each year, so our colleagues participate in charitable and community giving activities.
"Veeam One Team" is a key strategic priority and what leads our company to success During this time, it's important that our colleagues also feel supported, encouraged and hopeful, we have implemented the "Appreciation cards" initiative by encouraging our colleagues to take a moment and thank their teammates, share words of hope, encouragement and offer solidarity to each other along with "National Wellness Month in August" where we discussed about mental & emotional, physical, occupational or social wellbeing.
---
Trending Now
You may also like