TELUS International Romania Community Board continues to support local NGOs with 100,000 USD total funding in 2021
Posted On February 12, 2021
---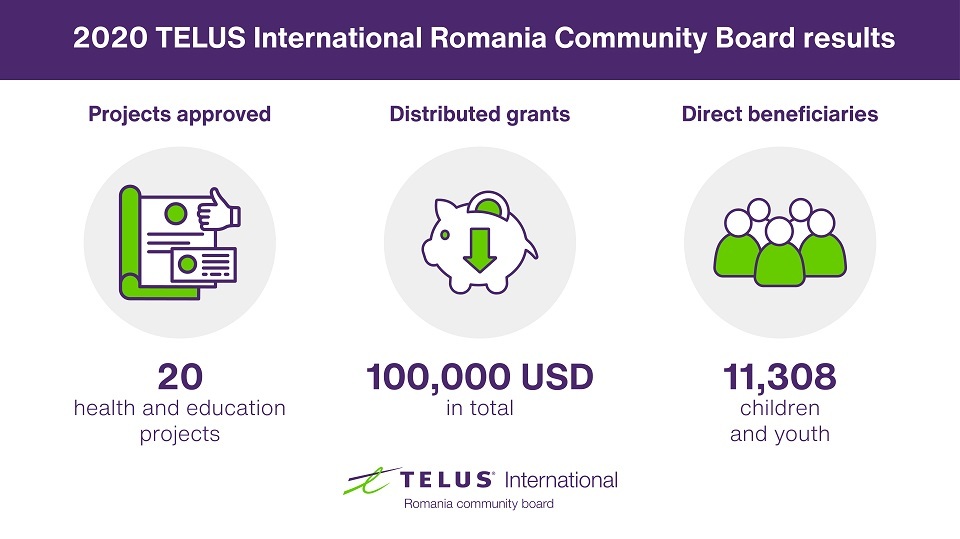 TELUS International Romania Community Board invites non-profit organizations in search of funding to submit their projects, until March 12th, by filling in the form available at this link: https://grantstream.com/TELUS/form/Landing.
Supporting local communities is embedded in TELUS International's culture and 2021 represents the 5th consecutive year in which the Community Board will distribute a total of 100,000 USD for projects focused on health or education.
The NGOs applying for a TELUS International Romania Community Board grant need to be registered in Romania and submit specific projects involving children or youth. The proposed project must be implemented by the end of 2021. The funding allocated for each winning project is up to 5,000 USD with the exception of two programs per year that may be funded with a maximum of 10,000 USD each.
Last year, the members of the Community Board awarded 20 NGOs that conducted programs aiming to mitigate the negative impact the pandemic had on families who were already in a vulnerable situation. Habitat for Humanity, Concordia Humanitarian Organization, Ateliere fara Frontiere, Little People, Adi Hadean Association, Policy Center for Roma and Minorities are just a few of the organizations granted in 2020.
Since its launch in September 2016, TELUS International Romania Community Board has had a positive contribution in the lives of 27,230 beneficiaries supported by 78 non-profit organizations across the country.
TELUS International globally runs five Community Boards: in Guatemala, El Salvador, Philippines, Bulgaria and Romania, each of them distributing 100,000 USD annually to support projects dedicated to local communities. The company's CSR philosophy – "We give where we live" – has materialized, from 2005 until present, in the donation of 72 million USD, funding 7,000 projects which have involved 2 million beneficiaries. For more information about TELUS International's social responsibility activity, please access this link.
About TELUS International
TELUS International focuses on the value of human connection to design, build and deliver high-tech, high-touch customer experiences powered by next-gen digital solutions. With almost 50,000 team members and delivery centers across North and Central America, Europe and Asia, TELUS International empowers customer experience innovation through digital enablement, spirited teamwork, agile thinking, and a caring culture that puts customers first. The company's solutions cover customer experience, content moderation, digital transformation, work-from-home, IT lifecycle, advisory and digital consulting, trust & safety, and back-office support. Fueling any stage of company growth, TELUS International partners with some of the world's most disruptive brands from fast-growing tech, financial services and fintech, games, travel and hospitality, healthcare, and ICT industries. The company serves clients in over 50 languages. Learn more at: telusinternational.com.
---
Trending Now
You may also like