Claudiu Constantinescu, Regional Manager Central Europe, Endava: We focus on people and re-imagining the relationship between people and technology
Posted On January 26, 2021
---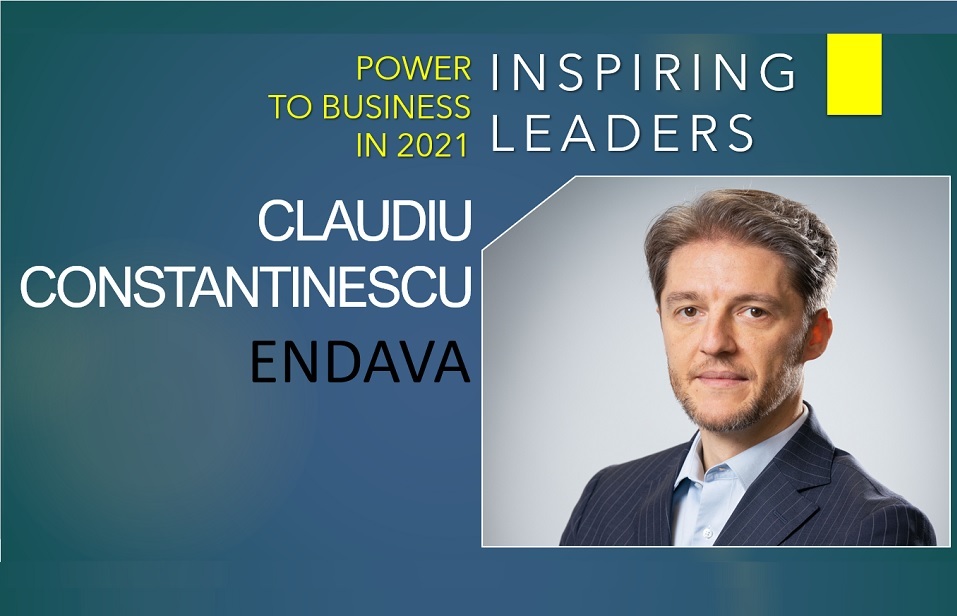 Business as usual or the resetting of the entire business structure? Making the best of the lessons learned in 2020 and turning it into the business growth's drivers in 2021? Envisioning a company structure built for people? Enablement of wellbeing, safety initiatives and multi-leveled and hierarchy-flexible communication conduct?
Claudiu Constantinescu, Regional Manager for Central Europe at Endava answered to the Outsourcing Today's interview and addressed the plans, the core values and the actual enablers for business growth that mark the beginning of 2021.
One of the main drivers we count on in 2021 is digital transformation and evolution – for which there is an increasing demand on the market and even an accelerated trend.
Digital has been one of our main services for many years. Our scope is not just IT. It's the whole organization – business processes, budgeting, portfolio prioritizing and down to the team level and support functions running the operations on the ground. This makes the client organization more adaptable to the current business environment.
Another driver is that the current disruption forces organizations to optimize costs, create efficiencies, consume less, etc. Optimization nowadays often involves technology and better processes. And this is exactly what we, at Endava, are very good at! We help our clients identify the challenges, evaluate options, create efficiencies, and reimagine the relationships between people and technology.
We use automation and agile processes: testing, continuous integration, continuous deployment, as well as automating business processes, starting from the functional level (BPM) and taking it to the task level (RPA) using various tools and platforms.
Our CEO, John Cotterell, estimated that in the current context transformation that would have happened in seven years is now being fast-tracked in seven months, which makes for a very dynamic market to operate in.
Even after we'll have the virus under control, the business trends, the recession rate and the economic dynamics it has triggered will flow well into the next few years, and changes that have started now will not be undone. We will build a new normal characterized by more digitization, less non-essential people movements, general focus on efficiency, better healthcare, and a few other things that start now. So yes, there already is a Great Reset taking place.
We learned a lot during these months, and the entire business environment has evolved tremendously. New strategies, more adaptability and a lot of innovation have already been deployed.
You might have noticed that although the second wave of the pandemic was significantly worse than the first one, it was absorbed by the markets with less damaging impact. Many companies have adapted already to a new BAU.
Our flag-ship projects remain to focus on people and re-imagining the relationship between people and technology. We are engineers, and we help our clients leverage technology best to serve their business goals and improve continuously.
We managed to keep all our employees through the pandemic and continued our growth, and we have also continued the relationship with almost all our clients, plus we added new ones. Productivity has been improved, we have expanded our value-added services, and have achieved double-digit growth. So, the current focus serves us well, and we intend to keep it.
Shaping tomorrow's workplace is at the top of mind for our leadership, with a dedicated team working on designing the future of work.
This vision incorporates more flexibility for our people and integrates the best practices we piloted and tested during pandemic time.
We envisage the workplace as an ecosystem, not a single place for a single employee, thus repurposing our offices into thriving hubs for team collaboration allowing for remote working when needed and providing the space for people to flourish and innovate. We believe in creating careers, not offering jobs.
Despite proving that we can move almost 100% of our activity remote without impacting the delivery to our clients, we kept our plans of finding a new space to reunite the teams in all our centres. We have extended and re-organized our office space in Brasov, upgrading the one in Cluj and advancing with the plan to consolidate in Bucharest in U-Center (Tineretului area). This last move will fully show the new workspace culture, the office being situated between two beautiful parks, with large terraces, numerous collaboration and creative spaces and excellent access from all parts of the city.
Teamwork is essential for Endava. We generally take on solving big, complex problems, and this requires a variety of functional, technical and process specialists working together.

To enhance the team cohesion, a manager needs to drive and facilitate success for the team, and they will then start to trust the power of working together. This means the manager must be a leader and his/her role include a lot of inspiring, empowering, and growing people.
This also means creating a safe environment for the team members to be creative and make decisions, make mistakes, learn to accept and draw lessons from these mistakes, succeed, and be recognized and praised for success. These teams can count several hundred specialists, and they further interface with partners and client departments, making management and synchronization a very complex task.
At Endava, we believe in continuous improvement, and we allocate a budget and dedicated internal structures to ensuring we do our best in this area.
We have three main directions on which we continuously improve ourselves: business verticals (functional skills), technical excellence, and soft skills.
On the functional side, we aim to better understand the business domains where our clients operate to help them get better results in leveraging technology.
On the technical side, we are looking at evolving our services with high added value capabilities, such as automation, data, machine learning, CRM, RPA, cloud, and many others.
And we also continuously work on improving our leadership at all levels, both internally and working with dedicated providers. In Endava, leadership includes line management, career coaching, and technical leadership – senior colleagues offer support to develop more junior people's careers.
These directions are equally important for the company's future development, we have effectively intensified the training programs on these three tracks during 2020, and intend to continue in 2021.
Power focus in 2021
Embrace Disruption – Many businesses have been affected, and some have even closed operations, others have been forced to re-invent themselves completely to survive.
Sometimes full reset might not be necessary, but business leaders and their teams should be mentally prepared for it. From another perspective this is an opportunity – one that most companies do not have in normal times for a simple reason: adoption of new ways is slower than what is affordable with normal financial resources and the competition can expand into your market slice with the old approach and push you out of business.
Now all companies in a certain vertical experiment similar pain and old ways do not work anymore, which evens the chances. We all re-invent ways of working, services, products, etc.
Innovation – Most companies budget for R&D every year and this investment is in the form of budgets, but it also requires specialized experts (which are rare).
Since some activities have slowed down now, there is a temptation to save money for keeping the business afloat for longer – which I would not rule out as a bad idea. However, even after this crisis will pass, I do not believe we will get back to the old "normal". The normal will probably change altogether for the long run.
So, we will use the experts and the budgets available to innovate as much as possible.
Education – In the CEE region, there is a view that education somehow falls mainly in the state's area of responsibility. This is partially due to historical legacy and the significant investment required and the slow ROI, amongst other reasons.
I firmly believe that, although the state has a crucial role, the private sector can, and should, invest here.
Each business vertical has organized in professional associations; there are industry partnerships at the local level, communities, and many groups.
We can align interests and focus through these structures, consolidate budgets and other resources to ensure we create and influence training curricula towards the desired specialities and skillsets.
This has started years ago through businesses collaborating with universities, specialized private training providers, internal training programs offered by businesses, and many other forms.
We intend to focus even more on education in 2021!
---
Trending Now
You may also like