Oana Tufaroiu, Humangest Group: We forecast an increase in temporary staffing and significant growth in payroll and admin outsourcing
Posted On January 25, 2021
---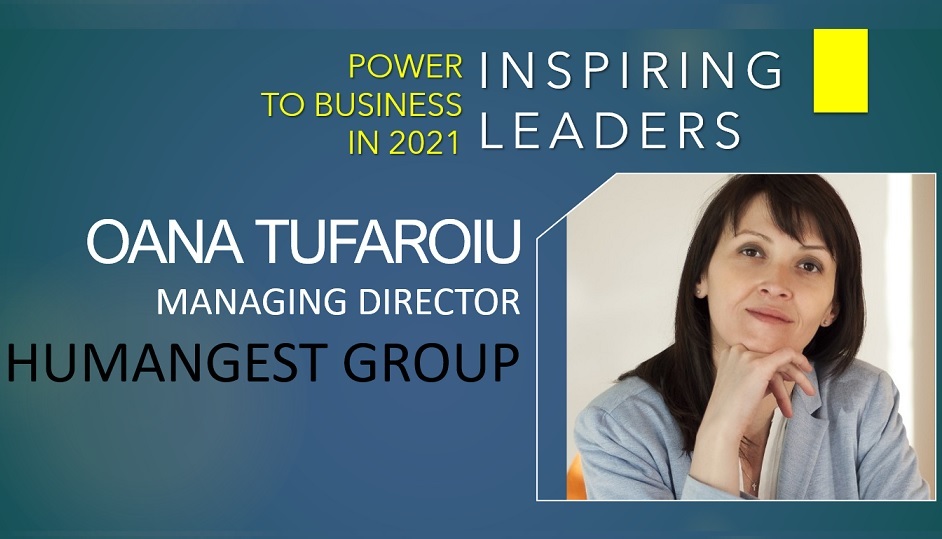 Business as usual or the resetting of the entire business structure? Making the best of the lessons learned in 2020 and turning it into the business growth's drivers in 2021? Envisioning a company structure built for people? Enablement of wellbeing, safety initiatives and multi-leveled and hierarchy-flexible communication conduct?
Oana Tufaroiu, Managing Director Humangest Group answered to the Outsourcing Today's interview and addressed the plans, the core values and the actual enablers for business growth that mark the beginning of 2021.
Power words in 2021: Growth, Passion and Trust
There is quite a pressure on 2021 in terms of hopes and expectations. As a service provider our business is closely connected with our clients' and what drives their growth also fuels our engines
Therefore, in 2020, we had some areas where our activities increased, such as IT recruitment, but we also had areas where our activity completely froze for a while, and that would be the case of temporary staffing for the automotive industry. Nevertheless, the last quarter of the year showed signs of improvement and 2021 has so far kept the pace.
As there is still a great amount of uncertainty regarding the evolution of things, we expect companies to outsource more in order to be able to focus on what is relevant and important for their business. So, we forecast an increase in temporary staffing and we also expect a significant growth in payroll and admin outsourcing. On the other hand, given the current scarcity of skilled professionals available on the market, recruitment will continue to deliver results, especially on the IT segment and niched professionals.
In 2019, Humangest Group acquired IHM Total Consult and we have been since then one team, communicating under Humangest brand. Although we've had the opportunity to sit together and work together for a while, that time was too short to build the cohesion we wanted among the team members. Therefore, our main project this year focusses on bringing our team together, One Team
2020 provided us the huge opportunity to do things differently so it would be a waste not to take advantage of each and every lesson learnt. Of course, now people miss being with people and engaging in social activities, they miss the freedom of travelling and meeting their friends at work, they miss going shopping and feeling the things they buy, but they came to appreciate equally the time spent with their families, the time saved by buying things online and working from home and the gain in their productivity. It may seem we miss the old brick-and-mortar business models, but the way our jobs have changed in the past year will make getting back to that almost impossible.
Last year, a new project was initiated at Group Level, SGB Life, and the result of all the actions, built thanks to an incredible teamwork, was translated into SGB Employer Value Proposition, highlighting our three corporate values: growth, passion and trust. But values remain abstract words unless they materialize in key behaviors, ways of acting, that represent the DNA of the company, our way of thinking and acting. This is what SGB Life is about, talking about us, a group of people united by shared values and behaviors acting together towards the same goals.
You cannot work in HR unless you are genuinely interested in people and love what you do but being a manager in HR comes with even greater responsibility.
I believe that in spite of all the changes and the challenges this period has brought, encouragement, empowerment and partnership are the keys to move forward. We've built a culture of entrepreneurship and each team member, no matter their role within the organization, has full ownership over their projects. Our mission is quite simple, to help candidates find better opportunities and make our clients' job easier. As a business, helping our clients and candidates are the heart of everything we do – no matter the role in the company.
There is a long list of skills needed to be successful in this role, but two of them stand out. As managers, we need to able to encourage an open and honest dialogue and set this type of communication as a defining feature of our culture. So, first and foremost managers must be able to listen and act on the feedback they receive.
We're committed to a long-term mission and we remain focused on improving communication and collaboration. The acquisition of IHM brought more diversity within the team and the more diversity and talents, the more important it becomes to know how to glue everything together and work harmoniously.
---
Trending Now